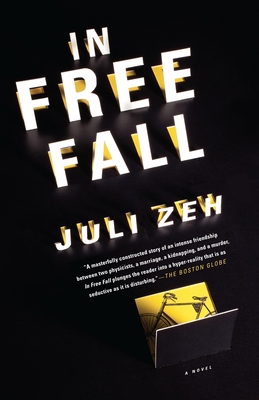 In Free Fall (Paperback)
Anchor Books, 9780307389855, 315pp.
Publication Date: February 8, 2011
* Individual store prices may vary.
or
Not Currently Available for Direct Purchase
Description
Oskar and Sebastian, both brilliant physicists, have been close friends ever since they first met at university. But now their relationship is strained by distance, competing philosophies, and Oskar's belief that Sebastian fell into mediocrity after having a wife and child. When Sebastian's is seemingly kidnapped, their friendship is further tested, because Sebastian will go to grisly lengths to protect his family, even if it puts the lives of those around him in jeopardy. Fast-paced and mind-bendingly intelligent, "In Free Fall "is an unforgettable ride through a world where nothing, not even one's own senses, can be trusted.
About the Author
Juli Zeh's debut novel, "Eagles and Angels," won numerous prizes, including the German Book Prize. She has worked at the United Nations in New York and Krakow, and currently lives in Brandenburg.
Praise For In Free Fall…
"[A] masterfully constructed story of an intense friendship between two physicists, a marriage, a kidnapping, and a murder, In Free Fall plunges the reader into a hyper-reality that is as seductive as it is disturbing." —The Boston Globe

"This is one of the best books of the year. Zeh has enough control to keep the murder from being lurid and the physics from being dull. . . . Sharp and often witty." —New York Observer

"Give me a crime novel of ideas, where two physics professors, friends and rivals, opposites but startlingly similar, do emotional battle on an intellectual canvas, raise the stakes through betrayal, the possible kidnapping of a child, and embroil a romantic-leaning police detective in the complicated machinations of quantum theory, and holy hell, I think I have myself one of my favorite books of the year." —Sarah Weinman, crime fiction columnist for the Los Angeles Times

"The most intellectually satisfying thriller you'll read this summer. . . . Slyly intelligent and enigmatic. . . . The brainiac's beach read." —The Daily Beast
 
"Add a hospital scandal and two of the quirkiest detectives in fiction, mix with Juli Zeh's thrumming, moody prose, and you have one of the finest crime novels you'll read." —The Herald Sun (Australia)

"In Free Fall is very clever . . . and often astounding. . . . A wonderful exhibition of bravura novel writing." —Curled Up With A Good Book

"An engrossing [and] enigmatic story of a murder and its aftermath. . . . Erudite digressions and vivid characters . . . combine with a devastating 11th-hour reveal to make a memorable intellectual thriller." —Publisher's Weekly

"A novel from Juli Zeh's pen is always an adventure, because each of them opens up an entirely new world . . . This is Juli Zeh's unique talent: Her sharp intellect absorbs the most complex issues, including elementary particles; to then put them into words with such playful precision it makes you swoon . . . In Free Fall takes the bird's-eye view, unorthodox, nerve-racking, simply unforgettable—like Hitchcock's masterpiece." —Brigitte

"In Free Fall is the virtuosic presentation of an amazing narration. Juli Zeh steers through with confidence and ease." —Welt am Sonntag

"[A] gripping, high-toned philosophical thriller. . . . Readers who can surrender to [Zeh's] radical rewriting of the rules of detective fiction and the physical universe will find it revelatory." —Kirkus Reviews
 
"It is such a delight to watch Juli Zeh play her entire repertoire of literary skill . . . challenging the conventions of the classical detective story with subtle irony."
—Die Zeit




Advertisement