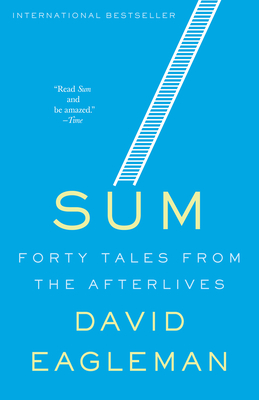 Sum (Paperback)
Forty Tales from the Afterlives
Vintage, 9780307389930, 107pp.
Publication Date: January 12, 2010
* Individual store prices may vary.
Description
At once funny, wistful and unsettling, Sum is a dazzling exploration of unexpected afterlives--each presented as a vignette that offers a stunning lens through which to see ourselves in the here and now. In one afterlife, you may find that God is the size of a microbe and unaware of your existence. In another version, you work as a background character in other people's dreams. Or you may find that God is a married couple, or that the universe is running backward, or that you are forced to live out your afterlife with annoying versions of who you could have been. With a probing imagination and deep understanding of the human condition, acclaimed neuroscientist David Eagleman offers wonderfully imagined tales that shine a brilliant light on the here and now.
About the Author
DAVID EAGLEMAN is a neuroscientist, a Guggenheim Fellow, and a New York Times bestselling author. His books have been translated into 27 languages. Eagleman heads the Laboratory for Perception and Action at Baylor College of Medicine, and is the founding Director of the Initiative on Neuroscience and Law. He is the author and presenter of the PBS series The Brain. At night he writes fiction.
Praise For Sum: Forty Tales from the Afterlives…
"Eagleman is a true original. Read Sum and be amazed."—Time Magazine

"You will not read a more dazzling book this year than David Eagleman's Sum. If you read it and aren't enchanted I will eat 40 hats." --Stephen Fry

"Delightful, thought-provoking… full of touching moments and glorious wit."—Alexander McCall Smith, The New York Times Book Review

"Bracing, provocative, fun. . . . It challenges and teases as it spins out different parables of possibility."--Houston Chronicle

"This is a scientist and exceptionally talented writer using the idea of the afterlife to reflect on our innermost fears and desires and also as a way of dissecting how we live." —Tampa Tribune

"This delightful, thought-provoking little collection belongs to that category of strange, unclassifiable books that will haunt the reader long after the last page has been turned. It is full of tangential insights into the human condition and poetic thought experiments . . . . It is also full of touching moments and glorious wit of the sort one only hopes will be in copious supply on the other side."—The New York Times

"Teeming, writhing with imagination."--Los Angeles Times

"David Eagleman's Sum envisions a multiplicity of afterlives: pasts relived in shuffle mode, cast in the dreams of others, and dictated by our credit card reports."—Vanity Fair

"Imaginative and inventive." —Wall Street Journal

"It takes someone ridiculously smart to write something as deceptively simple as SUM." —Denver Daily News

"With both a childlike sense of wonder and a trenchant flair for irony, the Baylor College of Medicine neuroscientist generously offers forty variations on the theme of God and the afterlife, imagining what each of us might find when we shuffle off this mortal coil." —Texas Monthly

"A small gem of a book.... Who'd have thought that a young neuroscientist would have so much story in him?" —The Globe and Mail, Toronto

"Imaginative riffs that are simultaneously improvisational and well-considered. . . . Challenges you to leave well-traveled paths of belief and think in bold, new ways." —Arizona Republic

"These images of the Great Beyond are more complex, sometimes whimsical, always veering off in an unexpected direction. In total they present a realm where you are certain to learn something about the life you just left behind."—Deseret News

"With both a childlike sense of wonder and a trenchant flair for irony, the Baylor College of Medicine neuroscientist generously offers forty variations on the theme of God and the afterlife, imagining what each of us might find when we shuffle off this mortal coil.... Sum is great fun—sort of a brainy parlor game in print--and a modest satire aimed at zealots who define heaven and God to serve their own ends. It is also a reminder that when it comes to our knowledge of the hereafter, we have loads of faith but not a scintilla of proof."—Texas Monthly

"Wow."—New York Observer

"Stunningly original…. Sum has the unaccountable, jaw-dropping quality of genius."—Geoff Dyer, The Observer

"Unsettling and reassuring, godly and godless....Excitement pervades the whole volume."—The National Post
 
"As rigorous and imaginative as the writings of Italo Calvino and Alan Lightman." –Nature

"SUM is terrific. It's such a good idea that I was grinding my teeth all the way through wishing I'd thought of it first. The inventiveness, the clarity and wit of the prose, the calm air of moral understanding that pervades the whole thing, add up to something completely original. I hope SUM will be the great big hit it deserves to be." —Philip Pullman, author of The Golden Compass

"Witty, bright, sharp and unexpected . . . as surprising a book as I've read for years."
—Brian Eno

"David Eagleman's SUM is a captivating collection of vignettes that portray possible afterlives–creatively conceived and deftly described. Each tale imagines an unexpected reality that might await us, possible worlds that illuminate life with colors rarely encountered."—Brian Greene, author of The Elegant Universe

"SUM is an imaginative and provocative book that gives new perspectives on how to view ourselves and our place in the world."—Alan Lightman, author of Einstein's Dreams