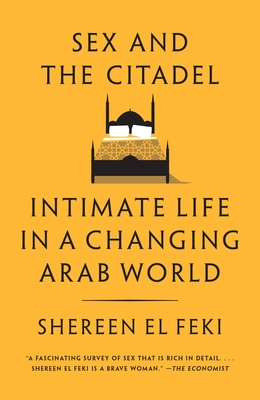 Sex and the Citadel (Paperback)
Intimate Life in a Changing Arab World
Anchor, 9780307390295, 368pp.
Publication Date: January 21, 2014
Other Editions of This Title:
Hardcover (3/12/2013)
* Individual store prices may vary.
Description
A Kirkus Reviews Best Book of the Year

As the "Arab Spring" and its aftermath sweep streets and squares, parliaments and presidential palaces of the Middle East, Shereen El Feki—an award-winning Canadian-Egyptian journalist—has been looking at unrest a little closer to home: in the sexual lives of Arab men and women. The result is an informative, insightful, and engaging account of this sensitive and still largely secret aspect of Arab society.
 
Sexual attitudes and behaviors are shaped by politics and economics, religion and tradition, gender and generations—not only a reflection of the conditions that led to the uprisings, but also a measure of hard-won reforms in the years to come. Highly personal, rich with original research and remarkable stories, Sex and the Citadel gives us unprecedented and timely insight into a part of the world that is changing before our eyes. 
About the Author
Shereen El Feki is a writer, broadcaster, and academic who started her professional life in medical science before going on to become an award-winning journalist for The Economist and a presenter on Al Jazeera English. She is former vice-chair of the U.N.'s Global Commission on HIV and Law, and a TED Global Fellow. She divides her time between London and Cairo.
Praise For Sex and the Citadel: Intimate Life in a Changing Arab World…
"A fascinating survey of sex that is rich in detail. . . . Shereen El Feki is a brave woman." —The Economist
 
"Eminently readable. . . . Frank, nonjudgmental and unsentimental, eschewing the kind of stagey shockability that might have tempted a lesser writer." —San Francisco Chronicle
 
"Conversational yet informed, witty without succumbing to frivolity." —The Boston Globe
 
"Important, brave, and necessary. . . . A major service to those who care about feminism in this region, about human rights, about sexuality, and about the human condition." —Naomi Wolf, author of The Beauty Myth

"An original portrait of the region's youth that sheds light on the condition of women, failing education and health systems, and the uses and abuses of religion to reinforce the status quo." —Financial Times
 
"Courageous and stirring . . . a supremely eye-opening book." —The Chronicle of Higher Education

"A timely, thought provoking, and highly readable study. . . . Dr. El Feki tackles this topic with sensitivity and sophistication." —New York Journal of Books

"The most revealing take on Arab sexuality in a thousand years." —The Daily Telegraph (London)

"Remarkable. . . . Sex in the Citadel should be celebrated—not least for freeing voices silenced by a mixture of taboo and political repression. It provides crucial oxygen for discussions that will need more airing in the long, conflicted years ahead." —The Independent (London)

"Sex and the Citadel is a gentle lamp that sheds light on the darkest corners. . . . This is a brave, constructive and critical book that unites rather than divides, and attempts to understand rather than to compare and contrast." —The Literary Review

"Fascinating." —The Globe and Mail (Toronto)

"A principled book, robustly educative and illuminating without consenting to the kind of vacant voyeurism that the intimate life veiled by Islam can provoke in unthinking outsiders." —The Times Higher Education Supplement 

"A bold, meticulously researched mini Kinsey Report, rich in anecdote and statistics. . . . Islam and faith are not incompatible with a healthier, more liberal attitude to sex, but rather an exciting component of the revolutions now taking shape." —The Spectator

"Fascinating. . . . Fearless. . . . An impressively researched work of sociology." —The Santa Fe New Mexican

"A riveting read, bound to provide interesting, if inappropriate, dinner table conversation for some time to come." —The Daily Star (Lebanon)

"[A] tour de force on Arab life. . . . Mandatory reading for anyone seeking to truly know the Middle East." —Booklist (starred) 

"A daring new study. El Feki embarks on her subject with healthy doses of humor and irony. . . . A surprisingly open, extremely timely examination of the sexual coming-of-age of Egyptian youth." —Kirkus Reviews (starred)

"A clear wakeup call." —Publishers Weekly

"El Feki has both East and West within, giving her the unique ability to research and write this ambitious book—an insightful interpretation of what is taking place in Arab society, and why."—Hanan al-Shaykh, author of Women of Sand and Myrrh 
or
Not Currently Available for Direct Purchase