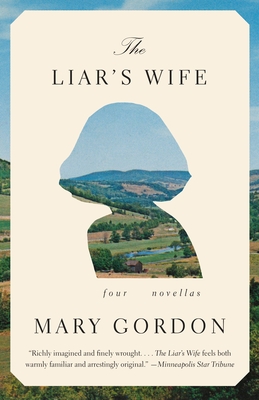 The Liar's Wife (Paperback)
Four Novellas
Anchor, 9780307390332, 304pp.
Publication Date: July 7, 2015
Other Editions of This Title:
Hardcover (8/5/2014)
MP3 CD (7/7/2015)
Compact Disc (7/7/2015)
Compact Disc (8/5/2014)
MP3 CD (8/5/2014)
Compact Disc (8/5/2014)
* Individual store prices may vary.
Description
In the short novels that make up this beautiful collection, Mary Gordon presents a quartet of finely rendered, emotionally resonant stories. Here we meet the ferocious Simone Weil during her last days as a transplant in New York City; a vulnerable American graduate student who escapes to Italy after her first, compromising love affair; the charming Irish liar of the title, who gets more out of life than most; and Thomas Mann, opening the heart of a high schooler in the Midwest.  At every turn, Gordon revels in the interactions and crucial flashes of understanding that change lives forever. Entrancing reading, The Liar's Wife is a wonderful demonstration of Gordon's literary mastery and human sympathy.
About the Author
Mary Gordon is the author of seven novels, including Final Payments, Pearl, and The Love of My Youth; six works of nonfiction, including the memoirs The Shadow Man and Circling My Mother; and three collections of fic­tion, including The Stories of Mary Gordon, which was awarded the Story Prize. She has received many other honors, includ­ing a Lila Wallace–Reader's Digest Writers' Award, a Guggenheim Fellowship, and an Academy Award for Literature from the American Academy of Arts and Letters. She teaches at Barnard College and lives in New York City.

Praise For The Liar's Wife: Four Novellas…
"Richly imagined and finely wrought. . . . The Liar's Wife feels both warmly familiar and arrestingly original." —Minneapolis Star Tribune

"The intelligence that breathes through [Gordon's] characters tirelessly raises the unanswerable questions that animate all great fiction, lifting the reader out of the story and into the realm of ethical dilemma." —The New York Times Book Review

"Pitch-perfect. . . . [Here are] four stories that are models of compression and searing insight. . . . Gordon's voice is wry, her prose velvety." —Oprah Magazine

"Thought-provoking. . . . The contemplative tales collected in The Liar's Wife . . . force us to slow down and reflect. . . . Gordon's characters are critical thinkers, people whose minds churn constantly with questions." —The Washington Post

"Gordon's skills are formidable; her writing, careful and exact. . . . [She] excels at the kind of minute observations that make her characters real." —The Boston Globe

"Artful. . . . Riveting. . . . The four novellas in this volume have the genre's characteristic combination of close narrative focus with enough wattage to pick out complexities of situation and character. What a blessing for their readers." —The Washington Times

"A satisfying mix of narrative and perception. . . . [A] delight. . . . As Gordon admirably demonstrates in this quartet, the novella with its concentrated range is as pleasing a genre as any other." —Richmond Times-Dispatch

"The Liar's Wife glints with Gordon's enduring mettle: She draws from the dross of everyday life, a hidden gold. . . . Gordon is at her best." —The Buffalo News

"[A] beautifully rendered book. . . . The novella is an underutilized form, but Gordon shows a great affinity for its necessary constraints. In each 60-or-so-page story she manages to compress a trove of details, giving readers wholly fleshed worlds to savor and contemplate." —BookPage

"Gordon returns to her favorite thematic territory: faith, innocence and their loss, intellectual ambition, physical affliction, self-sacrifice and guilt. . . . [She] enchants." —Montgomery Advertiser

"Gordon['s] book is worth reading, for her wonderful language, her insights and her willingness to take on difficult issues." —The National (AE)

"The Liar's Wife is a meaty and thoughtful book. . . . These are stories told in memory and questions by characters still moved by encounters and ideas that shaped them in pivotal moments. . . . Emotional and insightful." —Book Reporter

"Incandescent. . . . Just like a great Gordon novel times four." —Library Journal