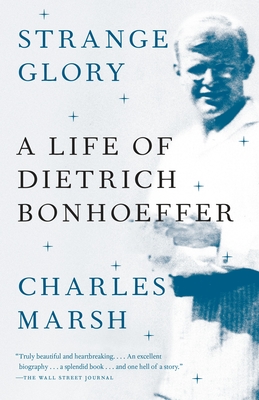 Strange Glory
A Life of Dietrich Bonhoeffer
Paperback

* Individual store prices may vary.
Other Editions of This Title:
Digital Audiobook (6/12/2014)
Hardcover (4/29/2014)
Description
Winner, Christianity Today 2015 Book Award in History/Biography

Shortlisted for the PEN/Jacqueline Bograd Weld Award for Biography

In the decades since his execution by the Nazis in 1945, Dietrich Bonhoeffer, the German pastor, theologian, and anti-Hitler conspirator, has become one of the most widely read and inspiring Christian thinkers of our time. With unprecedented archival access and definitive scope, Charles Marsh captures the life of this remarkable man who searched for the goodness in his religion against the backdrop of a steadily darkening Europe. From his brilliant student days in Berlin to his transformative sojourn in America, across Harlem to the Jim Crow South, and finally once again to Germany where he was called to a ministry for the downtrodden, we follow Bonhoeffer on his search for true fellowship and observe the development of his teachings on the shared life in Christ. We witness his growing convictions and theological beliefs, culminating in his vocal denunciation of Germany's treatment of the Jews that would put him on a crash course with Hitler. Bringing to life for the first time this complex human being—his substantial flaws, inner torment, the friendships and the faith that sustained and finally redeemed him—Strange Glory is a momentous achievement.
Praise For Strange Glory: A Life of Dietrich Bonhoeffer…
"[A] masterly and comprehensive new biography . . . The matter of the legacy of Dietrich Bonhoeffer is at once straightforward and immensely complicated . . . From such extravagant pluralism, can there be any coherence? Marsh suggests possible answers, but does so in a restrained and non-dogmatic fashion that seems appropriate to the evidence . . . and thus provides ample resources for readers to arrive at conclusions at odds with his own."
—James Nuechterlein, The New Criterion

"This splendid biography . . . [provides] a rich and detailed account of how Bonhoeffer's immensely eventful life unfolded – the personal, intellectual, and spiritual journey . . . [and does] much to sustain Bonhoeffer's stature as theologian, pastor, and martyr . . . The witness that Bonhoeffer bore through his life has lost none of its power to illuminate, instruct, and challenge."
—Andrew J. Bacevich, Commonweal

"Brilliant . . . [Marsh] uses previously unavailable archives to show us a very different Bonhoeffer . . . [and] strikes several notes . . . which other biographers have not adequately emphasized . . . This Bonhoeffer is profoundly human . . . [A] beautifully written biography."
—Joel Looper, Los Angeles Review of Books
 
"Elegant, harrowing, awe-inspiring, and sermonic . . . Marsh [demonstrates] how the separate, parallel lines of Bonhoeffer's role as monastic abbot and advocate of prophetic, progressive political action and his role as friend to Bethge and music-loving bon vivant did eventually merge . . . [A] splendid biography."
—Wesley Hill, Books & Culture

"[Marsh] renders Bonhoeffer's life and thought in exquisite detail and with sympathetic understanding . . . [and] guides his narrative with a steady hand . . . here the paradox of a believer in the face of evil fully comes into focus . . . we see Bonhoeffer's transformation from pampered scion and theological dilettante to energetic churchman and Christian martyr, all against the backdrop of cataclysmic changes in Germany."
—Randall Balmer, The New York Times Book Review

"Truly beautiful and heartbreaking . . . [Marsh] has a rare talent for novelistic detail – which requires a genuine creative imagination as well as scrupulously documented research . . . (the notes alone are a treasure of information) . . . [and] very properly emphasizes the importance of [Bonhoeffer's] volatile, visionary thoughts . . . It's inspiring to almost feel Bonhoeffer slipping verses or notes of comfort into the sweaty hands of fellow prisoners either coming or going from torture . . . [An] excellent biography . . . a splendid book . . . [and] one hell of a story."
—Christian Wiman, The Wall Street Journal

"Paints a painstaking portrait of a faithful disciple . . . will help you grapple with the eccentric Bonhoeffer of history . . . [with an] exquisite eye for detail . . . [Marsh] makes a convincing case that by 1933, Bonhoeffer was the most radical and outspoken opponent of Nazi church policy . . . [a] welcome biography."
—Timothy Larsen, Christianity Today 

"A definitive study of Bonhoeffer's life . . . erudite and humanizing. . . Marsh sagely counters all of today's polemical heat with more historical context . . . It is this Bonhoeffer, and not the culture-war stick-figure . . . who embodies an example of spiritual witness that we desperately need today . . . Thank God for Charles Marsh's Strange Glory." 
—Ann Neumann, Bookforum

"Beautiful . . . Marsh displays both how strangely human and how gloriously blessed Bonhoeffer's life was . . . The theological seeds that gave rise to America's Civil Rights Movement were scattered in Germany a generation before they began to bear fruit here."
— Jonathan Wilson-Hartgrove, Patheos

"A biographical triumph . . . A moving, melancholy portrait . . . With both empathy and a critical eye, Marsh traces Bonhoeffer's mercurial existence . . . [and] depicts a talented and tortured theologian and pastor who might inspire us to look beyond traditional or simplistic answers to those important questions."
—John G. Turner, The Christian Century

"[A] worthwhile new biography . . . Bonhoeffer was a genuinely beloved pastor . . . [who] practiced what he preached, at great personal cost . . . he was a true Christian."
—Mark Movsesian, First Things

"Attempts to provide a more closely examined view of Bonhoeffer's personality than past biographers . . . using rarely glimpsed correspondence to paint a warts-and-all portrait of this German martyr . . . No doubt Marsh's portrayal will infuse new controversy into discussions about Bonhoeffer for years to come."
—Kirkus Review

"Exemplary history . . . Marsh, making the personal political and the political personal, captures Bonhoeffer's efforts to achieve a 'nonreligious interpretation of faith' that embraces Jesus as 'the man for others' and then adroitly places him within the larger context of the era."
—James R. Kelly, America

"A masterpiece of a biography . . . Well written, thoughtful, provocative at times . . . Especially poignant is the way [Marsh] takes us deep into the humanity of the great theologian . . . It will take its place among the standard interpretations of Bonhoeffer's life."
—Robert Cornwall, Ponderings on a Faith Journey
 
"[A] splendid biography . . . seamlessly combines a novelist's narrative with a biographer's insights . . . stands as one of those rare books that both inspires and informs as Marsh offers a discerning appreciation of Bonhoeffer's brief but rich and faith-filled life."
—Judith Chettle, Richmond Times-Dispatch

"[A] masterpiece . . . deserves the widest possible readership . . . [Marsh] is perfectly placed . . . to tell Bonhoeffer's life story . . . Right up to the end, [he] is by his readers' side, clarifying and clearing away the too-pretty details that always accrue to a saintly life."
—Steve Donoghue, Open Letters Monthly
 
"A hero never more vividly human; a founder of critical belief, never more faithful; Dietrich Bonhoeffer, in Charles Marsh's elegant biography, comes powerfully to life for a new era. Just in time."
—James Carroll, Author of Christ Actually: The Son of God for the Secular Age.
 
"A marvelous biography, a page-turner, beautifully written. Strange Glory not only makes Dietrich Bonhoeffer come alive, but also offers us an intimate and very perceptive look into his mind and spirit. Charles Marsh confronts the complexities of Bonhoeffer's resistance to the Third Reich with an unsentimental eye, allowing us to see why this martyred pastor and theologian has so much to offer to our increasingly godless world."
—Carlos Eire, T. Lawrason Riggs Professor of History and Religious Studies, Yale University; author of Waiting for Snow in Havana, winner of the National Book Award
 
"An extraordinary account of an extraordinary life, Charles Marsh's Strange Glory is profoundly researched and vividly imagined. Marsh has unearthed enough archival material to keep generations of Bonhoeffer scholars occupied, but, more important, has used his knowledge to weave a mesmerizing tale about one of the giants of the twentieth century. I can't remember when I have read a more compelling biography."
—Alan Jacobs, professor of the humanities at Baylor University and author of The Book of Common Prayer
 
"As Bonhoeffer's doomed quest unfolds, the experience of reading Strange Glory is by turns terrifying and exhilarating. A story of profound thought and heroic action told in crystalline prose, this is a marvelous biography."
—James Tobin, author of Ernie Pyle's War and The Man He Became: How FDR Defied Polio to Win the Presidency (winner of the National Book Critics' Circle Award)

"Marsh succeeds in fulfilling one of the methodologically very challenging demands of modern studies on resistance. Regime opponents are always asked about their entanglement in the regime. But rarely do historians inquire how opponents—by experiencing the reality of Nazi Germany and its looming atrocities—managed to overcome certain political positions they initially shared with the national socialists."
—Frankfurter Allgemeine Zeitung

"The life, thoughts and deeds of Dietrich Bonhoeffer inspire people all over the world. All those people will be drawn to this biography by the prominent theologian and acclaimed writer Charles Marsh, whose meticulous knowledge of the Bonhoeffer story and its sources infuses such a vivid narrative." 
—Wolfgang Huber, former Chairman of the Council of the Evangelical Church in Germany
Vintage, 9780307390387, 528pp.
Publication Date: April 28, 2015
About the Author
Charles Marsh is a professor of religious studies at the University of Virginia and director of the Project on Lived Theology. He is the author of seven previous books, including God's Long Summer: Stories of Faith and Civil Rights, which won the 1998 Grawemeyer Award in Religion. Of Marsh's earlier volumes Reclaiming Bonhoeffer, the late Eberhand Bethge, Bonhoeffer's closest friend and first biographer, wrote: "This book is a theological sensation—an exciting event. Nobody who attempts to define Bonhoeffer's legacy today will able to ignore Marsh's book."Marsh was a recipient of a Guggenheim fellowship in 2009 and the 2010 Ellen Maria Gorrissen Berlin Prize fellowship at the American Academy in Berlin. He lives in Charlottesville, Virginia.
or
Not Currently Available for Direct Purchase