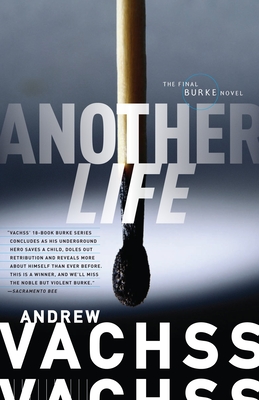 Another Life (Paperback)
Vintage Books USA, 9780307390394, 271pp.
Publication Date: September 15, 2009
Description
In this blistering conclusion to the nationally bestselling series, Burke is forced into a journey that will change the lives of the urban survivalist and his outlaw family forever.The only person Burke has ever called father, known throughout the underground as The Prof, is in a coma, barely clinging to life in an off the-books hospital. So when Pryce, a slippery man with government connections, offers the best medical services for the Prof and a clean slate for all concerned, Burke takes the contract without reading it. The two-year-old son of a Saudi prince has been kidnapped. A highly professional snatch; no mistakes, no clues, and no ransom note. Burke's job: get the kid back, whatever it takes. To do so, the ultimate man-for-hire must return to the day Baby Boy Burke was written on his birth certificate, and write, in the blood of his enemies, the final act of this story.
About the Author
Andrew Vachss has been a federal investigator in the area of sexually transmitted diseases, a social-services caseworker, a labor organizer, and the director of a maximum-security prison for aggressive-violent youth. Now a lawyer and consultant in private practice, he represents children and youths exclusively. A native New Yorker, Vachss divides his time between the city of his birth and the Pacific Northwest. The dedicated Web site for Andrew Vachss and his work is www.vachss.com. From the Hardcover edition."
Praise For Another Life…
"There's no way to put a Vachss book down once you've begun." —Detroit Free Press

"Vachss's prose is as taut and street-wise as ever." —Associated Press

"Burke is the hardest, most twisted man in crime and thriller fiction." —Contra Costa Times

"Vachss is just about the toughest of contemporary crime novelists. [He] waves a powerful light across a city landscape that few writers go near and none portray so convincingly." --Los Angeles Times

"The hardest-boiled crime fiction this side of Sing Sing." --USA Today

"Sheer narrative drive is only part of what has kept readers coming back for more. [Burke] is a hero of our times. . . lord of the asphalt jungle." --The Washington Post Book World

"Vachss's style is as inimitable and passionate as ever." --Rocky Mountain News

"Vachss is a contemporary master." --The Atlanta Journal-Constitution

"Writing in a style so sleekly engineered that it purrs when you pop the hood, Vachss gives such a smooth ride that it's easy to forget someone is driving." --The New York Times

"Vachss has always been able to make other writers look candy-assed . . . And it's not because he manages to marry grim idealism to action-driven plots. It's because of the unflinching way he looks at evil." --Chicago Reader

"Vachss is red hot and as serious as a punctured lung." --Playboy

"The New York Burke inhabits is not borrowed from anybody and shimmers on the page as gaudily and scarily as it does on the street." --New York
Advertisement