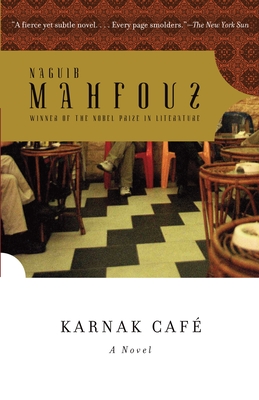 Karnak Cafe (Paperback)
Anchor Books, 9780307390455, 101pp.
Publication Date: December 2, 2008
Description
In this gripping and suspenseful novella from the Egyptian Nobel Prize-winner, three young friends survive interrogation by the secret police, only to find their lives poisoned by suspicion, fear, and betrayal. At a Cairo cafe in the 1960s, a legendary former belly dancer lovingly presides over a boisterous family of regulars, including a group of idealistic university students. One day, amid reports of a wave of arrests, three of the students disappear: the excitable Hilmi, his friend Ismail, and Ismail's beautiful girlfriend Zaynab. When they return months later, they are apparently unharmed and yet subtly and profoundly changed. It is only years later, after their lives have been further shattered, that the narrator pieces together the young people's horrific stories and learns how the government used them against one another. In a riveting final chapter, their torturer himself enters the Cafe and sits among his former victims, claiming a right to join their society of the disillusioned. Now translated into English for the first time, Naguib Mahfouz's tale of the insidious effects of government-sanctioned torture and the suspension of rights and freedoms in a time of crisis is shockingly contemporary.
About the Author
Naguib Mahfouz was born in Cairo in 1911 and began writing when he was seventeen. His nearly forty novels and hundreds of short stories range from re-imaginings of ancient myths to subtle commentaries on contemporary Egyptian politics and culture. Of his many works, most famous is The Cairo Trilogy, consisting of Palace Walk (1956), Palace of Desire (1957), and Sugar Street (1957), which focuses on a Cairo family through three generations, from 1917 until 1952. In 1988, he was the first writer in Arabic to be awarded the Nobel Prize in Literature. He died in August 2006.
Praise For Karnak Cafe…
"A fierce yet subtle novel. . . . Every page smolders." —The New York Sun"A storyteller of the first order in any idiom." —Vanity Fair
Advertisement