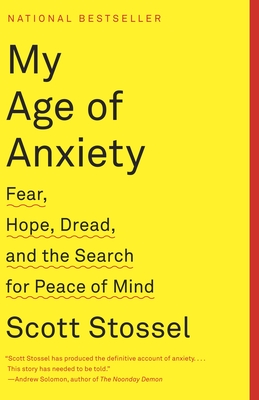 My Age of Anxiety
Fear, Hope, Dread, and the Search for Peace of Mind
Paperback

* Individual store prices may vary.
Other Editions of This Title:
Compact Disc (1/7/2014)
Description
A Washington Post Notable Book
A Seattle Times Best Book of the Year

Drawing on his own longstanding battle with anxiety, Scott Stossel presents a moving and revelatory account of a condition that affects some 40 million Americans. Stossel offers an intimate and authoritative history of efforts by scientists, philosophers, and writers to understand anxiety. We discover the well-known who have struggled with the condition, as well as the afflicted generations of Stossel's own family. Revealing anxiety's myriad manifestations and the anguish it causes, he also surveys the countless psychotherapies, medications, and often outlandish treatments that have been developed to relieve it.
        Stossel vividly depicts anxiety's human toll—its crippling impact, its devastating power to paralyze. He also explores how individual sufferers—including himself—have managed and controlled symptoms. By turns erudite and compassionate, amusing and inspirational, My Age of Anxiety is the essential account of a pervasive and too often misunderstood affliction.
Praise For My Age of Anxiety: Fear, Hope, Dread, and the Search for Peace of Mind…
"Scott Stossel has produced the definitive account of anxiety. . . . This story has needed to be told." —Andrew Solomon, author of The Noonday Demon

"Enlightening, empowering. . . . Brave and . . . potentially therapeutic." —The Washington Post

"Sheds light not just on a particular disorder but on the human condition that gives rise to it." —The Wall Street Journal

"Brings to this story depth, intelligence, and perspective that could enlighten untold fellow sufferers for years to come." —Elizabeth Gilbert, author of Eat, Pray, Love

"A carefully reported, wryly funny, and admirably honest historical and personal investigation." —Elle

 "[An] erudite, heartfelt, and occasionally darkly funny meld of memoir, cultural history, and science. . . . Excruciatingly relevant." —O, The Oprah Magazine
 
"Bravely intimate. . . . Dazzlingly comprehensive." —The New York Times Book Review
 
"Admirably done. . . . Intelligent, interesting, and well written." —The New Yorker
 
"First-rate. . . . Fascinating. . . . [A] triumph." —The Boston Globe
 
"There is much pain here, but humor, too. . . . Without meaning to, Stossel has written a self-help manual." —Newsday
 
"Quite impressive. . . . [Stossel is] a terrific, companionable writer." —Forbes

"With humor, insight and intense research, [Stossel] sheds light on the disorder that is believed to affect one in seven Americans. From a historical overview to a review of current treatments in a book laced with fascinating personal anecdotes, Stossel delivers authentic perspective on such suffering. " —New York Daily News

"Scott Stossel's new book on his lifelong struggle with severe anxiety is outstanding in the fullest sense of the word. . . . Both conspicuous and superior within its genre." —The Seattle Times

"Books exploring personal experiences of mental illness tend to be either over-wrought accounts of personal trauma that shed little light on the world beyond the author's nose, or the more detached observations of scientists and medics. It is rare to find works that bridge these objectives, which is one reason that the writer Andrew Solomon achieved such success with The Noonday Demon. . . . Stossel's book deserves a place on this higher shelf." —Nature

"Powerful, eye-opening and funny. Pitch-perfect in his storytelling, Stossel reminds us that, in many important ways, to be anxious is to be human." —The Dallas Morning News
 
"An immense achievement. . . . Superbly wide-ranging. . . . With this substantial treatment, Stossel has done justice to himself and his subject." —The Daily Telegraph (London)

"An extraordinary literary performance. . . . In an age inundated by memoirs and psychic self-help books, My Age of Anxiety is the rare memoir that tells an entirely compelling story, and the rare self-help book that really helps. You, and many thousands of readers along with you, will laugh until you cry." —Bookforum
Vintage, 9780307390608, 416pp.
Publication Date: February 3, 2015
About the Author
Scott Stossel is the editor of The Atlantic and the author of Sarge: The Life and Times of Sargent Shriver. His articles and essays have appeared in The Atlantic,The New Yorker, The New Republic, The New York Times, The Wall Street Journal,and many other publications. He lives with his family in Washington, D.C.