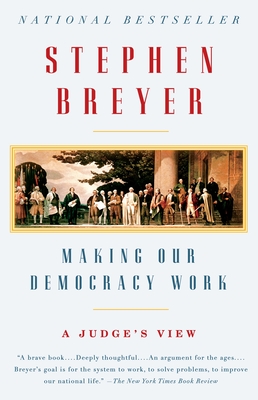 Making Our Democracy Work
A Judge's View
Paperback

* Individual store prices may vary.
Other Editions of This Title:
Hardcover (9/14/2010)
Description
Charged with the responsibility of interpreting the Constitution, the Supreme Court has the awesome power to strike down laws enacted by our elected representatives. Why does the public accept the Court's decisions as legitimate and follow them, even when those decisions are highly unpopular? What must the Court do to maintain the public's faith? How can it help make our democracy work?
 
In this groundbreaking book, Justice Stephen Breyer tackles these questions and more, offering an original approach to interpreting the Constitution that judges, lawyers, and scholars will look to for many years to come.
Praise For Making Our Democracy Work: A Judge's View…
"A brave book. . . . Deeply thoughtful. . . . An argument for the ages. . . . A clarion call to future generations. . . . Breyer's goal is for the system to work, to solve problems, to improve our national life."
—The New York Times Book Review

"The most honest discussion of what a judge should do that you will ever find, all the more remarkable because it is written by a sitting Supreme Court justice."
—The Washington Post

"Breyer's thoughtful book draws readers into the court. . . . It extends his public ruminations with what are becoming his hallmarks: wisdom, modesty, incisiveness."
—Los Angeles Times
 
"Vivid and full of surprising details. . . . Exemplifies an idealism about what is possible in a democratic citizenry, and an optimism about it, that is as impressive as it is rare on the Supreme Court. . . . Very admirable."
—The New Republic

"A calm, reasoned book about how the Supreme Court should do its work and how, in history, it has sometimes failed the challenge. . . . A remarkable contribution to educating the public about our constitutional system."
—The New York Review of Books
 
"A users' guide to both the Constitution and the Supreme Court. . . . You will find perhaps the best five-page description ever produced of how the Supreme Court works."
—The Boston Globe
 
"In terms of showing how U.S. Supreme Court justices grapple with important issues, Breyer has made a significant contribution. . . . A perfect book for the law school graduate who wants a refresher in constitutional law—from why the court assumes the power to strike down a statute to how the court can correct itself when it makes bad decisions."
—San Francisco Chronicle
 
"A full account of [Breyer's] judicial philosophy, one that allows the federal government wide latitude in addressing society's problems."
—Jeffrey Toobin, The New Yorker
 
"A great read. . . . At a moment in which most of us talk about the Constitution in tones of rage and betrayal, Breyer's optimism, modesty, and scholarly passion are welcome change. Making Our Democracy Work is an invitation to a much more civilized and nuanced conversation about the relationship between Americans, their government, and their freedom."
—Slate
 
"A multidimensional approach to dissecting constitutional questions."
—The Philadelphia Inquirer
 
"Breyer tells us how the law works, and how it should work. . . . [Making Our Democracy Work] provides an understanding of the people who sit in judgment on our highest court, and what moves them."
—The Star-Ledger (Newark)
 
"An accomplished writer, Justice Breyer's absorbing stories offer insight into how a democracy works, and sometimes fails."
—Publishers Weekly (starred review)
Vintage, 9780307390837, 288pp.
Publication Date: September 13, 2011
About the Author
Stephen Breyer is an associate justice of the United States Supreme Court. He is a resident of Cambridge, Massachusetts, and Washington, D.C.