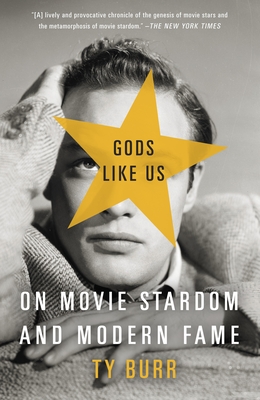 Gods Like Us (Paperback)
On Movie Stardom and Modern Fame
Anchor, 9780307390844, 448pp.
Publication Date: June 4, 2013
* Individual store prices may vary.
Description
With 8 Pages of Black-and-White Photographs

In this captivating history of stardom, Boston Globe film critic Ty Burr traces our obsession with fame from the dawn of cinema through the age of the Internet. Why do we obsess over the individuals we come to call stars? How has both the image of stardom and our stars' images changed over the past hundred years? What does celebrity mean if people can now become famous simply for being famous? With brilliant insight and entertaining examples, Burr reveals the blessings and the curses of celebrity for the star and the stargazer alike. From Mary Pickford and Charlie Chaplin, to Archie Leach (a.k.a. Cary Grant), Tom Cruise, and Julia Roberts, to such no-cal stars of today as the Kardashians and the new online celebrity, Gods Like Us is a journey through the fame game at its flashiest, most indulgent, occasionally most tragic, and ultimately it's most culturally revealing.
About the Author
Ty Burr is the film critic for The Boston Globe. For more than a decade he wrote about movies for Entertainment Weekly, and he has also served in the film acquisitions department of HBO. He estimates that after thirty years of serious movie-watching, he has seen on the order of 10,680 films. On a good day, he remembers 7,000 of them.
Praise For Gods Like Us: On Movie Stardom and Modern Fame…
Praise for Ty Burr's Gods Like Us:

"A penetrating, lively cultural history of movie stardom. . . . [Burr] has a witty, readable style, but don't let that pop façade fool you.  There is substance here, as he dissects how each period in American history finds or create stars to serve its needs."
—The New York Times Book Review

"[A] lively and provocative chronicle of the genesis of movie stars and the metamorphosis of movie stardom. . . . Any Hollywood history can describe a star's X factor. But not many film historians can see the whole equation as Ty Burr does in Gods Like Us. . . . He offers original thinking about the audience factor."
—The New York Times

"Gods Like Us is a standout, as enjoyable as it is informative, when it comes to the astrology of public entertainment."
—The Wall Street Journal

"Wide-ranging. . . . Superb. . . . Capacious and thought-provoking. . . . Burr presents a fresh take on the medium's history, eschewing the standard roll call of moguls and filmmakers, preferring to understand the triumph of Hollywood as a carefully orchestrated harnessing of the ferocious power of celebrity."
—The Boston Globe
 
"Superb. . . . One of the great books of its kind. . . . A brilliant and even profound history of stardom."
—The Buffalo News

"David Thomson, watch out! In the pithy new book Gods Like Us: On Movie Stardom and Modern Fame, Boston Globe film critic Ty Burr delivers thoughtfully epigrammatic descriptions of movie stars, actors, and celebrities. He wittily traces the progression of these characters from the early days of film to their current incarnations on the internet, from the young Frank Sinatra, who 'looked like a freshly hatched ostrich but his singing voice promised a slowly crested big-band orgasm,' to Harrison Ford, who is able to 'make grumpiness seem sexy.' . . . Gods Like Us soars when it meditates on individual stars and their personae. . . . The whole book is worth guzzling for the golden nuggets on movie stars and celebrity sprinkled throughout."
—IndieWire

"A lively anecdotal history of stardom, with all its blessings and curses for star and stargazer alike. From Mary Pickford and Charlie Chaplin to Archie Leach (a.k.a. Cary Grant) and Marion Morrison (a.k.a. John Wayne), from Tom Cruise and Julia Roberts to today's instant celebs famous for being famous, Burr takes us on an insightful and entertaining journey through the modern fame game at its flashiest, most indulgent, most revealing and, occasionally, most tragic."
—The Huffington Post

"Burr is an ever-witty presence on the page (see: Clara Bow, with her 'blat of raw sexual energy,' or Arnold Schwarzenegger, 'this slab of Black Forest ham'). A terrific writer, then, yes, but also an astute reader of history, as in his near-breathless analysis of three midcentury seismic shifts—the emergence of Marlon Brando, television, and rock & roll. Burr gives each subject a good chew."
—Austin Chronicle

"Burr's Gods Like Us is a constantly interpretive history of and idiosyncratic meditation on stardom. . . . It is an important work, precisely because it is such a difficult task that is all too rarely undertaken."
—The Daily Beast

"Straightforwardly chronological, tracing an unbroken line through more than a century of celluloid heroes, eventually landing on a truth: The success of these silver-screen idols says just as much about us as it does about them."
—Entertainment Weekly

"Gods Like Us is an entertaining, wide-ranging account of the way movies created a new kind of fame, and changed the world in the process. Ty Burr's encyclopedic history of movie stardom is gossipy (in the best of sense of the word) and insightful, and his cultural analysis is as provocative as it persuasive."
—Tom Perrotta, author of Little Children and The Leftovers

"The sharp, illuminating Gods Like Us is as enjoyable and addictive as the greatest bucket of movie popcorn you've ever had. For anyone who loves cinema, this is a 'must own' book."
—Dennis Lehane, author of Live by Night and Mystic River

"[A] solid analysis of celebrity. . . . In this fascinating cultural study, film critic Burr explores the rise of stars in the early film industry. . . . Burr chronicles the star system—silents, talkies, movie factories, postwar studios—while citing factors such as television ('evoked not glamour, but ordinariness'), music (Elvis Presley, Michael Jackson, Madonna), MTV, HBO, and YouTube ('teenagers have at their disposal the fundamental moviemaking facilities of a Hollywood studio in the 1930s')."
—Publishers Weekly

"Burr has both a fan's and scholar's grasp of the history of film, and he travels along a celluloid highway that extends from the early days of Thomas Edison to Zac Efron. Of greatest interest to the author is our evolving notion of celebrity—of what celebrities mean. . . . A focused history of films."
—Kirkus Reviews