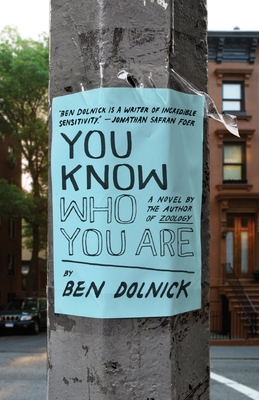 You Know Who You Are (Vintage Contemporaries) (Paperback)
Vintage, 9780307390875, 288pp.
Publication Date: March 22, 2011
* Individual store prices may vary.
Description
A gorgeous novel of family life, You Know Who You Are is the story of the Vine family, Arthur, Alice, and their three children. The eldest, Will, is well-mannered and academically driven. The youngest, Cara, is a sweet little charmer. Jacob, the middle child, is less sure of who he is. He's funny, he's impulsive, and he is often held hostage by his urges to make chaos. But when their mother, Alice, falls ill, Jacob begins to experiment--guiltily, nervously--with the special freedoms conferred on the motherless.
 
Following the Vines as Jacob moves through high school, college, and beyond, You Know Who You Are is a wise, funny, elegiac novel of moving on, pulling together, and answering that most complicated of questions: who will you decide to become?
About the Author
Ben Dolnick grew up outside of Washington, D.C., and currently lives in Brooklyn with his wife. He is the author of a novel, Zoology, and his work has appeared in various publications, including The New York Times and Five Chapters.
Praise For You Know Who You Are (Vintage Contemporaries)…
"This lovely novel is hauntingly wise in the ways of American boyhood, capturing the intensity of middle-school friendship and early romance. . . . Stunningly moving." —The Boston Globe

"I love nothing more than a keen, kind eye reporting on lovably flawed characters, and Ben Dolnick has given me a story and a family to adore.  Jacob Vine's journey from childhood into manhood is bittersweet, funny, so fondly told and so very smart.  What a pleasure." —Elinor Lipman, author of Then She Found Me

"If this were a memoir of his coming of age . . . the author would be called brave for confessing every urge, insecurity and selfish act. . . . Laying himself this bare feels like an act of penance for surviving, and makes [Jacob's] character all the richer." —The New York Times

"Dolnick follows his critically acclaimed debut novel, Zoology, with You Know Who You Are, the story of Jacob, an often impulsive, insecure kid outshined by his siblings. . . . The author's spare, minimalist prose ensures that the focus on story is never overwhelmed by literary theatrics, inviting the reader to become an omniscient parent overlooking Jacob. . . . Dolnick's sincere, snark-free observation lends credibility and provokes empathy throughout the awkward snafus of the suburban American male's maturation." —Time Out New York

"Dolnick's skill lies in how adroitly he manages Jacob's voice throughout the novel. . . . Jacob is very much human, ever-changing and always learning, and he bears some remarkable similarities to his creator with his constant writings, his geographical location, and his introspection on life. . . . If the character's constant yearning to be told he's loved is also a quest shared by Dolnick, though, the search should end with this book." —The Austin Chronicle


"Ben Dolnick writes about growing up with such winning affection he makes you want to go back and do it all over again. You Know Who You Are is about the big subjects—sex and death—and Dolnick handles it all with the lightest of touches. I loved this book." —Joshua Henkin, author of Matrimony

"A solid, elegiac novel that has a touch of the requisite teenage angst, but also some refreshing dark humor." —The Brooklyn Paper

"Ben Dolnick brilliantly portrays the moment by moment intensity of adolescence, the bewildering adventure of growing up, and the often unbridgeable distance that exists between the world of young people and the world of adults.  As the members of Dolnick's Vine family cope with a devastating loss, they remain wholly believable and achingly lovable.  Through Jacob, the middle child, we come to understand that such a loss can take years to fully register, and that recovery is not so much a process of letting go, but of remembering and holding on to one's true self." —Kiara Brinkman, author of Up High in the Trees

"In Dolnick's second novel, You Know Who You Are, he shows considerable skill in creating rich and resonant inner lives for his deeply imagined characters, without a reliance on anything other than honest reporting on the events of a fairly regular life. Eschewing the ironic mantle of his generation, he has created a captivating human portrait, and promises to be a strong force in the fight to reclaim earnestness. . . . Dolnick writes with a subtle humor and economy of prose that you will forgive the reviewer for describing as "Franzenian," but the comparison must be made." —The Daily Beast

or
Not Currently Available for Direct Purchase