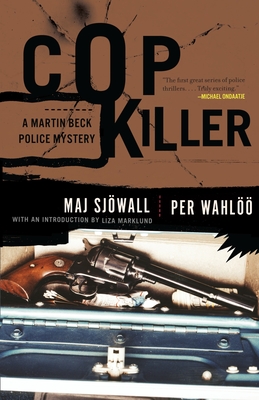 Cop Killer: A Martin Beck Mystery (Paperback)
A Martin Beck Mystery
Vintage Books USA, 9780307390899, 296pp.
Publication Date: July 27, 2010
Description
The shocking ninth novel in the Martin Beck mystery series by Maj Sjowall and Per Wahloo finds Beck investigating parallel cases that have shocked a small rural community. In a country town, a woman is brutally murdered and left buried in a swamp. There are two main suspects: her closest neighbor and her ex-husband. Meanwhile, on a quiet suburban street a midnight shootout takes place between three cops and two teenage boys. Dead, one cop and one kid. Wounded, two cops. Escaped, one kid. Martin Beck and his partner Lenart Kollberg are called in to investigate. As Beck digs deeper into the murky waters of the young girl's murder, Kollberg scours the town for the teenager, and together they are forced to examine the changing face of crime.
About the Author
Maj Sjowall and Per Wahloo, her husband and coauthor, wrote ten Martin Beck mysteries. Mr Wahloo, who died in 1975, was a reporter for several Swedish newspapers and magazines and wrote numerous radio and television plays, film scripts, short stories, and novels. Maj Sjowall is also a poet.
Praise For Cop Killer: A Martin Beck Mystery…
"The first great series of police thrillers. . . . Truly exciting."—Michael Ondaatje
 
"The [Martin Beck] series has maintained such a degree of excellence that comparisons are near impossible."--Minneapolis Tribune
 
"It's hard to think of any other thriller writers (apart from Simenon perhaps) who can capture so much of a society in a couple of hundred pages and yet still hold true to the  thriller form."—Sean and Nicci French
 
"Sjöwall and Wahlöö write unsparingly and unswervingly. . . . Their plots are second to none."—Val McDermid

"Sjöwall and Wahlöö continue to be tops for discriminating crime book readers."—Denver Post
 
"Ingenious. . . . Their mysteries don't just read well; they reread even better. . . . The writing is lean, with mournful undertones."—The New York Times
 
"Martin Beck is as always very believable: this, we feel, is what it must mean to be an honest and intelligent policeman in modern Sweden, or anywhere else."—Times Literary Supplement
 
"In the hands of Wahlöö and Sjöwal . . . the police story – with no loss of suspense or action – [has been] brilliantly fashioned into a sharp instrument for social commentary."—Washington Post
 
"Edge-of-the-seat suspense."—San Francisco Examiner
Advertisement