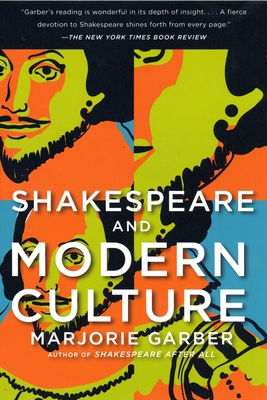 Shakespeare and Modern Culture (Paperback)
Anchor Books, 9780307390967, 326pp.
Publication Date: December 1, 2009
* Individual store prices may vary.
or
Not Currently Available for Direct Purchase
Description
From one of the world's premier Shakespeare scholars comes a magisterial new study whose premise is "that Shakespeare makes modern culture and that modern culture makes Shakespeare." Shakespeare has determined many of the ideas that we think of as "naturally" true: ideas about human character, individuality and selfhood, government, leadership, love and jealousy, men and women, youth and age. Marjorie Garber delves into ten plays to explore the interrelationships between Shakespeare and contemporary culture, from James Joyce's Ulysses to George W. Bush's reading list. From the persistence of difference in Othello to the matter of character in Hamlet to the untimeliness of youth in Romeo and Juliet, Garber discusses how these ideas have been re-imagined in modern fiction, theater, film, and the news, and in the literature of psychology, sociology, political theory, business, medicine, and law. Shakespeare and Modern Culture is a brilliant recasting of our own mental and emotional landscape as refracted through the prism of the protean Shakespeare.
About the Author
Marjorie Garber is William R. Kenan Jr. Professor of English and American Literature and Language, and Chair of the Department of Visual and Environmental Studies, at Harvard University. Shakespeare After All was named one of the five best nonfiction books of 2004 by Newsweek and received the 2005 Christian Gauss Book Award from the Phi Beta Kappa Society. She lives in Cambridge, Massachusetts. From the Hardcover edition.
Praise For Shakespeare and Modern Culture…
"Garber's reading is wonderful in its depth of insight. . . . A fierce devotion to Shakespeare shines forth from every page." —The New York Times Book Review

"Sharply incisive.... Garber merrily illustrates how modern culture can miss Shakespeare's original points.... Her book credibly demonstrates that the everchanging timeliness of Shakespeare's thoughts is what makes them timeless." —The New York Times

 "Garber's approach is eclectic.... She is an inspiring reader." —The New Yorker  PRAISE FOR MARJORIE GARBER'S SHAKESPEARE AFTER ALL "Garber's is the most exhilarating seminar room you'll ever enter." –Newsweek "A return to the times when the critic's primary function was as an enthusiast, to open up the glories of the written word for the reader." –The New York Times "[Garber's] introduction is an exemplary account of what is known about Shakespeare and how his work has been read and regarded through the centuries, while the individual essays display scrupulous and subtle close reading." –The New Yorker  "The best one-volume critical guide to the plays." –The Miami Herald "A delight . . . Polished, thoughtful, eminently useful . . . Not only a wonderful guide to the plays, but just as importantly, it's a guide to the reading of the plays . . . Garber writes elegantly and insightfully . . . The reader seeking an informed guide to each play simply cannot do better." –The Providence Journal "An absolute joy . . . Extremely lively and witty . . . Remarkable . . . Authoritative." –Tuscon Citizen "Garber keeps her eye on the goal, to illuminate the experience of reading and seeing the plays, and achieves it with quiet efficiency." –San Jose Mercury News "Stimulating and informative." –The Charlotte Observer
Advertisement