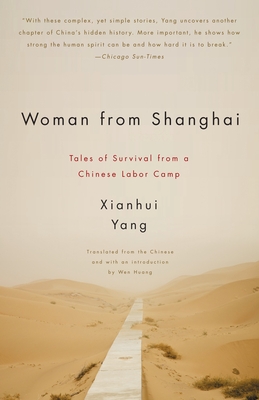 Woman from Shanghai (Paperback)
Tales of Survival from a Chinese Labor Camp
Anchor, 9780307390974, 320pp.
Publication Date: August 24, 2010
Other Editions of This Title:
Hardcover (8/4/2009)
* Individual store prices may vary.
Description
In Woman from Shanghai, Xianhui Yang, one of China's most celebrated and controversial writers, gives us a work of fact-based fiction that reveals firsthand—and for the first time in English—what life was like in one of Mao's most notorious labor camps.

Between 1957 and 1960, nearly three thousand Chinese citizens were labeled "Rightists" by the Communist Part and banished to Jianiangou in China's northwestern desert region of Gansu to undergo "reeducation" through hard labor. These exiles men and women were subjected to horrific conditions, and by 1961 the camp was closed because of the stench of death: of the rougly three thousand inmates, only about five hundred survived.

In 1997, Xianhui Yang traveled to Gansu and spent the next five years interviewing more than one hundred survivors of the camp. In Woman from Shanghai he presents thirteen of their stories, which have been crafted into fiction in order to evade Chinese censorship but which lose none of their fierce power. These are tales of ordinary people facing extraordinary tribulations, time and again securing their humanity against those who were intent on taking it away.

Xianhui Yang gives us a remarkable synthesis of journalism and fiction—a timely, important and uncommonly moving book.
About the Author
Xianhui Yang lives in Tianjin, China. Woman from Shanghai is his first book to be translated into English.

Wen Huang is a writer and translator whose articles and translations have appeared in the Paris Review, the Asian Literary Review, the Chicago Tribune and The Christian Science Monitor. He translated Chinese writer Liao Yiwu's The Corpse Walker: Real Life Stories: China from the Bottom Up.
Praise For Woman from Shanghai: Tales of Survival from a Chinese Labor Camp…
"Xianhui Yang's Woman From Shanghai, a newly translated collection of firsthand accounts that the publisher calls 'fact-based fiction,' is about what might be called the Gulag Archipelago of China. . . . Woman From Shanghai represents a remarkable contribution to a growing literature based on personal histories. . . . Readers of Mr. Yang's book should not be put off by the frequent recurrence of common elements in these stories: the exposure to bitter cold; hunger so intense as to cause inmates to eat human flesh; the familiar sequence of symptoms, beginning with edema, that lead down the path to death; the toolbox of common survivor techniques, from toadyism to betrayal, from stealthy theft to making use of the vestiges of privilege, which survived even incarceration in this era of radical egalitarianism. It is through the accumulation and indeed repetition of such things that this utterly convincing portrait of a society driven far off the rails is drawn. . . . Most moving of all, perhaps, is 'The Love Story of Li Xiangnian,' about the persecution of a young man and the persistence of his ardor for his girlfriend. The haggard Li escapes from detention to be reunited with her, only to be arrested again. Their touching reunion many years later, after the woman is married, would not be out of place in a Gabriel García Márquez novel." —Howard W. French, The New York Times

"In Woman from Shanghai, Xianhui Yang describes in wrenching detail the squalid conditions and widespread starvation that only 600 of the 3,000 prisoners were able to survive. Even some who lived to see their convictions reversed were forced to become paid employees of the labor camp. . . . Despite these horrors, there are stories of selflessness and fortitude." —Sarah Halzack, The Washington Post

"Told in stark, spare yet deeply compelling prose, infused with unsentimental compassion, Woman From Shanghai stands out amid the voluminous literature and testimonies about the persecution in Mao's labor camps. It exposes torture and dehumanization, but is also a powerful rumination on hope, love and humanity." —Fan Wu, San Francisco Chronicle

"With these complex, yet simple stories, Yang uncovers another chapter of China's hidden history.  More important, he shows how strong the human spirit can be and how hard it is to break."  —Chicago Sun-Times


"With unadorned simplicity, Yang's works reject superficiality and demonstrate restraint, very much like the deceptively calm expression of a person whose mind is tortured by chaos. This type of controlled restraint draws the readers to the special magic of his stories." —Lei Da, Executive Deputy Chair of the Chinese Writers' Association

"Yang's stories are the Chinese Gulag Archipelago that emerged from the deep water. Yang and other Chinese writers use their pen as weapons to defend our memory and preserve our history."—Yu Jie, prominent Chinese critic
or
Not Currently Available for Direct Purchase