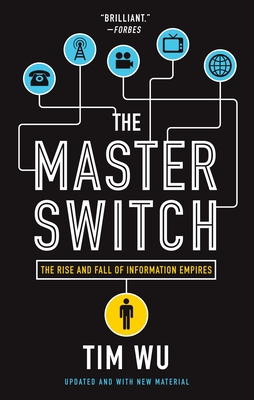 The Master Switch
The Rise and Fall of Information Empires
Paperback

* Individual store prices may vary.
Other Editions of This Title:
MP3 CD (6/30/2015)
Compact Disc (6/19/2012)
Description
A New Yorker and Fortune Best Book of the Year

"A must-read for all Americans who want to remain the ones deciding what they can read, watch, and listen to." —Arianna Huffington

Analyzing the strategic maneuvers of today's great information powers—Apple, Google, and an eerily resurgent AT&T—Tim Wu uncovers a time-honored pattern in which invention begets industry and industry begets empire. 

It is easy to forget that every development in the history of the American information industry—from the telephone to radio to film—once existed in an open and chaotic marketplace inhabited by entrepreneurs and utopians, just as the Internet does today. Each of these, however, grew to be dominated by a monopolist or cartel.

In this pathbreaking book, Tim Wu asks: will the Internet follow the same fate? Could the Web—the entire flow of American information—come to be ruled by a corporate leviathan in possession of "the master switch"? Here, Tim Wu shows how a battle royale for the Internet's future is brewing, and this is one war we dare not tune out.


Praise For The Master Switch: The Rise and Fall of Information Empires…
"Brilliant." —Forbes

"Thought-provoking. . . . An intellectually ambitious history of modern communications." —The New York Times Book Review

"Fascinating, balanced, and rigorous—a tour de force." —The New York Review of Books
 
"Entertaining. . . . There's a sharp insight and a surprising fact on nearly every page of Wu's masterful survey." —The Boston Globe

"Unexpectedly fascinating. . . . A substantial and well-written account of the five major communications industries that have shaped the world as we know it: telephony, radio, movies, television and the Internet. . . . The economy and common sense of The Master Switch . . . makes it valuable to the non-wonk wondering how we got where we are today, and where we might be headed next." —Salon
 
"Engaging. . . . Wu presents a powerful case. . . . His scholarly command of the past century of communications innovation is prodigious." —The Plain Dealer
 
"My pick for economics book of the year." —Ezra Klein, The Washington Post
 
"An explosive history that makes it clear how the information business became what it is today. Important reading." —Chris Anderson, author of The Long Tail and Free, and editor of Wired magazine
 
"A brilliant explanation and history. . . . As fascinating, wide-ranging, and, ultimately, inspiring book about communications policy and the information industries as you could hope to find. . . . Wu is that rare animal, an accomplished scholar who can write about complex ideas in ways that are accessible to all. And the ideas he's covering are as important as any in our ideological marketplace today." —Cory Doctorow, Boing Boing
 
"Groundbreaking. . . . Offers powerful lessons from the past for the future of the Internet." —Nature
 
"Original, insightful. . . . Wu provides a compelling reminder of the monopolist instincts of communications and media companies." —The Washington Monthly
 
"Masterful. . . . Eminently readable. . . . A superstar in the telecommunications world . . . Wu has a way of presenting complex and important concepts in a clear and understandable way." —Art Brodsky, The Huffington Post
 
"Wu is the rare writer capable of exhuming history and also interpreting current affairs. In this profound and important book, he excels at both." —New Scientist
 
"Wu's work is a must read for those who want to know about the future of the Internet. The Master Switch is brilliant, with a distinctive voice that comes through on every page." —Josh Silverman, CEO, Skype
 
"As a history lesson for anyone interested in how innovations move from inventors' garages and laboratories to our living rooms, The Master Switch is a good read, but it is its relevance to the evolution of the Internet that makes it an important book." —Times Higher Education Supplement
 
"Trenchant and provocative. . . . In vivid and often depressing detail, Wu describes how the true inventors and innovators of information technology have been destroyed by their self-aggrandizing counterparts in the executive offices." —Toronto Star
 
"A free and open Internet is not a given. Indeed, corporate interests are working feverishly to seize control of it. Drawing on history, Wu shows how this could easily happen and why we are at risk of losing the freedom we now take for granted. A must-read for all Americans who want to remain the ones deciding what they can read, watch, and listen to." —Arianna Huffington
 
"An ambitious history of the communications industries in the 20th century. . . . [Full of] great stories, and Wu tells them expertly." —The Guardian (London)
 
"The Master Switch is a provocative thesis on where the Internet has come from and where it is headed. It will interest technology enthusiasts and all who value a vibrant media market." —The Futurist
 
"Wu's engaging narrative and remarkable historical detail make this a compelling and galvanizing cry for sanity . . . in the information age." —Publishers Weekly (starred review)
Vintage, 9780307390998, 384pp.
Publication Date: November 29, 2011
About the Author
Tim Wu is an author, policy advocate and professor at Columbia University, currently serving as Senior Advisor to the United States Federal Trade Commission.  In 2006, he was recognized as one of fifty leaders in science and technology by Scientific American magazine, and in the following year, 01238 magazine listed him as one of Harvard's one hundred most influential graduates. He writes for Slate, where he won the Lowell Thomas gold medal for travel journalism, and he has contributed to The New Yorker, Time, The New York Times, The Washington Post, and Forbes.