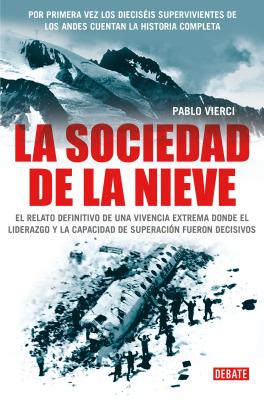 La Sociedad de la Nieve (Paperback)
Grijalbo, 9780307392817, 338pp.
Publication Date: July 4, 2009
* Individual store prices may vary.
or
Not Currently Available for Direct Purchase
Description
Este es el libro definitivo sobre los sobrevivientes de los Andes.
El 13 de octubre de 1972 un avion se estrello en Los Andes, y a los pocos dias se suspendieron las labores de busqueda y todos los ocupantes fueron dados por muertos. Setenta y tres dias despues del accidente, los dieciseis supervivientes volvieron al mundo. Pablo Vierci, companero de colegio de todos ellos, ha logrado que los dieciseis hablen por primera vez desde el accidente que los arrojo con apenas veinte anos a los Andes, a cuatro mil metros de altura, con veinte grados bajo cero, sin abrigo ni comida. Cada uno de los dieciseis recuerda en primera persona como fueron esos dias en la cordillera, como superaron esa situacion limite, como entendieron la muerte, que significo el accidente y como influyo en su vida posterior.
La extraordinaria recreacion de los momentos previos al accidente, la supervivencia en la montana, el alud que mato a ocho de ellos, la decision de alimentarse de los cuerpos de los companeros, la expedicion en busca de ayuda, los dias posteriores al rescate y la vida a partir de entonces, convierten este libro en una obra esencial para conocer la capacidad del ser humano de enfrentarse a situaciones extremas y superarlas; para aprender como, en la tragedia y la adversidad, en un escenario desmesurado y solitario, se logra crear una sociedad diferente a todas las conocidas, definida por la misericordia y la obligacion de ir mas alla de lo posible.
Su relato puede convertirse en la mejor guia para superar cualquier cordillera.
ENGLISH DESCRIPTION
This is the definitive book about the survivors in the Andes. The biggest story that was never told. Each survivor gives his or her personal testimony and tells how the accident has influenced life, both then and now. Vierci chillingly recreates the most important moments in the story: the departure from the Montevideo airport, those who didn't travel because they arrived late or were ill, the accident, the injuries, the avalanche, the first expeditions in search of help, the group's organization, the death of the rugby team's coach, the news that they were considered dead and that the searches had been called off, the discovery of the airplane's tail, the rescue, the last expedition: a week of hiking at 4,000 meters of altitude and 20 degrees below zero, finding the Chilean shepherd, the first questions by the Chilean press after their rescue, the return home.

Advertisement