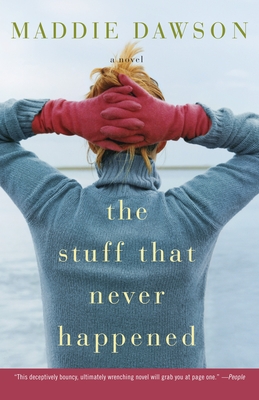 The Stuff That Never Happened
A Novel
Paperback

* Individual store prices may vary.
Other Editions of This Title:
Compact Disc (3/3/2020)
MP3 CD (3/3/2020)
Description
A journey into the what-ifs that haunt us all, The Stuff That Never Happened is an intricate, heartfelt examination of modern marriage that brims with truths about the nature of romantic love.

What if you were married to someone for twenty-eight years but in love with another? What if you were in love with them both?
 
Annabelle McKay knows she shouldn't have any complaints. She's been in a stable marriage that's lasted almost three decades and has provided her with two wonderful children, thousands of family dinners around a sturdy oak table, and a husband so devoted that he schedules lovemaking into his calendar every Wednesday morning. Other wives envy the fact that Grant is not the type of man who would ever cheat on her or leave her for a younger woman. The trouble is Annabelle isn't sure she wants to be married to Grant anymore. The trouble is she's still in love with someone else.
 
In the early tumultuous years of her marriage, Annabelle carried on a clandestine affair with the one person whose betrayal would hurt her husband the most. When it ended, she and Grant found their way back together and made a pact that they would never speak of that time again. But now years later, with her children grown and gone, and an ominous distance opening between them, she can't help but remember those glorious, passionate days and wonder if she chose the right man.
 
Then, when called to New York City to help care for her pregnant daughter, Annabelle bumps into her old lover. Offered a second chance at an unforgettable love, she must decide between the man who possesses her heart and the husband who has stood squarely by her side.
Praise For The Stuff That Never Happened: A Novel…
"[A] deceptively bouncing, ultimately wrenching novel [that] will grab you at page one....The phrase 'summer read' seems invented for this debut."
—People

"Nicely written...enjoyable prose and keen characterization."
—Publishers Weekly

"Both tender and exquisite, Maddie Dawson's triumphant debut, The Stuff That Never Happened, is a pitch-perfect look into the choices we made in our past and the consequences that they carry long into the future. I loved every page."
—Allison Winn Scotch, New York Times bestselling author of The One That I Want
 
"The Stuff That Never Happened is unlike a lot of novels I read - I was never quite sure what was going to happen, and in that way, I found it compelling and compulsive to read.  Often when I'm halfway through a book, I'm fairly certain of the characters' paths.  This time, the lives encountered were surprising, illuminating, and always believable."
—Susan Straight, author of A Million Nightingales
 
"What a joy it is to discover Maddie Dawson. In the best storytelling tradition of writers like Elizabeth Berg and Anne Tyler, Dawson delivers a fast-paced, unflinching, often hilarious novel about the challenges of love, parenthood, and staying true to yourself in a marriage."
—Holly Robinson, author of The Gerbil Farmer's Daughter: A Memoir
 
"'I can admit that I went there hungry for the drama of him, that I craved that heightened sense of loving and being loved again,' Maddie Dawson's middleaged heroine confesses.  In trying to make sense of one married woman's relationship to her old flame, The Stuff That Never Happened is a paean to family happiness as much as romance."
—Stewart O'Nan, author of Songs for the Missing
Crown, 9780307393685, 336pp.
Publication Date: August 2, 2011
About the Author
MADDIE DAWSON is the author of Opposite of Maybe. She lives in Connecticut.
Annabelle and Grant McKay got married during the late 1970s at a time when society was in upheaval. Even Annabelle's mother tells her that marriage is a bad deal for women, and accuses Annabelle of getting married just to rebel against her. Annabelle insists she's marrying Grant because she's in love with him. Do you think Annabelle and Grant were in love with each other? How did their respective upbringings lead them to expect different things from marriage? What was it about Grant that drew Annabelle to him? And why would Grant have wanted Annabelle to marry him?
If Grant and Annabelle had not moved into the home of Jeremiah and Carly when they relocated to California, but instead had lived on their own, do you think their marriage would have had more of a chance of surviving those early years? Why? What other factors might have contributed to their separation?
When Annabelle starts her affair with Jeremiah, she is scared and reluctant. How does she justify it to herself? What is it about him that makes the affair almost inevitable?
Do you think that Jeremiah ever really intended to leave Carly and his children and go off with Annabelle? What actually prevented him from doing this? Would Jeremiah and Annabelle have been happy together?
Why does Annabelle want to get back together with Grant? What has she learned about herself and about him that makes this reunion possible?
Annabelle readily agrees to Grant's terms for reuniting, making a pact that they will never speak of her affair or those unhappy years again, and that this new reunion will mark the true beginning of their marriage. Should she have had misgivings about this from the start? Would such a pact be possible for most people? Why does it seem to suit Grant?
When Grant and Annabelle were raising their children in New Hampshire, they were happy, with a steady stream of friends and responsibilities and plenty to keep them occupied. It's after the children leave that Grant throws himself back to his work, saying he needs to make up for lost time in his career. Annabelle sees this as abandonment. Is she being unreasonable? In what ways did her infidelity hold Grant back in his career? Do you think he is punishing her for that?
The Wednesday morning appointment for sex: Grant says this is necessary so that they make sure to have time for each other, while Annabelle sees it as evidence of a lack of spontaneity in their relationship. How does this symbolize everything that is wrong between them? How do their different personality types affect their happiness and expectations of each other?
This book is as much about mother-daughter relationships as about marriages. Annabelle's mother, Edie, confides too much in her daughter and makes her uncomfortable. Annabelle keeps secrets from Sophie and doesn't tell her about her problems with Grant. How does Sophie see her parents' marriage? Does her idealization of their marriage make her have unrealistic expectations about her own? How frank should mothers be in talking with their daughters about their own mistakes?
Do you think that Sophie and Whit have a good marriage? Was he wrong to go away during her pregnancy? Do you think he will return?
When Annabelle sees Jeremiah again in New York, should she have ignored him and refused to meet him for coffee? What do you think she was hoping to understand from seeing him again? And what did she learn about those early years? Had she been deluded to ever love him—or was he the real love of her life?
Middle-aged marriages often start to unravel after kids leave home, after what seems to outsiders like happy years—or happy-enough years—raising children and making a life together. What do we owe to our families once they are raised and grown, especially if we're not getting the nourishment we need in our own lives?
Did Annabelle come to the right decision at the end of the book? What changes can she make to create the life she wants?
or
Not Currently Available for Direct Purchase