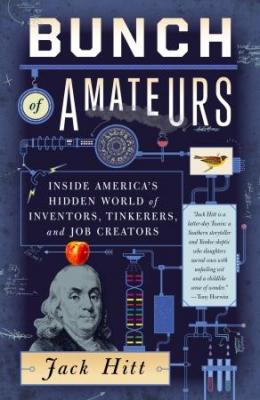 Bunch of Amateurs: Inside America's Hidden World of Inventors, Tinkerers, and Job Creators (Paperback)
Inside America's Hidden World of Inventors, Tinkerers, and Job Creators
Broadway Books, 9780307393760, 280pp.
Publication Date: May 14, 2013
* Individual store prices may vary.
or
Not Currently Available for Direct Purchase
Description
What is it that drives the success of America and the identity of its people? Jack Hitt thinks it's because we're all a bunch of amateurs.
America's self-invented tinkerers are back at it in their metaphorical garages fiddling with everything from solar-powered cars to space elevators. In Bunch of Amateurs, Jack Hitt draws a fascinating look at amateurs and their pursuits from a tattooed young woman in the Bay Area trying to splice a jellyfish's glow-in-the-dark gene into common yogurt to a space fanatic on the brink of developing the next generation of telescopes from his mobile home.
Beginning with Ben Franklin's kite, Hitt argues that history is bound up in a cycle of amateur surges, each one driving us to rediscover the true heart of the American dream. Amateur pursuits are too often criticized as outdated practices until a Mark Zuckerberg steps out of his dorm room with the rare but crucial success story.According toHitt, we arepoised at another frontier that will lead, once more, to the newestincarnation of the American dream.
About the Author
JACK HITT is a contributing editor to the New York Times Magazine, The New Yorker, and public radio s This American Life. He also writes for Rolling Stone, GQ, Wired, and, of course, Garden & Gun. He has won the Peabody Award, as well as the Livingston and Pope Foundation Awards."
Praise For Bunch of Amateurs: Inside America's Hidden World of Inventors, Tinkerers, and Job Creators…
"A love letter to American culture…as fascinating as it is inspiring, this hilarious book is a tour de force that celebrates troublemakers, risk takers, and the American spirit."
—Publishers Weekly

"Hitt is smarter than Malcolm Gladwell, a better storyteller than his colleagues at This American Life, and a better reporter than any big name you can think of." 
—Baltimore City Paper

"I ask myself if there's a better non-fiction writer in America than Jack Hitt . . . and come up with nobody. I've been following and stealing from his work my whole career. His usual mode is to convince you that you're reading a rollicking yarn, while with his left hand building a serious and unexpectedly persuasive argument. In Bunch of Amateurs he brings that to perfection. The book is about cranks, but it is also about the strange crucible of social tensions and intellectual assumptions inside of which our 'knowledge' gets made."
—John Jeremiah Sullivan

"Hitt is a virtuoso storyteller and a skilled distiller of complex subjects."
—New York Times

"How embarrassing it is to be asked to craft a blurb for Jack Hitt. I'm not fit to carry his bags. Few writers are. Bunch of Amateurs is completely sublime; beautifully written, hilarious, brushfire protean in the erudite shifts he makes--high culture, low, science, history, music, you name it--and just wonderfully rollicking. Who else can have one simultaneously laughing out loud and waiting with bated breath for Benjamin Franklin to alight from a carriage in Paris in 1778? No one but Jack Hitt, that's who. Like I said, it shames me to endorse him, so unfit to the task am I, but endorse him I must. I have no choice. You must read this book." 
—David Rakoff

"Jack Hitt is a latter-day Twain: a Southern storyteller and Yankee skeptic who slaughters sacred cows with unfailing wit and a childlike sense of wonder at the world. This makes him the perfect guide to the wacky yet inspiring universe of American inventiveness. Hitt's playfully profound book had me laughing with pride at the amateur in us all."
—Tony Horwitz

"…a fabulous tribute to amateurs….This is a totally absorbing gallery of oddballs and obsessives on the brink of possibly great discoveries, written by a man with a deep appreciation for amateurs and their pursuits."
—Booklist





Advertisement