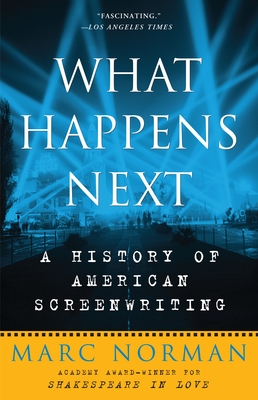 What Happens Next: A History of American Screenwriting (Paperback)
A History of American Screenwriting
Three Rivers Press (CA), 9780307393883, 553pp.
Publication Date: September 30, 2008
* Individual store prices may vary.
or
Not Currently Available for Direct Purchase
Description
"Fascinating."
--Los Angeles Times A brilliant, wildly entertaining history of Hollywood from the screenwriters' perspective In this truly fresh take on the movies, veteran Oscar-winning screenwriter Marc Norman gives us the first comprehensive history of the men and women who penned some of the greatest movies of all time. Impeccably researched, erudite, and filled with unforgettable stories of the stars and scribes, amateurs and auteurs, directors, producers, and legendary moguls, What Happens Next is a unique and engrossing narrative of the quintessential art form of our time.
About the Author
MARC NORMAN won two Oscars for Shakespeare in Love in 1999, one for Best Screenplay Written Directly for the Screen (with Tom Stoppard) and another for Best Picture (shared with Donna Gigliotti, David Parfitt, Harvey Weinstein, and Edward Zwick), along with a Golden Globe, a Writers Guild Best Screenplay Award, a New York Film Critics Circle Award, a BAFTA Award, and a Silver Bear Award from the Berlin Film Festival. He lives in Santa Monica, California. This is his first work of nonfiction. From the Hardcover edition.
Praise For What Happens Next: A History of American Screenwriting…
"Fascinating."
—Los Angeles Times

"A remarkable synthesis . . . the best, by far."
—Scott Eyman, New York Observer

"A history of American film in which the camera pans away from its presumptive stars and searches out the ink-stained wretches huddled over typewriters."
—San Francisco Chronicle

"Irreplaceable . . . Without question, the best treatment of the subject since Richard Corliss's Talking Pictures in 1974."
—Buffalo News

"Excellent . . . A book that deserves to become a classic of the genre."
—The Times (London)

"Marc Norman is not only a wonderful and talented screenwriter in his own right, but he has done a great job of laying out screenwriting's evolution in this excellent, comprehensive history. A must read for anyone who wants to know this important piece of the puzzle of Hollywood."
—Mike Medavoy

"A stunningly entertaining way to tell the history of Hollywood. But what's amazing about this wonderful book is not just that it's relentlessly insightful, constantly surprising and beautifully written–what's amazing is that no one has done this before. This is one terrific book."
—Phil Robinson, author (screenplay) of Field of Dreams

"Marc Norman's What Happens Next is not only a fine book, it's a necessary book, brilliantly narrating the turbulent saga of 100 years of American screenwriting with energy, style, and an insider's sympathetic understanding of the always uneasy marriage between a primarily visual medium and the people who use words as its architecture."
—Scott Eyman, author, Lion of Hollywood

"Marc Norman has created a comprehensive narrative of what is essentially a secret history. Entertaining, surprising and endlessly fascinating, he throws a bright light into a corner of our film heritage that has been habitually, even criminally, ignored."
—Lawrence Kasdan, co-screenwriter and director of The Big Chill

"At last! Hollywood History from a screenwriting perspective— a compelling, enlightening, and important work."
—Dave Trottier, author The Screenwriter's Bible
Advertisement