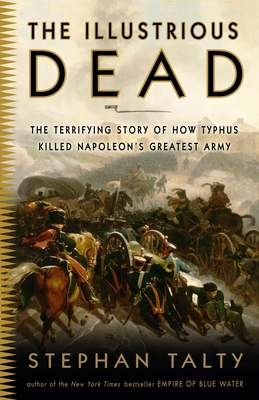 The Illustrious Dead (Paperback)
The Terrifying Story of How Typhus Killed Napoleon's Greatest Army
Broadway Books, 9780307394057, 336pp.
Publication Date: June 1, 2010
Other Editions of This Title:
Digital Audiobook (6/1/2009)
Hardcover (6/2/2009)
* Individual store prices may vary.
Description
"Gripping . . . a compelling story of personal hubris and humbling defeat."
—Jack Weatherford,author of the New York Times bestseller Genghis Khan and the Making of the
Modern World

In a masterful dual narrative that pits the heights of human ambition and achievement against the supremacy of nature, New York Times bestselling author Stephan Talty tells the story of a mighty ruler and a tiny microbe, antagonists whose struggle would shape the modern world.

In the spring of 1812, Napoleon Bonaparte was at the height of his powers. Forty-five million called him emperor, and he commanded a nation that was the richest, most cultured, and advanced on earth. No army could stand against his impeccably trained, brilliantly led forces, and his continued sweep across Europe seemed inevitable.

Early that year, bolstered by his successes, Napoleon turned his attentions toward Moscow, helming the largest invasion in human history. Surely, Tsar Alexander's outnumbered troops would crumble against this mighty force.

But another powerful and ancient enemy awaited Napoleon's men in the Russian steppes. Virulent and swift, this microscopic foe would bring the emperor to his knees.

Even as the Russians retreated before him in disarray, Napoleon found his army disappearing, his frantic doctors powerless to explain what had struck down a hundred thousand soldiers. The emperor's vaunted military brilliance suddenly seemed useless, and when the Russians put their own occupied capital to the torch, the campaign became a desperate race through the frozen landscape as troops continued to die by the thousands. Through it all, with tragic heroism, Napoleon's disease-ravaged, freezing, starving men somehow rallied, again and again, to cries of "Vive l'Empereur!"

Yet Talty's sweeping tale takes us far beyond the doomed heroics and bloody clashes of the battlefield. The Illustrious Dead delves deep into the origins of the pathogen that finally ended the mighty emperor's dreams of world conquest and exposes this "war plague's" hidden role throughout history. A tale of two unstoppable forces meeting on the road to Moscow in an epic clash of killer microbe and peerless army, The Illustrious Dead is a historical whodunit in which a million lives hang in the balance.
About the Author
STEPHAN TALTY is a widely published journalist who has contributed to The New York Times Magazine, GQ, Men's Journal, Time Out New York, Details, and many other publications. He is the New York Times bestselling author of Empire of Blue Water and Mulatto America: At the Crossroads of Black and White Culture.
Praise For The Illustrious Dead: The Terrifying Story of How Typhus Killed Napoleon's Greatest Army…
"An eloquent and vivid portrait that includes a view through the telescopes of rear-echelon
commanders, the rifle sights of front-line skirmishers, and the clouded spectacles of field surgeons laboring in candlelit abattoirs . . . the finest kind of popular history."
—William Rosen, author of Justinian's Flea: The First Great Plague and the End of the Roman Empire

Praise for Empire of Blue Water
"A swashbuckling adventure . . . [the] characters leap to life."
—The New York Times Book Review

"Reeking of authentic blood and thunder, and as richly detailed as a work of fiction . . . dramatically evokes the rough and tumble age when pirates owned the seas. A thrilling and fascinating adventure."
—Caroline Alexander, author of The Endurance

"Stephan Talty's vigorous history of seventeenth-century pirates of the Caribbean will sate even fickle Jack Sparrow fans. A pleasure to read from bow to stern."
—Entertainment Weekly

"Serves up swashbuckling history at its briny, blood-soaked best, with enough violence and passion to keep the pages flying by."
—Tom Reiss, author of The Orientalist

"Talty's delicious new book succeeds where other volumes of history fail. . . .A ripping yarn, worthy of its gaudy subject."
—Dallas Morning News