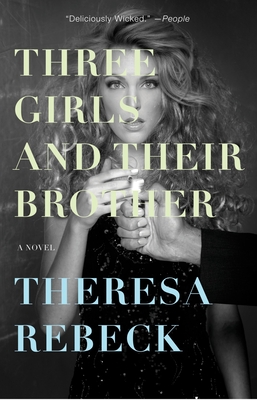 Three Girls and Their Brother (Paperback)
Three Rivers Press (CA), 9780307394156, 337pp.
Publication Date: April 21, 2009
* Individual store prices may vary.
or
Not Currently Available for Direct Purchase
Description
Now that it's all over, everybody is saying it was the picture-that stupid picture was behind every disaster. . . .
They may be the granddaughters of a famous literary critic, but what really starts it all is Daria, Polly, and Amelia Heller's stunning red hair. Out of the blue one day, The New Yorker calls and says that they want to feature the girls in a glamorous spread shot by a world-famous photographer, and before long these three beautiful nobodies from Brooklyn have been proclaimed the new "It" girls.
But with no parental guidance-Mom's a former beauty queen living vicariously through her daughters, and Dad is nowhere to be found-the three girls find themselves easy prey for the sharks and piranhas of show business. Posing in every hot fashion magazine, tangling with snarling fashonistas and soulless agents, skipping school and hitting A-list parties, the sisters are caught up in a whirlwind rise to fame that quickly spirals out of control.
When Amelia, the youngest of the three-who never really wanted to be a model in the first place-appears in an Off-Broadway play, the balance of power shifts, all the pent-up resentment and pressure comes to a head, and the girls' quiet, neglected brother reaches a critical point of virtual breakdown. And against the odds, even as the struggle for fame threatens to tear the family apart, the Hellers begin to see that despite the jealousy, greed, and uncertainty that have come to define their relationships, in the celebrity world of viciousness and betrayal, all they really have is one another.
Narrated in four parts, from the perspective of each sibling, "Three Girls and Their Brother" is a sharp, perceptive, and brilliantly written debut novel from an acclaimed playwright.
"From the Hardcover edition.
About the Author
THERESA REBECK's plays include Bad Dates, Omnium Gatherum (a Pulitzer finalist), The Scene, and Mauritius, which won Boston's prestigious IRNE and Elliot Norton Award and premiered on Broadway in 2007. Rebeck has also won the Peabody, the Writer's Guild of America Award for Episodic Drama, the Mystery Writers of America's Edgar Award, the National Theatre Conference Award, and the William Inge New Voices Playwriting Award. She holds a Ph.D. from Brandeis University and lives in Brooklyn with her husband and two children. "From the Hardcover edition."
Praise For Three Girls and Their Brother…
"A deliciously wicked satire."
—People (4 out of 4 stars)

"Hilarious first novel…Rebeck shines when Amelia gets cast in a ridiculous off-Broadway play…her insider's look at the theatre world is spot on and uproarious."
—Publishers Weekly

"A wickedly enjoyable exposé of modern celebrity."
—Kirkus (starred review)

"Playwright Theresa Rebeck is known for black comedy and hyper-intelligent heroines, and both figure in her first novel, Three Girls and Their Brother — a fizzy satire of celeb-obsessed NYC about flame-haired teenage sisters who get photographed for The New Yorker and soon become megastars."
—Entertainment Weekly (A-)

"Drawing on her rich understanding of the Darwinist…Rebeck delivers a crackling expose so dead-on it's arguably closer to social realism than satire."
—Vogue

"This snappy, scathing novel from the acclaimed playwright follows the trio of gorgeous Heller sisters who get famous and become darlings of the fashionista set - until their youthful world hilariously implodes."
—More Magazine

"In her first novel, playwright Theresa Rebeck satirizes the publicity-driven world of instant celebrity. Three Girls and Their Brother is pointed and funny, an entertaining, cautionary story about the powerful and the preyed upon."
—Boston Globe

"I was charmed – and I won't be the last."
—The New York Observer

"With wry humor and sharply observant prose, Rebeck lands one roundhouse punch after another in this supremely gratifying takedown of show-biz politics."
—Booklist

"In her funny and well-observed first novel, award-winning Broadway playwright Rebeck (Omnium Gatherum; Mauritius) weighs in on the peculiarity and absurdity of fame in modern America."
—Library Journal

"Given her background as a playwright, it is not surprising that she is able to create convincing, distinctive voices for teenagers…Rebeck undercuts the fun with darker points about celebrity culture – particularly the damage caused by the media's sexualization of young girls."
—Associated Press

"An experienced playwright who has also toiled in the television industry, Ms. Rebeck has intimate knowledge of the pathologies bred in smart, seemingly well-adjusted men and women by the surreal polarities of success and failure."
—New York Times

"Three Girls and Their Brother is a brilliant fiction debut. Rebeck weaves such an atmosphere of excitement and turmoil. I felt genuinely close to these characters–all three sisters and their brother. The insider's look at the life of young models and the way instant success can upend everything resonates in hilarious and heartbreaking ways. I found it impossible to put this book down."
—Carol Goodman, author of The Lake of Dead Languages

"What a group portrait! Theresa Rebeck shows the picture vividly, proofs and final print alike. And boy does she broadcast the music–chorus and arias–of Three Girls and Their Brother. The brother, Philip, begins the story and I was rooting for him from his first words, the sound of a kid with whom Holden Caulfield would like to pal around. So when Amelia, the youngest of the three gorgeous sisters, took over the narrative, I was bummed. Needn't have been: She does her own daring riff and it's right on the money. And on the money are her two older sisters, Polly and Daria having had their perspectives and styles enriched by all that comes before. I loved reading this novel! I've decided, having read it, that I'd rather not be a celebrity after all. Spread the word."
—Geoffrey Wolff, acclaimed author and Professor Emeritus of English at the University of California—Irvine

"I love this novel. It is smart and funny and impossible to put down. From the fantasy world of models to the agents, the managers, the press and the predators who sell these girls through the media, Rebeck creates a moving story of three gorgeous sisters and what happens when fame, unexpectedly, comes to call. This dazzling novel lets us eavesdrop on these beauties who find a way to stay alive in the limelight. You will never look at a fashion photo in the same way again."
—Marsha Norman, author of the Pulitzer Prize—winning play 'Night, Mother
Advertisement