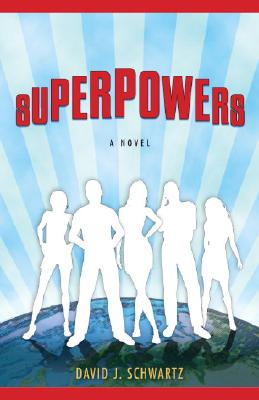 Superpowers (Paperback)
A Novel
Broadway Books, 9780307394408, 384pp.
Publication Date: June 10, 2008
* Individual store prices may vary.
Description
Madison, Wisconsin: In the summer of 2001, five college juniors wake up with . . . not just a hangover, but superpowers. . . .

Jack Robinson: Grew up on a farm, works in a chem lab, and brews his own beer. Age: 19. Superpower: SPEED.

Caroline Bloom: Has a flair for fashion design and a mother who's completely out of touch. Works as a waitress for a lunatic boss.
Age: 20. Superpower: FLIGHT.

Harriet Bishop: Studied violin, guitar, and piano . . . and was terrible at them all. Now writes about music for the campus paper.
Age: 20. Superpower: ­INVISIBILITY.

Mary Beth Layton: Is managing a 3.8, but feels like she's working three times as hard as the people around her.
Age: 20. Superpower: STRENGTH.

Charlie Frost: Has an anxious way about him, and always looks like he's on day 101 of his most recent haircut.
Age: 20. Superpower: TELEPATHY.


But how do you adjust to an extraordinary ability when you're an ordinary person? What if you're not ready for the responsibility that comes with great power? And how do you keep your head in a world that's going mad?
About the Author
DAVID J. SCHWARTZ's fiction has appeared in such anthologies as The Best of Lady Churchill's Rosebud Wristlet; Fantasy: The Best of the Year, 2007 Edition; and the World Fantasy Award–nominated Twenty Epics. He lives in St. Paul, Minnesota, and blogs at http://Snurri.LiveJournal.com.
Praise For Superpowers: A Novel…
"Schwartz strikes the right balance between vicarious superhero adventure and thoughtful reflection on the hidden costs of being a good Samaritan"
—Carl Hays, Booklist

"A book for everyone who's ever wondered what superpower would be most fun or whether Batman or Superman would win in a fight. (And for everyone else who's ever wondered what made comic books so much fun.) David J. Schwartz has written a first novel with superpowers, smarts, and heart to spare. If you'll forgive a lame pun in the service of a swell book: Bookstore patrons, online browsers -- may the Schwartz be with you.
—Kelly Link, author of Stranger Things Happen and Magic for Beginners

"A thoughtful and convincing blend of magic and realism. I believed in these ordinary, recognizable college students with their extraordinary abilities. As their powers change and fail them (and vice versa), Superpowers tells us a story both soaring and sober."
—Karen Joy Fowler, New York Times bestselling author of The Jane Austen Book Club and Wit's End
or
Not Currently Available for Direct Purchase