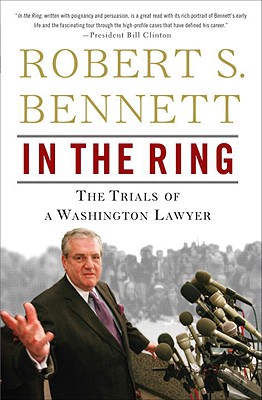 In the Ring: The Trials of a Washington Lawyer (Paperback)
The Trials of a Washington Lawyer
Broadway Books, 9780307394446, 400pp.
Publication Date: February 10, 2009
* Individual store prices may vary.
or
Not Currently Available for Direct Purchase
Description
The best legal read . . . in decades. A brilliantly entertaining work, both for the lawyer and the layman.
"Washington Times"
Robert S. Bennett has been a lawyer for more than forty years. In that time, he's taken on dozens of high-pro le and groundbreaking cases and emerged as the go-to guy for the nation's elite. Bob Bennett gained international recognition as one of America's best lawyers for leading the defense of President Bill Clinton in the Paula Jones case. He has always fought for justice. This is his story.
Born in Brooklyn and an amateur boxer in his youth, Bennett has often brought his street- ghter's mentality to the courtroom. His case history is a who's who of gures who have dominated legal headlines: superlobbyist Tommy Corcoran, former secretaries of defense Clark Clifford and Caspar Weinberger, Marge Schott, and, most recently, "New York Times" reporter Judith Miller and former World Bank president Paul Wolfowitz.
Throughout the telling of his life in court, Bennett offers refreshing and straightforward advice. He explains to readers how he prepares for trial, handles witnesses in the courtroom, crafts his opening and closing arguments, and provides other terrific tips and object lessons for success in law and life. This memoir is both a great read for lawyers, law students, and political readers who want a look inside the Beltway power game, and an intimate and compelling story of one lawyer's attempt to fight hard and fair.
About the Author
ROBERT S. BENNETT is the country s leading criminal defense and crisis management lawyer for corporations and individuals in trouble. He has recently represented Enron, KPMG, and Health South. He is a partner with the rm of Skadden, Arps, Slate, Meagher & Flom and lives in Washington, D.C. with his wife, the photographer Ellen Gilbert Bennett. "From the Hardcover edition.""
Praise For In the Ring: The Trials of a Washington Lawyer…
"The best legal read . . . in decades. A brilliantly entertaining work, both for the lawyer and the layman."
—Washington Times

"The captivating story of a boy who grew up to be one of the nation's top attorneys."
—The Wall Street Journal

"In more than 40 years as a lawyer, Bob Bennett has been at the center of many of Washington's most politically-charged legal dramas. In the Ring, written with poignancy and persuasion, is a great read with its rich portrait of his early life and fascinating tour through the high-profile cases that have defined Bob's career. Bob is dedicated to his clients, fair to his adversaries, and clear in what he believes is right and wrong when politics and law collide."
—President Bill Clinton

"In the Ring is an extraordinary tale by an extraordinarily gifted trial lawyer. Bob Bennett's story takes us from Brooklyn to the U.S. Supreme Court with drama and suspense packed in between. Wonderful history for lawyers and non-lawyers alike."
—Former Senator Warren B. Rudman, author of Combat: Twelve Years in the U.S. Senate

"Bob Bennett is not only a towering presence in the legal world, he is a charming, entertaining and outgoing personality, full of life, passion and warmth. In the Ring is a riveting account of an exciting career, featuring many of the most colorful and intriguing characters of our era. He has done everyone a great service in bringing his experiences and clients to life in such a vivid chronicle. I'm already looking forward to the sequel."
—Theodore B. Olson, former United States Solicitor General

"Bob Bennett has written a fascinating inside account of some of the biggest Washington scandals and controversies of our era. As a what-happened and a how-to, In the Ring is indispensable."
—Jeffrey Toobin, author of The Nine: Inside the Secret World of the Supreme Court

"From his days as a high school debater, which Bob Bennett charmingly confesses gave him 'no stud points,' to his time waxing the floors and cleaning the toilets of the Trane Corporation to put himself through Georgetown, to his shining hour before the U.S. Supreme Court representing the 42nd President of the United States in a case involving alleged perjury, Oval Office sex, and all the trappings of power–this personal and personable page-turner will immerse you painlessly in what would have to be called a great life in the law. Finishing it reminded me of the New Yorker cartoon in which a nattily dressed man, introducing himself to a pretty young thing at a cocktail party, tells her, 'Yes, I am a lawyer. But not in the pejorative sense.'"
—Laurence Tribe, Professor, Harvard Law School
Advertisement