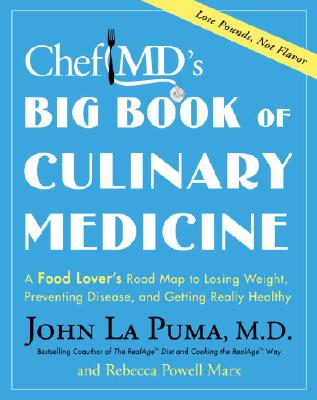 ChefMD's Big Book of Culinary Medicine
A Food Lover's Road Map to Losing Weight, Preventing Disease, and Getting Really Healthy
Hardcover

* Individual store prices may vary.
Other Editions of This Title:
Paperback (4/7/2009)
Description
What Dr. Andrew Weil is to herbal medicine and Dr. Phil is to TV psychology, Dr. John La Puma is to culinary medicine. At thirty-five, after eating too much of the Standard American Diet (SAD, isn't it?), Dr. La Puma had become SADly paunchy. So he decided to research the science of nutrition while also going to culinary school to learn to cook. He created the revolutionary new concept of "culinary medicine"–recipes, foods, and meals that prevent or control common health conditions without sacrificing restaurant-quality taste.

Now you can use culinary medicine too. In ChefMD's Big Book of Culinary Medicine, you'll learn to stock the medicine chest in your kitchen, use the doctor inside of you, and create dishes that give you lifesaving benefits and truly dazzling flavor.

Dr. La Puma serves up a step-by-step eight-week plan to motivate you and help you change your life. Try Saffron Scallop, Shrimp, and Chickpea Paella. Or Sicilian Pasta with Swiss Chard, Goat Cheese, and Basil. Or Spicy and Rich Sausage and Kidney Bean Chili.

Anyone who loves food, wants to have more energy, wants to reverse his or her family health history, or wants to know what to eat to get and stay healthy should read this book. Its recipes, meals, and menus can work within minutes of eating them.

Experience food you can't wait to make, and grab the energy and good health to reclaim your life.



Doctor, What Do I Eat for That?

Your kitchen needs a ChefMD. Renowned physician and professionally trained chef Dr. John La Puma has just the person for the job–you! By following the ChefMD Eight-Week Plan, you'll find your inner doctor and learn to eat for optimal health and maximum satisfaction. Use ChefMD's Big Book of Culinary Medicine to:

• Discover what and how to eat for forty health conditions–starting with Acne, ADD, Alzheimer's, Arthritis, and Asthma
• Build a "culinary medicine chest" with fifty amazing foods that prevent or control common health conditions without sacrificing restaurant-quality taste
• Conquer fatigue, supercharge your immune system, and look and feel younger
• Get the most nutrition from the foods you eat
• Find the ChefMD Essentials–thirty-six healthful and flavorful brand-name foods in boxes, bags, and cans
• Fall in love with food again with fifty easy ChefMD recipes–and no guilt!

Eat and cook the ChefMD way and discover just how delicious life can be!
Praise For ChefMD's Big Book of Culinary Medicine: A Food Lover's Road Map to Losing Weight, Preventing Disease, and Getting Really Healthy…
"John taught me how to cook and how to make healthy food taste terrific. Get this book and he'll share that brilliant wisdom and practical advice with you. Your body and your taste buds will thank you for it."
— Michael Roizen, M.D., Chief Wellness Officer of the Cleveland Clinic and coauthor of four #1 New York Times Bestsellers, including YOU: Staying Young

"Dr. La Puma brings to your table a rare combination of medical experience and culinary skills. Anyone's health and meals will both benefit by reading this book."
—Walter C. Willet, M.D., Chair, Department of Nutrition, Harvard School of Public Health

"Through the culinary wizardry of Dr. John La Puma, not even your taste buds will know that you're eating 'good for you' food. You can live well--and long--with his guidance."
—Mehmet Oz, M.D., Author of YOU: Staying Young and YOU: The Owner's Manual

"Every one of us has an internal doctor, a natural inner leader, that can keep us healthy. Dr. La Puma teaches you how to eat the right food so your inner doctor can do its work. Learn how to eat well and feel well at the same time. "
—Jack Canfield Co-author of the Chicken Soup for the Body and Soul®

"John La Puma has a way of bringing the science and pleasures that should come from healthy eating together on the same plate. As a fascinating blend of both chef and physician, his passion and talent come through with practical and enticing tips on how to shop, cook, and eat. In this engaging book, he shows us that healthy food can be both good for you and bring delicious pleasure to our lives."
—Jesse Ziff Cool, Author, Restauranteur, and Advocate of Sustainable Agriculture
Harmony, 9780307394620, 320pp.
Publication Date: April 29, 2008
About the Author
JOHN LA PUMA, M.D., appears regularly on "What's Cookin' with ChefMD?" which can be seen on Health Corner, airing on Lifetime. He is the coauthor of the bestselling "Cooking the RealAge Way" and "The RealAge Diet," and contributed recipes to the "New York Times "bestseller "YOU: The Owner's Manual." The first physician to teach cooking and nutrition in a U.S. medical school and graduate from the Cooking and Hospitality Institute of Chicago, he has cooked under star chef Rick Bayless in the four-star kitchens of Frontera Grill and Topolobampo. Dr. La Puma is medical director for the Santa Barbara Institute for Medical Nutrition and Healthy Weight. Visit his award-winning website, www.ChefMD.com.

REBECCA POWELL MARX is a ChefMD partner, a medical television producer, and a journalist. Ms. Powell Marx is a 2007 International Health and Media FREDDIE Award winner for the ChefMD website.
or
Not Currently Available for Direct Purchase