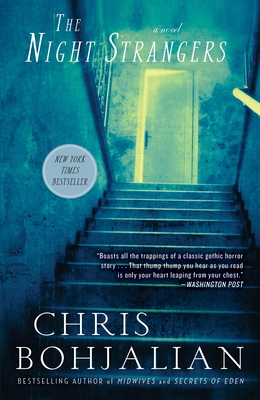 The Night Strangers
A Novel
Paperback

* Individual store prices may vary.
Other Editions of This Title:
Digital Audiobook (10/3/2011)
Description
From the bestselling author of The Double Bind, Skeletons at the Feast, and Secrets of Eden, comes a riveting and dramatic ghost story.
 
In a dusty corner of a basement in a rambling Victorian house in northern New Hampshire, a door has long been sealed shut with 39 six-inch-long carriage bolts. 
           
The home's new owners are Chip and Emily Linton and their twin ten-year-old daughters. Together they hope to rebuild their lives there after Chip, an airline pilot, has to ditch his 70-seat regional jet in Lake Champlain after double engine failure. Unlike the Miracle on the Hudson, however, most of the passengers aboard Flight 1611 die on impact or drown. The body count? Thirty-nine – a coincidence not lost on Chip when he discovers the number of bolts in that basement door. Meanwhile, Emily finds herself wondering about the women in this sparsely populated White Mountain village – self-proclaimed herbalists – and their interest in her fifth-grade daughters. Are the women mad? Or is it her husband, in the wake of the tragedy, whose grip on sanity has become desperately tenuous?   

The result is a poignant and powerful ghost story with all the hallmarks readers have come to expect from bestselling novelist Chris Bohjalian: a palpable sense of place, an unerring sense of the demons that drive us, and characters we care about deeply.

The difference this time? Some of those characters are dead.
Praise For The Night Strangers: A Novel…
"Riveting. . .seamless. . .a hell of a good ghost story."—Justin Cronin, author of The Passage

"The Night Strangers boasts all the trappings of a classic Gothic horror story, reminiscent in places of the spousal secrets in Nathaniel Hawthorne's 'Young Goodman Brown,' the thrills of 'Rosemary's Baby,' and the psychological frights of Daphne du Maurier. . .A perfect book for Halloween. . .That thump thump you hear as you read is only your heart leaping from your chest."—Keith Donohue, Washington Post

"Shades of The Shining make for a haunting tale. . .A modern-day ghost story worth losing sleep over."—Family Circle

"After losing passengers in a forced landing, a pilot seeks respite by moving his family to New England. But the house is haunted and local witches won't leave them alone. Good 'n' spooky."—Good Housekeeping

"Put a haunted man in a haunted house. . .and you have a Halloween hair-raiser. But it's more than that. Bohjalian, with a dozen well-received novels to his credit, understands trauma: how long it takes to recover from unimaginable pain, and how people who have never experienced it rarely understand."—Yankee Magazine

"A page-turner of uncommon depth. Guilt, egotism, and fear all play parts in the genre-bending novel."—Booklist, Starred Review

"Bohjalian has crafted a genre-defying novel, both a compelling story of a family in trauma and a psychological thriller that is truly frightening. Fans of Alice Sebold's The Lovely Bones and Margaret Atwood's Cat's Eye and The Robber Bride will find similar appeal here."—Library Journal, Starred Review 
 
"Compelling. . .a practical magick horror story."—Kirkus Reviews

"A gripping paranormal thriller. . .Bohjalian is a master, and the slow-mounting dread makes this a frightful ride."—Publishers Weekly

"A delicious and haunting tale. . .Bohjalian is a terrific writer and parsimonious in the way he issues information, slowly building an increasing sense of dread and excitement."—Minneapolis Star Tribune

"You will close the book's covers totally satisfied, aware that this masterful storyteller has done it again."—Seattle Times

"Bohjalian uses a clean-edged pen to dice, toss, and serve a gasp-inducing plot that is ghost story-meets psychological thriller. . .The book has a spellbinding clutch. A mélange of horror, thrill, drama, sex, and gore—juxtaposed against the quiet and solitude of a small New England town—it will test your courage and resolve. . .[It] will invade your world."—Armenian Weekly

"A spellbinding, heart-pounding novel. . .this is one perfect book for Halloween."—Book Page

"Masterfully crafted. . .a suspense-filled ghost story set in rural New Hampshire. . .This is a great read filled with real-life characters, an intricate story line and just enough 'spooky.'"—Grand Rapids Press

"Compelling. . .a ghost story in the tradition of such classics of the genre as 'The Turn of the Screw' and 'The Haunting of Hill House.'"—Tulsa World

" This moody, atmospheric story chills the bones and doesn't let up until the last brutal page. It is a creepy gothic mystery just right for Halloween."—Parkersburg News & Sentinel
 
"Echoes of Rosemary's Baby and The Shining. . .Read if you dare, but keep an extra light on, and make sure your seat is in the full upright and locked position."—USA Today
 
Crown, 9780307395009, 416pp.
Publication Date: April 24, 2012
About the Author
 
CHRIS BOHJALIAN is the critically acclaimed author of fourteen books, including the New York Times bestsellers The Double Bind, Secrets of Eden, and Skeletons at the Feast. His novel, Midwives, was a number one New York Times bestseller and a selection of Oprah's Book Club. His work has been translated into more than twenty-five languages and two of his novels have become movies (Midwives and Past the Bleachers). He lives in Vermont with his wife and daughter.
or
Not Currently Available for Direct Purchase