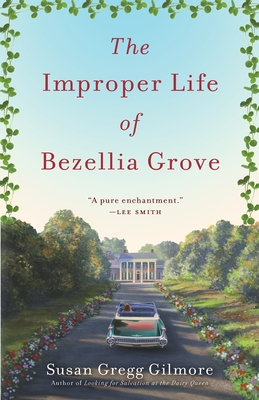 The Improper Life of Bezellia Grove
A Novel
Paperback

* Individual store prices may vary.
Other Editions of This Title:
Digital Audiobook (8/16/2010)
Description
Nobody in Nashville has a bigger name to live up to than Bezellia Grove.  As a Grove, she belongs to one of city's most prominent families and is expected to embrace her position in high society.  That means speaking fluent French, dancing at cotillions with boys from other important families, and mastering the art of the perfect smile. 
 
Also looming large is her given name Bezellia, which has been passed down for generations to the first daughter born to the eldest Grove.  The others in the long line of Bezellias shortened the ancestral name to Bee, Zee or Zell.  But Bezellia refuses all nicknames and dreams that one day she, too, will be remembered for her original namesake's courage and passion.
 
Though she leads a life of privilege, being a Grove is far from easy.  Her mother hides her drinking but her alcoholism is hardly a secret.  Her father, who spends long hours at work, is distant and inaccessible.  For as long as she can remember, she's been raised by Maizelle, the nanny, and Nathaniel, the handyman.  To Bezellia, Maizelle and Nathaniel are cherished family members.  To her parents, they will never be more than servants.  
 
Relationships are complicated in 1960s Nashville, where society remains neatly ordered by class, status and skin color.  Black servants aren't supposed to eat at the same table as their white employers.  Black boys aren't supposed to make conversation with white girls.  And they certainly aren't supposed to fall in love.  When Bezellia has a clandestine affair with Nathaniel's son, Samuel, their romance is met with anger and fear from both families.  In a time and place where rebelling against the rules carries a steep price, Bezellia Grove must decide which of her names will be the one that defines her.
Praise For The Improper Life of Bezellia Grove: A Novel…
Southern Independent Booksellers Association Summer 2010 Pick

"Susan Gregg Gilmore's second novel is brimming with charm."
—Bookpage

"Much like The Help, Bezellia's story juxtaposes the societal restrictions on women of the 1960s with the civil-rights struggle of Nashville's black community. Only Gilmore's heroine becomes more embroiled in racism through an interracial romance with the son of the family's handyman."
—Chattanooga Times Free Press

"Nobody knows how to weave a spell better than Susan Gregg Gilmore, as she draws us into the precarious childhood and complicated life of poor little rich girl Bezellia Grove, whose path winds through some of the South's darkest woods—race, class, insanity—familiar ground for a Southern novel? Not so fast—surprises await. This novel is a pure enchantment."
—Lee Smith, author of Mrs. Darcy and the Blue-Eyed Stranger and The Last Girls
 
"The Improper Life of Bezellia Grove is simply a wonderful book, a deeply felt story of caring so powerful it must be improper. Yet the telling is bold and tender and memorable, and we are given a character in Bezellia Grove that stands among the grandest of our recent literary figures. Remember also the name of Susan Gregg Gilmore, the gifted writer who made the words that make the magic. She is destined to be a star."
—Terry Kay, author of To Dance with the White Dog and The Book of Marie
 
"I read The Improper Life of Bezellia Grove all in one sitting, swept up in Bezellia's remarkable life and her moving quest to be loved the right way. Now I look forward to many more stories from the immensely talented Susan Gregg Gilmore, a powerful new voice in Southern literature."
—Amy Greene, author of Bloodroot
 
"Susan Gregg Gilmore gives us a strong woman's voice, singing back through time the honest ballad of a family in turmoil and a culture in the midst of upheaval. Gilmore is not afraid to show the two-steps-forward-one-step-back dance of change, to remind us how deeply rooted ideas can run, and how fragile courage can be and how necessary. An excellent novel."
—Darnell Arnoult, author of Sufficient Grace
 
"Susan Gregg Gilmore's smart, gripping, and ultimately hopeful tale of love and tough choices in the dark hours before the dawn of the New South rings true and fine. I fell in love with the voice of Bezellia Grove, her sharp wit covering her soft heart, and you will too."
—Joshilyn Jackson, New York Times bestselling author of Backseat Saints
Crown, 9780307395047, 272pp.
Publication Date: August 2, 2011
About the Author
SUSAN GREGG GILMORE is the author of the novel Looking for Salvation at the Dairy Queen.  She has written for the Chattanooga Times Free Press, the Los Angeles Times and the Christian Science Monitor. Born in Nashville, she lives in Tennessee with her husband and three daughters.
Bezellia's mother detests her daughter's name to the point that she refuses to let it cross her lips, instead calling her oldest daughter only "Sister." What is implied in this nickname? How was Bezellia's life affected by this grand-sounding name?
Mrs. Grove warns her young daughter that she should look for only three things in a man: that he wears cashmere, drives a convertible, and can dance. Does she truly believe this credo, and what is Bezellia's reaction to this advice? Furthermore, how did Mrs. Grove's marriage into a socially prominent family affect her ability to parent?
Bezellia's relationship with her father is distant at best, and her relationship with her mother is very difficult. How do these two most important figures in Bezellia's life affect her attitude toward physical intimacy? How are her relationships with Samuel and Ruddy both similar and different?
Bezellia thinks that she and Samuel face some of the same issues and want the same things (p. 76). Do you agree? What are the similarities and differences in what they each must confront?
An interracial romance in the South during the late 1960s could be a very difficult, if not dangerous, relationship. How do Nathaniel and Mrs. Grove feel about seeing their children together? Later in the book, why didn't Bezellia encourage Samuel to leave the South so they could fully explore their relationship? And to what extent do you think these issues still exist for interracial couples both above and below the Mason-Dixon line?
Maizelle shares a story with Bezellia about her own mother washing laundry for white people (p. 79), in which her mother endured hardships and was beaten after an altercation in which she was unjustly accused of not doing her work. What is Maizelle trying to teach this young woman?
After she is invited to Ruddy Semple's house for dinner, Bezellia daydreams about being Ruddy's wife. What does this vision reveal about the Groves' eldest daughter?
What is Bezellia's first impression of her grandparents, and how does that change during the course of the book? How does that change in perspective affect her thoughts toward her mother?
Several newspaper articles are interspersed throughout the book. How do these pieces affect the story line?
When Dr. Grove dies, a wake is held at the family home. How is the etiquette of death in the South different from other regions in the country? Does this formal process help the Groves through a difficult time?
Bezellia's little sister always walks to the beat of her own drum, to say the least. Adelaide herself talks about not being afraid to be alone unlike most people. Do you think Adelaide is truly not well, as her mother believes, or is she just content to live her life differently from those around her? In that way, is she or is she not like her older sister?
Do you believe that Maizelle and Nathaniel are representative of those who worked for white families in the South? In what ways did they change Bezellia's life? Do you think she would have become the same person without their influence? Do you think family is always about blood relationships, or can we create our own family?
The title of the book states that Bezellia's life is "improper". What is meant by that? How does Bezellia, if at all, affect the thoughts and attitudes of those in her 1960s Southern city? In the end, did she live up to her name?
or
Not Currently Available for Direct Purchase