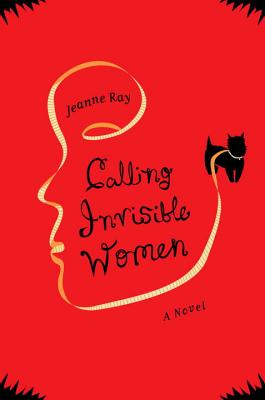 Calling Invisible Women
Hardcover

* Individual store prices may vary.
Other Editions of This Title:
Digital Audiobook (5/21/2012)
Paperback (3/19/2013)
Hardcover, Large Print (7/1/2012)
Description
A delightfully funny novel packing a clever punch, from the author of the "New York Times" bestselling "Julie and Romeo"
A mom in her early fifties, Clover knows she no longer turns heads the way she used to, and she's only really missed when dinner isn't on the table on time. Then Clover wakes up one morning to discover she's invisible--truly invisible. She panics, but when her husband and son sit down to dinner, nothing is amiss. Even though she's been with her husband, Arthur, since college, her condition goes unnoticed. Her friend Gilda immediately observes that Clover is invisible, which relieves Clover immensely--she's not losing her mind after all --but she is crushed by the realization that neither her husband nor her children ever truly look at her. She was invisible even before she knew she was invisible.
Clover discovers that there are other women like her, women of a certain age who seem to have disappeared. As she uses her invisibility to get to know her family and her town better, Clover leads the way in helping invisible women become recognized and appreciated no matter what their role. Smart and hilarious, with indomitable female characters, "Calling Invisible Women" will appeal to anyone who has ever felt invisible.
Praise for Jeanne Ray's novels:
"A captivating comic romp...Wise, winsome, and refreshingly optimistic." --"People"
"A comic gem of a love story...completely entertaining." --"The Denver Post"
"At last, someone has written a love story for and about grown-ups A smart, sexy celebration of the timeless nature of romance." --A. Manette Ansay
"A little jewel of a book." --"The Philadelphia Inquirer"
"Love and desire will not be denied in this lighthearted inversion of a classic story. Filled with the delicate sweetness of fresh flowers and new love, "Julie and Romeo" is a smart, funny, touching book. Where has Jeanne Ray been hiding all these years?" --Alison McGhee, author of "Shadow Baby"
"A charming, smart love story with interesting characters and great laughs." -- "The Christian Science Monitor.
Praise For Calling Invisible Women…
"Witty and thought-provoking, Invisible Women will call out to any female who's ever been made to feel invisible by virtue of her age, her gender, or both."  –People (3 ½ stars)

"In a story both whimsical and significant, Jeanne Ray addresses an all-too-familiar fate that many women seem to suffer as they grow older…. Heartfelt, inspirational and uplifting, Calling Invisible Women calls out to readers with a passionate and important message. This book is clearly one that deserves to be noticed." –BookPage

"In her satirical tale of a woman trying to find herself, Ray, the mother of novelist Ann Patchett, offers a commentary about what it's like for women to grow older." –New York Post, Required Reading

"Jeanne Ray's newest novel, Calling Invisible Women, tells the humorous, touching story of how Clover reclaims her sense of self. Stripping off her clothes to go undetected, she becomes a sort of superhero: punishing bullies on the school bus, halting bank robberies, preventing her son from getting a tattoo—not to mention reigniting her career as an investigative journalist. Invisibility is hardly a subtle metaphor. But Ray argues persuasively that going undercover has its benefits." –O, The Oprah Magazine (Summer Pick), Abbe Wright

"This is a perfectly fabulous read that speaks volumes about society's lack of awareness of middle-aged women. Read it as fast as you can, before it disappears before your eyes." –Library Journal, starred review

"The heroine of bestselling novelist Jeanne Ray's Calling Invisible Women bands together with other invisible women in her town to fight back, gaining a new view of her town, her loved ones and herself… Ray, who didn't start writing novels until she was 60 - inspired partly by the urge to show that people "of a certain age" had as much fun and delight in their lives as younger folk - said a liking on her part for people with superpowers, like invisibility, gave the book its driving impetus… Julie and Romeo, the story of two people over 60 who find new romance - and the first of six novels, many of which center on women in their 50s and 60s and have led Ray to be dubbed "the mother of senior literature," a title she says she finds hilarious. While still in the draft stage, Ray received advice on her first book from her daughter, award-winning novelist Ann Patchett, who has written Bel Canto and other books." —Reuters

"Every homemaker who feels she's taken for granted should open Calling Invisible Women and meet Clover Hobart, who looks in the bathroom mirror one day and realizes that not only does she feel invisible, she is invisible…. Fans of Jeanne Ray know that (as with her 2003 debut Julie and Romeo) we'll come to feel that we know Clover and sympathize with her plight. It's readers' good fortune that Ray brings her light, smart touch to this comic take on women of a certain age who feel they've disappeared. A comic tale of a middle-aged woman whose family doesn't notice her--even when she actually disappears." –Shelf Awareness

"The characters in this fast, fun read are empowered and proactive." –Publishers Weekly

"Women of a certain age will devour Ray's sly satire on the perils of big pharma, middle age, and the unseen consequences of living the quiet life." –Booklist

"Offers a lot of witty charm." –Kirkus

"Jeanne Ray is truly wise and funny about family, friendship, and love—about the ways in which we see (and don't see) each other.  Calling Invisible Women is an utter delight." –Hilma Wolitzer
Crown Publishing Group (NY), 9780307395054, 246pp.
Publication Date: May 22, 2012
About the Author
Jeanne Ray worked as a registered nurse for forty years before she wrote her first novel at the age of sixty. She lives in Nashville, Tennessee with her husband and her dog, Red. She is the "New York Times" bestselling author of the novels "Julie and Romeo," "Julie and Romeo Get Lucky," "Eat Cake," and "Step-Ball-Change."
or
Not Currently Available for Direct Purchase