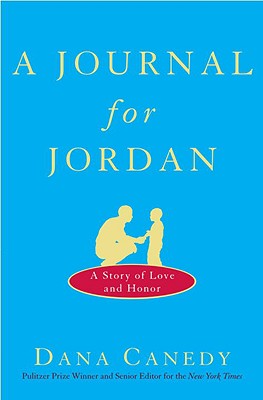 A Journal for Jordan
A Story of Love and Honor
Hardcover

* Individual store prices may vary.
Other Editions of This Title:
Digital Audiobook (12/29/2008)
Digital Audiobook (12/29/2008)
Paperback (10/13/2009)
Description
In 2005, First Sergeant Charles Monroe King began to write what would become a two-hundred-page journal for his son in case he did not make it home from the war in Iraq. Charles King, forty-eight, was killed on October 14, 2006, when an improvised explosive device detonated under his Humvee on an isolated road near Baghdad. His son, Jordan, was seven months old.

A Journal for Jordan is a mother's letter to her son–fierce in its honesty–about the father he lost before he could even speak. It is also a father's advice and prayers for the son he will never know.

A father figure to the soldiers under his command, Charles moved naturally into writing to his son. In neat block letters, he counseled him on everything from how to withstand disappointment and deal with adversaries to how to behave on a date. And he also wrote, from his tent, of recovering a young soldier's body, piece by piece, from a tank–and the importance of honoring that young man's life. He finished the journal two months before his death while home on a two-week leave, so intoxicated with love for his infant son that he barely slept.

Finally, this is the story of Dana and Charles together–two seemingly mismatched souls who loved each other deeply. She was a Pulitzer Prize—winning editor for the New York Times who struggled with her weight. He was a decorated military officer with a sculpted body who got his news from television. She was impatient, brash, and cynical about love. He was excruciatingly shy and stubborn, and put his military service before anything else. In these pages, we relive with Dana the slow unfolding of their love, their decision to become a family, the chilling news that Charles has been deployed to Iraq, and the birth of their son.

In perhaps the most wrenching chapter in the book, Dana recounts her search for answers about Charles's death. Unsatisfied with the army's official version of what happened and determined to uncover the truth, she pored over summaries of battalion operations reports and drew on her well-honed reporting skills to interview the men who were with Charles on his last convoy, his commanding officers, and other key individuals. In the end, she arrived at an account of Charles's death–and his last days in his battalion–that was more difficult to face than the story she had been told, but that affirmed the decency and courage of this warrior and father.

A Journal for Jordan is a tender introduction, a loving good-bye, a reporter's inquiry into her soldier's life, and a heartrending reminder of the human cost of war.
Praise For A Journal for Jordan: A Story of Love and Honor…
"This book is a gift, and not only to Jordan."
—USA Today

"Heartfelt…Canedy used her skills as a reporter to dig beneath the official story of King's death…These investigative passages are gripping…King died a hero's death, but Canedy's embrace of life is a kind of heroism, too."
—Cleveland Plain Dealer

"Gut-wrenching… Canedy writes with the objective eye of a hard-line reporter yet manages to convey the complexities of the love between her and her fiance as well as the deep loss she feels in his absence. It's impossible to imagine what her pain is like, but she does a beautiful job of allowing us to come close."
—Washington Post

"Canedy's memoir speaks to military families everywhere…By openly and honestly revealing her side of their highly emotional story as well, by detailing the effects of his death on her and subsequent interactions with government brass about burial and benefits, for example…she gives the project a greater significance, making it especially relevant for and meaningful to countless others in similar situations."
—San Francisco Chronicle

"Powerful… Not all great love stories are ignited by the lightning bolt of love at first glance; this humbler I'm-going-to-talk-myself-into-this-good-man version is believable and real….A Journal for Jordan is impossible to read without a sense of bitter knowledge that this principled man fell at the behest of leaders less guided by honor. That is no trick O. Henry ending. It is a denouement full of suffering, worthy of Chekhov."
—Melissa Fay Greene, New York Times

"A hauntingly beautiful account of a family fractured by war…filled with vivid and heartbreaking details…Canedy's talent at evoking character makes the account of King's life and death not simply a story about the injustice of war, but a project in resurrection. Canedy allows King to come alive for her son and, to our benefit, for us…Gripping…important."
—New York Times Book Review

"It's impossible not to be affected by her story."
—Entertainment Weekly

"At once inspiring and ineffably sad . . . Canedy captures the unique magnificence of the man she loved in a way that brings the beginnings of an understanding to the losses that other families bear."
—Denver Post

"This tragic story of love and war reminds all Americans that we are fortunate to have people like Sgt. Charles King, willing to die for our country. Dana Canedy bears witness to the enduring power of love, to Sgt. King's heroism and his unfailing devotion to his family and his men."
—Caroline Kennedy

"This book is a living, breathing legacy. It's full of wonderful treasures offered by a unique and spirited father, whose loving words of wisdom to his infant son are a rite of passage that will transform us all. It is written with serene grace: part memoir, part love story, all heart."
—James McBride, author of The Color of Water

"Dana Canedy's moving memoir has captured my heart and won't let it go. Courageous in its honesty and at times unsettling, it draws us deep into the soul of a woman in love, the pain of her loss and the unpardonable theft of hopes and dreams, lives and futures stolen by war. With an exquisite voice, Canedy recounts moments of intense emotion that haunt us long after savoring the last lines. I didn't want it to end."
—Susan L. Taylor, Editor-in-Chief Emeritus, Essence, and founder of the National CARES Mentoring Movement


Crown, 9780307395795, 288pp.
Publication Date: December 30, 2008
About the Author
DANA CANEDY is a senior editor at the "New York Times," where she has been a journalist for twelve years. In 2001, she was part of a team that won a Pulitzer Prize for national reporting for "How Race Is Lived in America," a series on race relations in the United States. Raised near Fort Knox, she lives in New York City with her son, Jordan.
or
Not Currently Available for Direct Purchase