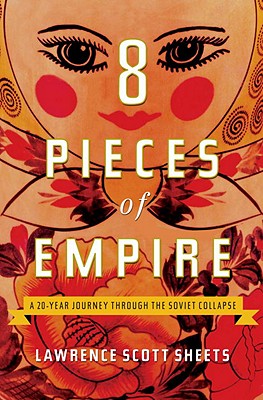 Eight Pieces of Empire: A 20-Year Journey Through the Soviet Collapse (Hardcover)
A 20-Year Journey Through the Soviet Collapse
Crown, 9780307395825, 336pp.
Publication Date: November 1, 2011
* Individual store prices may vary.
or
Not Currently Available for Direct Purchase
Description
A two-decade journey, panoramic in scope yet intimate in detail, through the hopes, sorrows, and conflagrations of an unraveled empire and the people living in it.

Not with a bang, but with a quiet, ten-minute address on Christmas Day 1991: this is how the Soviet Union met its end. Lawrence Scott Sheets, who was then living in Moscow as a young foreign correspondent, went to the center of the capital to witness the response. "In the streets around Red Square," he writes, "life went on as usual. One would not have known that 300 million people had just become citizens of other countries."

But in the wake of that one deceptively calm moment, conflict and violence soon followed. Some of the emergent new countries began to shed totalitarianism, while others sought to revive their own dead empires or were led by barely or totally unreformed ex-Soviet leaders who built equally or even more repressive political machines. Since the late 1980s, Sheets lived and reported from the former USSR and saw firsthand the reverberations of the collapse of empire across Russia, Georgia, Uzbekistan, Afghanistan, Azerbaijan, Armenia, Ukraine, and Chechnya. Eight Pieces of Empire draws readers into the people, politics and day-to-day life in the region, painting a vivid portrait of a tumultuous time.

On the 20th anniversary of the fall of the USSR, Sheets' stories about people living through these tectonic shifts of fortune—a trio of female saboteurs in Chechnya, the chaos of newly independent Georgia in the early 1990s, young hustlers eager to strike it rich in the post-Soviet economic vacuum—reveal the underreported and surprising ways in which the ghosts of empire still haunt these lands and the world.
About the Author
LAWRENCE SCOTT SHEETS reported for National Public Radio for seven years and was NPR's Moscow bureau chief from 2001-2005, covering the entire former USSR. He was Caucasus region bureau chief for Reuters from 1992-2000 and a Knight Journalism Fellow at Stanford University from 2000-2001. He also worked for NBC News in Moscow during 1992 and his work has been published in the "Atlantic Monthly," the "New York Times," and heard on the BBC World Service, Public Radio International, and other news outlets. Sheets is currently South Caucasus Project Director of the International Crisis Group, focusing on Georgia, Azerbaijan, and Armenia.
Praise For Eight Pieces of Empire: A 20-Year Journey Through the Soviet Collapse…
"Eight Pieces of Empire is a unique, readable, and bracing work of eyewitness history by a brave foreign correspondent who risked his safety and more to document it."
-- The New Republic online

"Lawrence Sheets is a foreign correspondent whose bravery exceeds one's comprehension....he has produced some of the most gripping war correspondence I have ever read"
–The Washington Times

"[U]nforgettable memoir and travelogue of a period and a place most of us would prefer to forget.... give[s] meaning, and perspective, to the rocky transition of the past two decades, and infuses it with drama and despair.... vital and vivid"
–The Boston Globe

"His book is an invaluable eyewitness account of the traumas of the Soviet collapse told through the lives of those who were caught up in it and often buried under it. The book is written with a disarming honesty, sympathy and humility."
--The Economist

"Lawrence Scott Sheets' "8 Pieces of Empire" is a vivid, largely anecdotal account of the chaos and confusion that has followed in the two decades since the fall of the massive communist entity that once obsessed America. It leaves the reader hungry for more."
—Associated Press

"Sheets' suite of incidents bespeaks his Russian-fluent immersion among people unmoored by the Soviet collapse, a quality watchers of the Russian scene will appreciate."
--Booklist

"In an era when the media establishment supports foreign reporting less and less, Lawrence Sheets has lived a life of utter seriousness as a foreign correspondent: concentrating on one broad area--the former Soviet Union--in order to develop subject expertise, and then dedicating himself to indefatigable ground-level coverage of that area. Forget the pundits and the scandalmongers, this is a real journalist."
--Robert D. Kaplan, author of Monsoon: The Indian Ocean and the Future of American Power

"Few Westerners understand the post-Soviet soul like Lawrence Sheets. Whether it is his hair-raising stories of the region's myriad armed conflicts or the black humor with which he captures the moral and physical impoverishment of a collapsing empire, Sheets brilliantly condenses twenty tumultuous years into an eminently readable tale."
--Matthew Brzezinski, author of Red Moon Rising

"To capture the human cost of fallen empire with all its horror and absurdity, Sheets offers the right combination: the political insight of a top reporter and the power of a novelist."
--Martin Cruz Smith, author of Gorky Park and other books

"With Eight Pieces of Empire, Lawrence Scott Sheets brings a journalist's watchful eye, an essayist's sense of humor, and a scholar's mind to the legacy of Soviet empire in all its color and complexity. This book is a great read, and its images linger in the mind long after the cover is closed."
--Ian Bremmer, president of Eurasia Group and author of The End of the Free Market: Who Wins the War Between States and Corporations?

"This may read like a mad journey through some of the most dangerous places on earth, but it is much more than that as well. Sheets witnessed most of the wars, disasters, and revolutions that followed the end of communism, and his accounts of them--from Chechnya to Chernobyl, and from Abkhazia to Afghanistan--serve as a passionate but considered obituary for the vanished Soviet empire."
--Oliver Bullough, author of Let Our Fame Be Great

"War reporter Lawrence Sheets's edgy memoir evokes exactly the fatalism, confusion, and centrifugal forces that suddenly broke up the Soviet Union two decades ago. Refreshingly free of faraway theorizing, this book focuses on what people actually saw and experienced in those years."
--Hugh Pope, author of Dining with al-Qaeda

"Dean of the Moscow press corps Lawrence Scott Sheets has been everywhere and seen it all. Funny, engaged, and humane, he is a matchless guide to the tattered remnants of the Soviet empire."
--Anna Reid, author of Borderland and The Shaman's Coat
 
"A smoothly written and sensitively drawn personal portrait of the people and places Lawrence Sheets meets during the roiling collapse of the Soviet Union, and the furtive, now two-decade-long struggle of the resulting fifteen states to construct something new. I have the feeling that people will be reading his account for a long time to come."
--Steve LeVine, contributing editor at Foreign Policy and adjunct professor, Security Studies Program, Georgetown University
 
"Beautifully wrought and executed with admirable clarity, Lawrence Sheets's gripping, intelligent, and compassionate account of the years following the Soviet empire's end is a must-read for anyone interested in the human cost of change."
--Vanora Bennett, journalist and author of Portrait of an Unknown Woman and The Taste of Dreams
 
"During his almost two decades living and reporting in several countries that are former Soviet republics, Lawrence Sheets had a front-row seat to the human casualties and political fallout of the collapse of the Soviet empire. Eight Pieces of Empire vividly captures the lived experiences of people caught on the sweeping waves of politics and history with intimacy and insight."
--Robin Hessman, director/producer of My Perestroika

"Gripping, entertaining and informative. . . .For anyone who wants to know what it was like and in many ways still is like in the former Soviet Union, Sheets' book provides a crystal clear lens into a dark and unfamiliar world. . . .his narrative is both a personal journal and an essay of humanistic understanding."
–Ambassador Robert Finn

"[Eight Pieces of Empire] combine[s] a thoroughly interesting and moving personal story with an invaluable insight into the situation on the ground during a number of key moments" –taklama.com

Advertisement