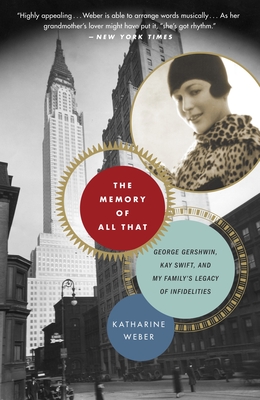 The Memory of All That
George Gershwin, Kay Swift, and My Family's Legacy of Infidelities
Paperback

* Individual store prices may vary.
Description
The Memory of All That is Katharine Weber's memoir of her extraordinary family. 

Her maternal grandmother, Kay Swift, was known both for her own music (she was the first woman to compose the score to a hit Broadway show, Fine and Dandy) and for her ten-year romance with George Gershwin. Their love affair began during Swift's marriage to James Paul Warburg, the multitalented banker and economist who advised (and feuded with) FDR. Weber creates an intriguing and intimate group portrait of the renowned Warburg family, from her great-great-uncle, the eccentric art historian Aby Warburg, whose madness inspired modern theories of iconography, to her great-grandfather Paul M. Warburg, the architect of the Federal Reserve System whose unheeded warnings about the stock-market crash of 1929 made him "the Cassandra of Wall Street." 

As she throws new light on her beloved grandmother's life and many amours, Weber also considers the role the psychoanalyst Gregory Zilboorg played in her family history, along with the ways the Warburg family has been as celebrated for its accomplishments as it has been vilified over the years by countless conspiracy theorists (from Henry Ford to Louis Farrakhan), who labeled Paul Warburg the ringleader of the so-called international Jewish banking conspiracy. 

Her mother, Andrea Swift Warburg, married Sidney Kaufman, but their unlikely union, Weber believes, was a direct consequence of George Gershwin's looming presence in the Warburg family. A notorious womanizer, Weber's father was a peripatetic filmmaker who made propaganda and training films for the OSS during World War II before producing the first movie with smells, the regrettable flop that was AromaRama. He was as much an enigma to his daughter as he was to the FBI, which had him under surveillance for more than forty years, and even noted Katharine's birth in a memo to J. Edgar Hoover.

Colorful, evocative, insightful, and very funny, The Memory of All That is an enthralling look at a tremendously influential—and highly eccentric—family, as well as a consideration of how their stories, with their myriad layers of truth and fiction, have both provoked and influenced one of our most prodigiously gifted writers.
Praise For The Memory of All That: George Gershwin, Kay Swift, and My Family's Legacy of Infidelities…
"The Memory of All That is a rigorous, heartfelt, often shattering history of Weber's family and the people close to them. Making sense of family is always difficult but, for Weber, the difficulty is exacerbated because so many relatives are famous and widely written about, their stories of extramarital affairs, intimate betrayals, and falsehoods common knowledge…Weber takes advantage of her insider position to sort out lies and myths, and give readers the straight scoop on her celebrated kin. In doing so, and in using her novelist's skills in the development of character, she also lets us see what it is really like to inherit the legacy of so many stars behaving with such astounding infidelity to the ideas of truth, marriage, and family."
—Floyd Skloot, The Boston Globe

"Highly appealing….a book infused with the doubt that we all bring to the contemplation of those mysterious beings who birthed us, along with our certainty that few subjects are more fascinating….It's when Ms. Weber remembers Papa that her considerable skills as a writer are most seductively on display. And it's not just because the exasperating Kaufman is such a good subject. It's that Ms. Weber is able to arrange words musically, so that they capture the elusive, unfinished melodies that haunt our memories of childhood. As her grandmother's lover might have put it, she's got rhythm."
—The New York Times
 
"The Memory of All That is less a family memoir than a family biography. Which is good because Weber's kin are more than fascinating enough to stand on their own without embellishments of personal memory. (A-) "
—Entertainment Weekly
 
"Gracefully written, poignant and droll, The Memory of All That is a gifted author's brave look back at her eccentric, lively forbears — their dealings, foibles and affairs."
—Dallas Morning News
 
"Weber is an accomplished novelist; she knows well how to manipulate fictional form, as any reading of her 2006 novel Triangle will readily illustrate….In The Memory of All That, Weber's eye for detail and for the right phrase is undiminished. No, no, they can't take that away."
—Chicago Sun-Times
 
"Old scandals. What fun...The core of her tale is that of elegant sin and betrayal."
—Daily News

"Weber is an elegant writer, and she can be witheringly funny."
—Palm Beach Post

"To be a writer born into an illustrious and complex family is both a burden and a gift.  In THE MEMORY OF ALL THAT, Katharine Weber trains her novelist's eye and penetrating intelligence upon what may be her greatest subject: her own family's history as it stretches back, generation after fascinating generation.  Her achievement here is a literary one, to be sure--but even more than the beautiful, elegant story contained in these pages, I am in awe of the strength, tenacity and courage it took to rise up out of this fabled cast of characters and write one of the most powerful memoirs about inheritance I have ever read."
—Dani Shapiro, author of Devotion

"The Memory of All That is an engaging family memoir that centers on the ardent extra-marital liaison between the author's maternal grandmother, composer Kay Swift, and her eminent colleague George Gershwin....An entertaining, often poignant book."
—Francine du Plessix Gray, author of Them
 
"A deeply moving book that is resonant and richly rewarding.  Katharine Weber's loving and insightful look at her marquee worthy family fundamentally reminds us of our own in its strangeness and complexity.  The deeply bonded relationship between her grandmother Kay Swift and lover George Gershwin is finally fully revealed with accuracy and aching poignancy.  No one has ever properly told their story, and the combination of Weber's inside family knowledge, assiduous research, and brilliant writing make this an unforgettable and essential read."
—Michael Feinstein

"I honestly don't believe I've ever read a memoir so filled with anything like Weber's own, fierce, detached grace. Her ability to evoke the most horrifying events while reducing the reader to helpless laughter is uncanny….An extraordinary achievement." 
—Robb Forman Dew

 "Novelist Weber mines her rich family history, hitting the mother lode of pedigreed romances and remembrances….Grandmother Kay Swift, the first female Broadway composer and George Gershwin's longtime lover; grandpa James Paul Warburg, FDR's economic adviser, and daddy Sidney Kaufman, serial womanizer, unconventional filmmaker, and producer of the first feature film that literally smelled, thanks to a process called Aromarama, literally walk off the pages of this captivating multigenerational saga."
—Booklist
 
"A wry portrait of a powerful, talented, but troubled family."
—Publishers Weekly

 "Novelist Weber tells the story of her colorful family and the scandalous—but monumentally transformative—love affair between her grandmother, Kay Swift and George Gershwin….Rich details of a dazzling but painful family past fraught with betrayals, infidelities and other assorted dysfunctions…. illuminating."
—Kirkus Reviews
 
"A thoroughly engaging family memoir."
—Library Journal

Crown, 9780307395894, 296pp.
Publication Date: June 12, 2012
About the Author
Katharine Weber is the author of the novels True Confections, Triangle, The Little Women, The Music Lesson, and Objects in Mirror Are Closer Than They Appear. She lives in Connecticut with her husband, the cultural historian Nicholas Fox Weber.
or
Not Currently Available for Direct Purchase