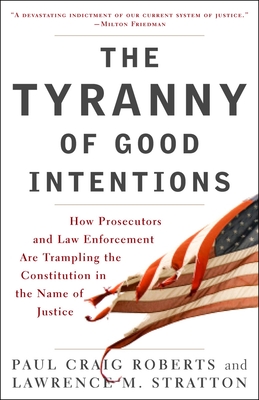 The Tyranny of Good Intentions: How Prosecutors and Law Enforcement Are Trampling the Constitution in the Name of Justice (Paperback)
How Prosecutors and Law Enforcement Are Trampling the Constitution in the Name of Justice
Three Rivers Press (CA), 9780307396068, 264pp.
Publication Date: March 25, 2008
Description
In this updated and expanded edition of The Tyranny of Good Intentions, Paul Craig Roberts and Lawrence M. Stratton renew their valiant campaign to reclaim that which is rightly ours-liberty protected by the rule of law. They show how crusading legislators and unfair prosecutors are remaking American law into a weapon wielded by the government and how the erosion of the legal principles we hold dear-such as habeas corpus and the prohibition against self-incrimination-is destroying the presumption of innocence. A new introduction and new chapters cover recent marquee cases and make this provocative book essential reading for anyone who cringes at the thought of unbridled state power and sees our civil liberties slowly slipping away in the name of the War on Drugs, the War on Crime, and the War on Terror.
About the Author
PAUL CRAIG ROBERTS was assistant secretary of the Treasury in the Reagan administration, a university professor, and an associate editor of The Wall Street Journal. He is a nationally syndicated columnist for Creators Syndicate. LAWRENCE M. STRATTON is a Ph.D. candidate in Christian Ethics at Princeton Theological Seminary and a former adjunct professor of Georgetown University Law Center. He is currently on the adjunct Ethics faculty of Villanova University.
Praise For The Tyranny of Good Intentions: How Prosecutors and Law Enforcement Are Trampling the Constitution in the Name of Justice…
"A devastating indictment of our current system of justice and a call to arms to restore hard-earned protections of human freedom that are now routinely violated by government officials"
—Milton Friedman

"The Tyranny of Good Intentions is a bold defense of our fundamental freedoms. It demonstrates that government oppression is not a right-left issue, but rather a universal evil that should be resisted by all free people. It demonstrates why conservatives and liberals who despise tyranny must unite against statists of both the right and the left who falsely believe that partisan ends justify depravations of liberty. . . . When rights are subordinated to government power, the first steps toward tyranny are taken."
—Alan Dershowitz, author of The Genesis of Justice

"In The Tyranny of Good Intentions, Paul Craig Roberts and Lawrence Stratton combine writing talent with their genius for legal analysis to create a much-needed firewall against the current steady erosion of the rights of U.S. citizens."
—G. Gordon Liddy

"I went to law school to understand law's role in society, but was taught instead that government lawyers should run society from on high with little need to comply with time-honored rules designed to keep them honest and accountable to the society. Roberts and Stratton reveal the roots of the problem. How strange it is that I, a law professor, learned so much about the law from a book whose lead author is an economist."
— David Schoenbrod, professor, New York Law School

"Roberts and Stratton, who performed a huge service to the rights and liberties of all of us in their original edition of Tyranny, now bring their important book into the era of the War on Terror. Their original book warned us things would get worse, and, sure enough, they have."
—Harvey Silverglate, former head of the Massachusetts ACLU

"Roberts and Stratton show that even though the War on Terror has failed to make America safer, the government's assault on the U.S. Constitution has been a sterling success."
—Professor Richard Moran, author of Executioner's Current
Advertisement