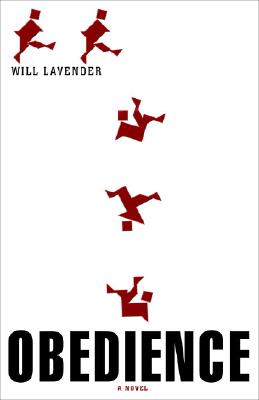 Obedience
Hardcover

* Individual store prices may vary.
Other Editions of This Title:
Paperback (1/6/2009)
Description
"With superb confidence, Lavender constructs a brilliant fictional web of lies, inventively warping the psychological thriller to fit the confines of a scholarly investigation." --Kirkus Reviews
When the students in Winchester University's Logic and Reasoning 204 arrive for their first day of class, they are greeted not with a syllabus or texts, but with a startling assignment from Professor Williams: Find a hypothetical missing girl named Polly. If after being given a series of clues and details the class has not found her before the end of the term in six weeks, she will be murdered.
At first the students are as intrigued by the premise of their puzzle as they are wary of the strange and slightly creepy Professor Williams. But as they delve deeper into the mystery, they begin to wonder: Is the Polly story simply a logic exercise, designed to teach them rational thinking skills, or could it be something more sinister and dangerous?
The mystery soon takes over the lives of three students as they find disturbing connections between Polly and themselves. Characters that were supposedly fictitious begin to emerge in reality. Soon, the boundary between the classroom assignment and the real world becomes blurred--and the students wonder if it is their own lives they are being asked to save.
Praise For Obedience…
"Obedience is evidence that crime fiction is hardly a played-out genre …. [G]rafts the world-turned-upside-down suspense of a Harlan Coben thriller to the hall-of-mirrors vertigo of a novel by Paul Auster …. [I]ts ultimate implications continue to spin out in a reader's mind after the final page is turned."
—Wall Street Journal

"Authentic puzzle mysteries are an endangered species in these hectic times, so it's a genuine, if slightly perverse, kick to follow every byzantine clue in this bizarre game…. If you solve this one without peeking at the last chapter, it's an automatic A."
—New York Times Book Review

"Obedience is a fiendishly clever thriller, debut or no, and Lavender exhibits deft control at the wheel."
—Bookgasm.com

"Obedience is quite a twisty little number …. the taunting nature of the challenge is irresistible…."
—New York Daily News

"[T]his is one of those high-concept thrillers with a final twist that upends all expectations, filled with characters who are not what they seem."
—Entertainment Weekly

"Obedience is a full course load of sinister fun."
—Salon.com

An inspired thriller about cognitive dissonance, conjectural misdirection and the conspicuous dichotomy between academia and the real world."
—Kirkus Reviews

"Will Lavender stuns with this compelling thriller…. The surreal but believable landscape fairly bursts from its confines, goading the reader into finishing just one more page."
—Louisville Courier-Journal

"It's a terrific book, part cat-and-mouse mystery and part psychological study of group behavior…. [A] wonderful book with a strong emotional punch at the end."
—St. Petersburg Times

"Lavender's first novel suggests he has a bright future. The novel is briskly plotted with deft narrative. Obedience builds to a swirling conclusion. It becomes a place where morality is blurred and intentions drift astray."
—Tampa Tribune

"In his tautly strung debut novel, Obedience, literature professor Will Lavender tears a page of out Milgram's notebooks and sets into motion a chain of events that escalates far beyond its intended intellectual exercise. . . . Mystery fans will be satisfied to hang on around the story's hairpin turns as the list of suspects swells and narrows with the unearthing of each clue, but Lavender . . . is aiming at a broader target and posing deeper questions."
—Bookpage

"First-time novelist Lavender has a knack for creepy characters and red herrings."
—Library Journal

"First novelist Lavender has sprinkled his text with enough red herrings to feed the Biblical 5,000 but uses them to build page-turning suspense. . . . Lavender's invocation of the notorious Milgram experiment conducted at Yale on obedience to authority adds an additional–and salutary–layer of psychological meaning to his elaborate plot."
—Booklist

More Praise for Obedience:

"Obedience draws you in and never lets go — and what a ride!"
—David Baldacci

"In his dream-like and labyrinthine debut, Will Lavender delivers a clever, intricate page-turner that kept me guessing late into the night. Obedience is a house of mirrors where every corner we turn is a false reflection of the truth until the shocking final scene. A gripping exploration of human nature and all its foibles told in Lavender's fresh and original voice, Obedience is not to be missed."
—Lisa Unger

"Obedience is a very scary story set on the border where good meets evil, located in this case in that scariest of places, academia. Taut, twisty, and highly original: the pages turned themselves."
—Peter Abrahams

"A taut and timely thriller that explores the dark side of academia, where classrooms are dangerous and paranoia abounds."
—Karin Slaughter

"A taut, clever puzzle, so artfully crafted and tightly wound that it springs open its trap when you least expect it to."
—Carol Goodman, author of The Sonnet Lover and The Ghost Orchid

"A devilishly inventive debut that reads like a house of mirrors. Nothing is what it seems, right up to the devastating finale."
—Brian Freeman, author of Stripped


Crown, 9780307396105, 304pp.
Publication Date: February 19, 2008
About the Author
WILL LAVENDER is a writing and literature professor and holds an MFA in creative writing from Bard College. He lives in Louisville, Kentucky, with his wife and children and is currently working on a second novel.
or
Not Currently Available for Direct Purchase