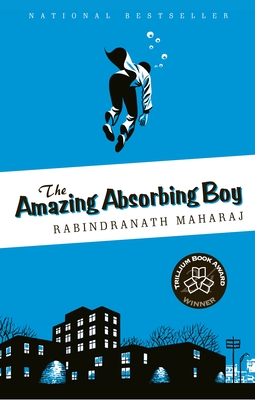 The Amazing Absorbing Boy (Paperback)
Vintage Canada, 9780307397287, 352pp.
Publication Date: September 20, 2011
Other Editions of This Title:
Hardcover (1/26/2010)
* Individual store prices may vary.
Description
Seventeen-year-old Samuel, naïve and inexperienced, leaves his home in Trinidad for Canada following the death of his mother. He hasn't seen his father since he was six years old and now, thrust into a new life together, Samuel soon realizes that he is considered a burden. Undaunted, though still wide-eyed, and propelled by a comic book sensibility, Samuel begins to explore the vast foreign landscape that is Toronto. There he encounters molemen, super-villains,
chimeras, trolls and a host of sidekicks.

With his fourth novel, Rabindranath Maharaj gives us his best work yet, a powerful and funny story of a naive young immigrant who is wise in the culture of comic books, and a portrait of big-city Canada we have never seen before.
About the Author
Rabindranath Maharaj is the author of three previous novels: A Perfect Pledge, nominated for the Rogers Writers' Trust Fiction Prize and for the Regional Commonwealth Writers' Prize for Best Book; The Lagahoo's Apprentice, a Globe and Mail and Toronto Star Notable Book of the Year; and Homer in Flight, nominated for the Chapters/Books in Canada First Novel Award. Robin Maharaj lives in Ajax, Ontario.
Praise For The Amazing Absorbing Boy…
NATIONAL BESTSELLER
WINNER 2011 - Toronto Book Award
WINNER 2010 - Trillium Book Award
CBC Canada Reads - Ontario Top Ten Nominee

"Maharaj is a sensitive observer who renders the familiar new and strange in this bittersweet tale of an everyday hero navigating a new land."
— Camilla Gibb
 
"An immigrant's tale unlike any we've been told, The Amazing Absorbing Boy walks our streets with fresh eyes, taking us to places we've been many times and show us what we've missed. This is a book Canadians have been waiting a long time to read."
— Steven Galloway
 
"The Amazing Absorbing Boy is an amazing, absorbing read, one that opens a door on a strange new world called Canada. In prose that is filled with wonder and gentle humour, Maharaj ushers us through this culture from the perspective of one who has just landed in this cold, liberating, frightening and heavenly country, which is made of many countries, this place we all call home. To read Maharaj's novel is to laugh at ourselves, to wonder at ourselves, and most importantly, to understand ourselves. If you haven't yet discovered Rabindranath Maharaj, discover him with this novel."
— Gail Anderson-Dargatz
 
"Robin Maharaj's novel, The Amazing Absorbing Boy, is a funny/tender book, to my knowledge an entirely new way of surveying the urban landscape and finding not just the unguessed at, unvisited parts of Toronto but of the Modern City. Highly original in its premise, it is in part an homage and in part a spoof of the sub-genre of super hero comic books — a highly intelligent, roaringly funny homage.  Put aside the sombre 'I must read this book because it might be a form-of self-betterment' notion that's been drilled into you about CanLit. Be amazed. Be absorbed. Have fun. It won't hurt a bit."
— Wayne Johnston

"Maharaj . . . offers an exhilarating interpretation of immigrant experience. . . . Maharaj superbly articulates the longing for home, on the one hand, and the dream of success in Canada on the other."
— The Globe and Mail
 
"Think you know Toronto? Then try getting another perspective. You won't find a fresher one than in The Amazing Absorbing Boy. . . . Highly recommended."
— NOW (Toronto)
 
"Maharaj's comic-tinged fantasy serves as a particularly apt metaphor for aspects of the modern immigrant experience. . . . Maharaj expertly captures the varied carols of [Toronto's] urban multiculture."
— The Walrus
 
"The language has a charming, natural ease. . . . But it is also a novel with deeper layers. At heart it is a rich exploration of the immigrant psychodrama of attraction and repulsion, welcome and paranoia, perception and misunderstanding."
— Toronto Star
 
"Line for line, Maharaj is a superb stylist."
— Quill & Quire


Praise for Rabindranath Maharaj:
"For the record, [Maharaj] is a more accomplished writer than Vassanji and a livelier novelist than Mistry."
— Philip Marchand, Toronto Star