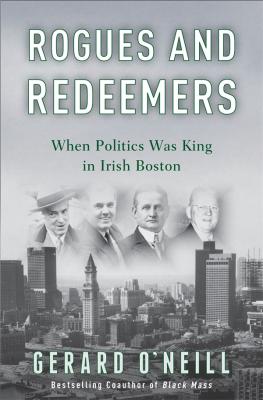 Rogues and Redeemers: When Politics Was King in Irish Boston (Hardcover)
When Politics Was King in Irish Boston
Crown, 9780307405364, 416pp.
Publication Date: March 13, 2012
* Individual store prices may vary.
or
Not Currently Available for Direct Purchase
Description
From the bestselling coauthor of Black Mass, a behind-the-scenes portrait of the Irish power brokers who forged and fractured twentieth-century Boston.
 
Rogues and Redeemers tells the hidden story of Boston politics--the cold-blooded ward bosses, the smoke-filled rooms, the larger-than-life pols who became national figures: Honey Fitz, the crafty stage Irishman and grandfather to a president; the pugilistic Rascal King, Michael Curley; the hectored Kevin White who tried to hold the city together during the busing crisis; and Ray Flynn, the Southie charmer who was truly the last hurrah for Irish-American politics in the city.
     For almost a century, the Irish dominated Boston politics with their own unique, clannish brand of coercion and shaped its future for good and ill. Former Boston Globe investigative reporter Gerard O'Neill takes the reader through the entire journey from the famine ships arriving in Massachusetts Bay to the wresting of power away from the Brahmins of Beacon Hill to the Title I wars of attrition over housing to the rending of the city over busing to the Boston of today--which somehow through it all became a modern, revitalized city, albeit with a growing divide between the haves and have-nots.
     Sweeping in its history and intimate in its details, Rogues and Redeemers echoes all the great themes of The Power Broker and Common Ground and should take its place on that esteemed shelf as a classic, definitive epic of a city.
About the Author
GERARD O'NEILL was editor of the "Boston Globe's" investigative team for 25 years before retiring to teach graduate courses in journalism at Boston University. With Dick Lehr, he coauthored "The Underboss" in 1989 and "Black Mass" in 2000. "Black Mass" was a "New York Times" bestseller and number one on the "Globe's" bestseller list for a year. He has won several regional and national reporting awards over several decades, including the Pulitzer; the Associated Press Managing Editors Award in 1977 and 1998; the Loeb Awards for business reporting in 1991; and was a Pulitzer finalist in 1997. He holds a master's in journalism from Boston University and lives in Back Bay with his wife, Janet. He has two sons.
Praise For Rogues and Redeemers: When Politics Was King in Irish Boston…
 "…a lively and highly readable study of the political figures who shaped and then reshaped the city in the 20th century."--The Boston Globe

 "In Rogues and Redeemers, Gerard O'Neill brings his native knowledge and wit to bear on a regional political tradition as wily -- and felonious -- as any in U.S. history. From Honey Fitz to Curley to Ray Flynn -- they're all here, in a tight, entertaining narrative filled with triumph and tragedy."-- T.J. English, author of The Savage City and Paddy Whacked
 
"Gerry O'Neill's entertaining and instructive book about the role of the Irish in Boston politics combines important insights about the role of ethnicity in American society, and a refreshingly positive discussion of the role that politics plays in our democracy. It's an excellent antidote to those who would either sanitize or demonize both subjects."—Barney Frank
 
"Gerard O'Neill brings Boston magnificently to life as the true star of its own saga - a tragic hero to be sure, full of hubris and waste. But also, as the title suggest, rife with redemption. O'Neill has written this generation's Last Hurrah."--James Carroll, Author of Jerusalem, Jerusalem
 
 
"The great Gerry O'Neill, Irish America's premier investigative reporter, gives a wry but unvarnished account of the crooks and misfits - and, yes, the redeemers - of his clan. This is a soaring tale, across a century, of how the Irish employed politics to escape the urban ghettoes, how their excess helped lead to Boston's plunge into hatred and decay, until a few rugged sons discarded the crutches of corruption and resentment, and joined others in building the world class city we know today." –John A. Farrell author of Tip O'Neill and the Democratic Century
 
"Rogues and Redeemers is a joy to read. The author's colorful prose keeps the reader riveted as the history of Boston politics unfolds from the reign of the rascal king, James Michael Curley, to Ed Logue's grand design for urban renewal and Judge Garrity's flawed plan to integrate the city's school. Certain to become a classic, it is one of the best histories of Boston ever written."--Jay P. Dolan, Author of The Irish Americans: A History
Advertisement