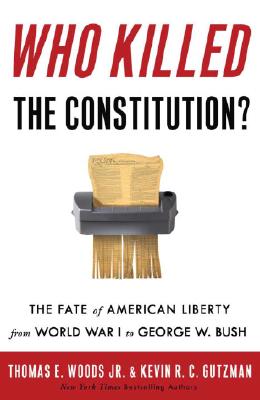 Who Killed the Constitution? (Hardcover)
The Fate of American Liberty from World War I to George W. Bush
Crown Forum, 9780307405753, 272pp.
Publication Date: July 8, 2008
* Individual store prices may vary.
Description
"Let no more be heard of confidence in man, but bind him down from mischief by the chains of the Constitution."
—Thomas Jefferson

The United States Constitution—the bedrock of our country, the foundation of our federal republic—is . . . dead.

You won't hear that from the politicians who endlessly pay lip service to the Constitution. It's the dirty little secret that bestselling authors Thomas E. Woods Jr. and Kevin R. C. Gutzman expose in this provocative new book. The fact is that government officials—Democrats and Republicans, presidents, judges, and congresses alike—long ago rejected the idea that the Constitution possesses a fixed meaning limiting the U.S. government's power.

In case you've forgotten, this idea was not a minor aspect of the Constitution; it was the document's very purpose.

Woods and Gutzman round up the suspects responsible for the death of the government the Founding Fathers designed. Going right to the scenes of the crimes, they dissect twelve of the most egregious assaults on the Constitution—some virtually unknown. In chronicling this "dirty dozen," the authors show that the attacks began long before presidents declared preemptive wars, congresses built pork-barrel bridges to nowhere, and Supreme Court justices began to behave as our supreme legislators.

In Who Killed the Constitution? Woods and Gutzman

• REVEAL the federal government's "great gold robbery"—the flagrant assault on the Constitution you never heard about in history class
• DESTROY the phony case for presidential war power
• EXPOSE how the federal government has actively discriminated to end . . . discrimination
• TEAR DOWN the "wall of separation" between church and state—an invention that completely contradicts what the Constitution says
• DARE to touch the "third rail of American jurisprudence," Brown v. Board of Education—showing why a government decision that seems "right" isn't necessarily constitutional

Never shying away from controversy, Woods and Gutzman reveal an unsettling but unavoidable truth: now that the federal government has broken free of the Constitution's chains, government officials are restrained by little more than their sense of what they can get away with.

Who Killed the Constitution? is a rallying cry for Americans outraged by government run amok and a warning to take heed before we lose the liberties we are truly entitled to.
Praise For Who Killed the Constitution?: The Fate of American Liberty from World War I to George W. Bush…
"If you want to know why the federal government regulates the air you breathe, the water you drink, and the words you speak, read Who Killed the Constitution? . . . When the history of these unfree times is written, Tom Woods's and Kevin Gutzman's fearless work will be recognized as the standard against which all others are measured."
–Judge Andrew Napolitano, Fox News senior judicial analyst and bestselling author of The Constitution in Exile

"It's about time someone shouted out that the emperor has no clothes."
–Kirkpatrick Sale, director of the Middlebury Institute and author of Human Scale

"Woods and Gutzman (two bestselling authors in thePolitically Incorrect Guide series) appeal to both left and right in this constitutionalist jeremiad. Liberals will agree about the unconstitutionality of the draft, warrantless wiretapping and presidential signing statements. Conservatives will agree about the unconstitutionality of school busing, bans on school prayer and Roosevelt's suspension of the gold standard. The common thread is the authors' brief for a federal government strictly limited to the powers explicitly granted by the Constitution. The authors' exegeses of the Constitution and court decisions, heavy on original intent arguments, are lucid and telling, but not always consistently supportive of liberty: their reading of the First Amendment implies that state governments may restrict speech, religion and the press. Their attack on expansive federal power-even federal spending on cancer research-is perhaps too successful; it inadvertently supports scholars like Daniel Lazare who argue that the Constitution is too antiquated, constraining and hard to change to keep up with a modern consensus on civil rights and good governance."
—Publishers Weekly
or
Not Currently Available for Direct Purchase