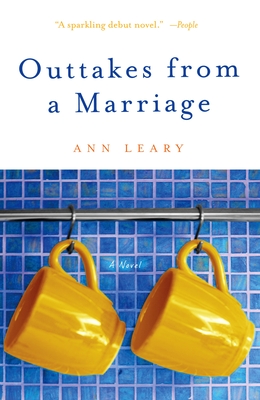 Outtakes from a Marriage
A Novel
Paperback

* Individual store prices may vary.
Other Editions of This Title:
Digital Audiobook (6/2/2008)
Description
"A sparkling debut novel...a bittersweet tale about love, marriage, and the perils of fame." —People

Julia and Joe Ferraro are living the good life in Manhattan now that Joe's finally made it; he's the star of a hit TV show and has just been nominated for a Golden Globe. Even better, Julia and Joe are still madly in love.

Or so Julia thinks until the fateful evening when she accidentally hears a voice mail on Joe's phone—a message left by a woman who is clearly more than a friend. Suddenly Julia is in a tailspin, compulsively checking Joe's messages, stalking him in cyberspace, and showing up unannounced on his sets, wondering all along if she should confront him.

Julia's search forces her to consider the possibility that in the long process of helping Joe become something, she has become a bit of a "nothing," as her daughter once described her to her class on career day. When Julia and Joe first met, she was an edgy East Village girl who wrote music reviews for the Village Voice and threw famed parties in a gritty downtown loft with her friends. But after Joe won her heart, she settled into doting motherhood and a new life of comfy clothes and parenting associations.

Now, faced with the looming awards show and the possibility of a destroyed marriage, Julia embarks on an accelerated self-improvement routine of Botox, hair extensions, and erotically charged shrink sessions while dodging the sancti-mommies who lie in wait for her at her son's preschool each day.

A unique take on the perennially popular issue of women trying not to lose themselves in matrimony and motherhood, Outtakes from a Marriage is expertly and humorously set against the Manhattan preschool mafia, the Hollywood machine, and the ticking clock of a waiting red carpet.

"How does a free spirit turned wife and mother cope with her actor husband's infidelity?...With tears, irreverent humor and, ultimately, a reaffirmed sense of self...A witty take on marital survival in Manhattan—with heart." —Kirkus Reviews (starred review)
Praise For Outtakes from a Marriage: A Novel…
"[A] sparkling debut novel …. Keenly observant of celeb culture … Leary pens a bittersweet tale about love, marriage and the perils of fame."
—People

"The prose is sprightly … you'll keep reading."
—Entertainment Weekly

"After years as a struggling actor, Joe Ferraro is starring on a hit TV show - and has a Golden Globe nod. But when his stay-at-home mom wife Julia hears a sexy-voice phone-message congratulations from a woman clearly more than a pal, her life is turned upside down. Leary, wife of actor Denis Leary, mines the laughs with her knowing New York-set story. She insists it's all fiction."
—New York Post

"Memoirist Leary (An Innocent, a Broad) follows in her fiction debut the unraveling of Julia Ferraro after she accidentally discovers a racy message in her Golden Globe–nominee husband's voice mail. As the doubts about her husband, Joe, mount, Julia begins examining other areas of her life with closer scrutiny, and her behavior becomes increasingly erratic as her paranoia grows: she dabbles in Restylane and Botox, attempts to seduce her shrink and plants rumors about her husband on Gawker. In addition to Julia's marital angst, she is also managing a shaky relationship with her entitled, adolescent daughter, Ruby, and is wracked with anxiety over her own lack of a career. Julia is a sharp and self-aware narrator, though there are moments when she seems too much a romantic, particularly for someone with otherwise worldly and wry sensibilities. Leary, the wife of actor Denis Leary, has an eye for the comedy of manners of the rich and idle. As Julia's daughter observes, 'You don't really have to do anything.'Julia responds: 'I know. You have no idea how stressful that is.'"
—Publishers Weekly

"[T]he ruefully funny story of the stay-at-home wife of a sexy TV star who inadvertently discovers he's having an affair, and sets out to discover with whom before the Golden Globes."
—Sarasota Herald Tribune

"A hilarious, moving, and addictive novel."
—Dani Shapiro, author of Black and White

"I loved it. I loved Julia—her strength, her vulnerability, and her realism—and I loved Ann Leary's stingingly sharp observations of marriage and motherhood. I can't even say it works as a stunning first novel, because it is far better than that. Ann is truly a writer with enormous talent and heart."
—Jane Green, author of Second Chance and The Other Woman

"Outtakes from a Marriage is a ruefully funny novel about adultery, family, and the good memories that get people through hard times. Ann Leary is a sharp observer of domestic life and celebrity culture."
—Tom Perrotta

"Memo to all men: Read this book. You'll rejoice in its searing honesty and crackling wit. You're sure to learn something about marriage, about women, and, above all, about yourself as women see you. And women? You might see this book as a mirror where you discover yourself. You'll know (I think: I'm only a man) how Ann Leary so often hits the nail on the head. I envy all who haven't read this book. They're in for a treat."
—Frank McCourt, author of Angela's Ashes and Teacher Man

"A witty take on marital survival in Manhattan—with heart."
—Kirkus, starred review
Crown, 9780307405883, 272pp.
Publication Date: May 12, 2009
About the Author
ANN LEARY is the author of two novels, The Children and The Good House, as well as a memoir, An Innocent, a Broad. She and her husband, the actor-comedian Denis Leary, live with their two children in northwestern Connecticut.

Visit the author at www.annleary.com.
or
Not Currently Available for Direct Purchase