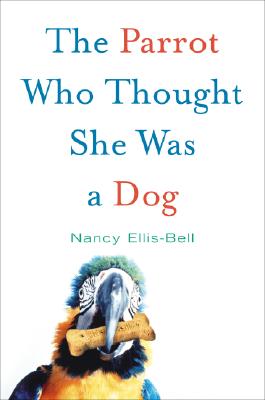 The Parrot Who Thought She Was a Dog
Hardcover

* Individual store prices may vary.
Other Editions of This Title:
Paperback (7/28/2009)
Description
The last thing Nancy Ellis-Bell expected to descend on her life was a neglected, too-tall, smart-mouthed, one-legged, blue-and-gold rescue macaw named Peg Leg. And yet, it made perfect sense. A lifelong animal lover, Nancy could never turn away a stray cat, dog, squirrel, or raccoon from her California farm. But the macaw, quickly rechristened Sarah, was a whole new challenge, as Nancy, her husband, Kerry, and their furry menagerie would find out.

Initially timid of her new surroundings, Sarah soon imposed her four-foot wingspan into the family homestead—first claiming the laundry basket, then conquering a prized dresser—and achieved complete household domination. Nancy couldn't "bird-proof" the place fast enough, and it was not long before Sarah started stealing the dogs' toys—using her enormous beak to disembowel Ben the mutt's treasured stuffed bear—and bathing her richly hued feathers in their water bowl. She also peppered Nancy's phone conversations with expletive-laden outbursts. There seemed no end to Sarah's realm, nor her destruction, and it dawned on Nancy that the entire house had slowly transformed into a birdcage.

On the other side of the coin, Sarah started to abandon her own raptor instincts when she discovered that dog food was pretty tasty and that she had a knack for "barking" (and a few other sounds that alarmed the neighbors). As they all learned to live together, Nancy marveled that Sarah had truly found a place to call home, but she sensed that there was something she could give Sarah to make her feel more complete: a chance to fly again.

Touching, eye-opening, and laugh-out-loud funny, The Parrot Who Thought She Was a Dog is a tender tale of two worlds colliding, two lives enriched, and two souls restored. It is also a rewarding reminder that love can come from the most unexpected places.
Praise For The Parrot Who Thought She Was a Dog…
One of the Top 5 Nonfiction Books of the Year
—Richmond Times-Dispatch

One of the Top 10 Sci-Tech Books of 2008
—Booklist

"Equally comical, affecting, and wrenching, The Parrot Who Thought She Was a Dog is a little charmer that reminds us of the love we owe our fellow travelers on Earth and the difference that love can make–in their lives and ours."
—Richmond Times-Dispatch

"Life with a macaw is always an adventure….Ellis-Bell captures this ongoing sense of discovery perfectly."
—Booklist, starred review

"An amazing story full of intriguing characters, both human and animal, and a biologically accurate account of bird behavior. I couldn't put it down."
—Marc Morrone, pet expert on the Martha Stewart Show

"In The Parrot Who Thought She Was a Dog, Nancy Ellis-Bell shares the magic of making a truly singular connection with an exotic, intelligent, sensitive, and essentially wild creature. I can't wait to share this book with my clients and friends."
—Joel Blumberg, DVM, Santa Rosa Veterinary Hospital

"Nancy Ellis-Bell has managed to capture on paper the trials and absolute splendor that so many go through when finding themselves being 'owned' by a feathered companion and shows how the experience can lead to a life of unconditional love and respect for these magnificent creatures."
—Daniel Kopulos, veterinary technician and owner of Uptown Birds, New York City

"Ellis-Bell shows just how a macaw can steal your heart—and rule your life! Enjoy a glimpse of living with these wonderful birds."
—Pat Surniak, president of the Redwood Empire Cage Bird Club, Santa Rosa, California

"Sarah is a delightfully mischievous creature the reader grows to love as Ellis-Bell did."
—Publishers Weekly
Crown, 9780307405944, 256pp.
Publication Date: July 22, 2008
or
Not Currently Available for Direct Purchase