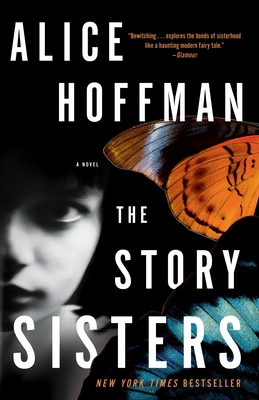 The Story Sisters
A Novel
Paperback

* Individual store prices may vary.
Other Editions of This Title:
Digital Audiobook (6/1/2009)
Description
A spellbinding coming of age novel about three sisters and the relationships and choices that shape their lives from the bestselling author of Reese Witherspoon Book Club pick, The Rules of Magic
 
"This bewitching novel explores the bonds of sisterhood like a haunting modern fairy tale."—Glamour

Each of three sisters—Elv, Claire, and Meg—has a fate she must meet alone: one on a country road, one in the streets of Paris, and one in the corridors of her own imagination. Inhabiting their world are a charismatic man who cannot tell the truth, a neighbor who is not who he appears to be, a clumsy boy in Paris who falls in love and stays there, a detective who finds his heart's desire, and a demon who will not let go.

What does a mother do when one of her children goes astray? How does she save one daughter without sacrificing the others? How deep can love go, and how far can it take you? These are the questions this luminous novel asks.

At once a coming-of-age tale, a family saga, and a love story of sensual longing, The Story Sisters sifts through the miraculous and the mundane as the girls become women and their choices haunt them, change them and, finally, redeem them. It confirms Alice Hoffman's reputation as "a writer whose keen ear for the measure struck by the beat of the human heart is unparalleled" (The Chicago Tribune).

Praise For The Story Sisters: A Novel…
"Hoffman's characters are always moving back and forth, challenging our perceptions, daring us to judge them. Her sentences tremble with allegory. . . . In the end, The Story Sisters, for all its magic realism, is about a family navigating through motherhood, sisterhood, daughterhood. It's Little Women on mushrooms. (Bookish sisters beware)."
– New York Times Book Review

"Hoffman is celebrated for her ability to conjure plausible alternative realities, to sprinkle her landscapes with witches and other mythical creatures, while keeping her stories closely tethered to familiar terrain. There's a mysticism that swirls about her works but, like a late-morning fog, it eventually burns off to reveal a physical and emotional topography that most all of us can recognize."
– Chicago Tribune

"This bewitching novel explores the bonds of sisterhood like a haunting modern fairy tale."
– Glamour

"Any new book by Hoffman is an occasion to rejoice, as is the case with The Story Sisters."
– Sacramento Bee

"The sisters' struggle to grow and thrive in the real world will keep you riveted to the pages of this heartbreaking novel about the powers and limits of love."
– Redbook

"When it comes to blending magic and the mundane routines of life, there's no finer writer than Alice Hoffman -- but even she has outdone herself with her latest novel.  The Story Sisters hearkens back to the classic fairy tale, where one must suffer fear and loss before stumbling upon a happy ending.  Hoffman reminds us with every sentence that words have the power to transport us to alternate worlds, to heal a broken heart, and to tie us irrevocably to the people we love."
– Jodi Picoult, author of Handle With Care

"The always dazzling Hoffman has outdone herself in this bewitching weave of psychologically astute fantasy and shattering realism….this is an
entrancing and romantic drama shot through with radiant beauty and belief in human resilience and transformation."
– Booklist (starred review)

"Painfully moving….there are beautiful moments throughout."
– Kirkus Reviews

"Keeps readers heartbroken yet spellbound, turning the pages."
– Library Journal
Crown, 9780307405968, 352pp.
Publication Date: June 1, 2010
About the Author
Alice Hoffman is the bestselling author of more than thirty acclaimed novels, including The Story Sisters, The Third Angel, The Ice Queen, Practical Magic, Here on Earth, The River King, and Skylight Confessions. She has also written two books of short stories, and eight books for children and young adults. Her work has been translated into more than twenty languages and published in more than one hundred foreign editions.