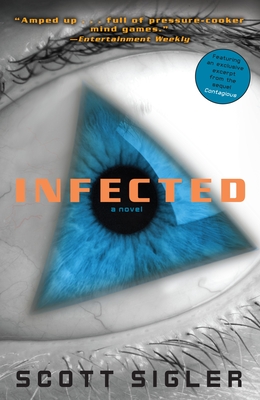 Infected (Paperback)
Three Rivers Press (CA), 9780307406309, 384pp.
Publication Date: October 14, 2008
Description
A terrifying thriller that will crawl beneath your skin . . . and leave fresh blood on every page. A mysterious disease is turning thousands of ordinary Americans into raving, paranoid murderers who inflict brutal horrors on strangers, their own families, and even themselves. And one morning, ex-football star Perry Dawsey awakens to find mysterious welts growing all over his body. Soon Perry finds himself acting and thinking strangely, hearing voices, fighting uncontrollable rage . . . he is infected. Worse, the disease wants something from him, something that could alter the fate of the human race.
About the Author
SCOTT SIGLER is the world's most successful podcasting author, with millions of episodes of his books downloaded.
Praise For Infected…
"Part Stephen King, part Chuck Palahniuk, Infected blends science fiction and horror into a pulpy masterpiece of action, terror, and suspense.  Three recommendations: don't read it at night, or just after you've eaten a full meal, or if you're weak of heart.  You've been warned!"
—James Rollins, New York Times bestselling author of The Judas Strain and Black Order

"Powerfully written . . . an unforgettable central character."
—Dallas Morning News

"Sigler is masterful at grabbing the reader by the throat and refusing to let go. Just when I thought I knew what abyss he was leading me across, he knocked the bridge out from under... I think I screamed the whole way down... Infected is a marvel of gonzo, in-your-face, up-to-the-minute terror."
—Lincoln Child, New York Times bestselling author of Deep Storm and Death Match

"Fraught with tension . . . Invasion of the Body Snatchers meets The Hot Zone."
—Rocky Mountain News

"Sigler is the Richard Matheson of the 21st Century…smart and creepy, Infected is a flawless thinking-person's thriller. Bravo to a bold new talent!"
—Jonathan Maberry, Bram Stoker Award-winning author of Bad Moon Rising and Ghost Road Blues

"Riveting . . . even hardened genre fans will find themselves whimpering at each new revelation."
—Publishers Weekly (starred review)

"Horror mavens rejoice! Infected is a revelation -- a novel that lives up to its hype. From page one, the story of a mysterious smart-virus that turns its hosts into deadly drooling drones creeps up on a reader like the ratchet of a roller coaster climbing toward its inevitable crest. Sigler brings the folksy character detail of Stephen King, the conceptual panache of Clive Barker, and the oozing, shuddery pathologies of a David Cronenberg movie. Zombies, spies, conspiracies, and gallons of goo make this the fastest read in the west! Highest recommendation!"
— Jay Bonansinga, national bestselling author of Shattered, Twisted, Frozen, and The Sinking of the Eastland

"Sigler has a unique talent for keeping readers on the edge of their seats; I absolutely had to know what was going to happen next. Infected is full of mayhem, action, and gore--and you won't be able to put it down."
— Dave Wellington, author of 13 Bullets and the Monster Island trilogy

"Scott Sigler's Infected is a bucking pulp pony that throws you this way and that, and just when you think you've got your balance, that ole pony bucks the other way. All in all, one hell of an exhilarating ride, and highly recommended."
—Joe R. Lansdale, World Horror Convention Grand Master and six-time Bram Stoker Award-winning author of Bubba Ho-Tep and Lost Echoes

"Infected is as unnerving as a scream in a morgue…a breakout novel that gets under your skin. If the voice in your head is Sigler's, you're locked in for a very scary night."
—E.E. Knight
Advertisement