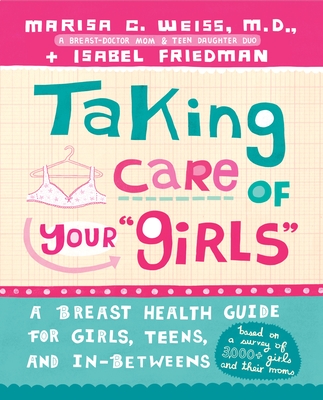 Taking Care of Your Girls
A Breast Health Guide for Girls, Teens, and In-Betweens
Paperback

* Individual store prices may vary.
Description
The real facts about your "girls" and how to take care of them

"Well, all my friends think they will never have breasts—and it's not funny—because a lot of girls feel this way."
—Elena, 13

"I went up two sizes over summer break! I started seventh grade with a 'C' cup. Then my breasts got weird pink stripes on the side. What happened?"
—Veronica, 12

Girls are as anxious and confused about their breasts as ever. That's why Marisa Weiss, M.D., an oncologist and breast health specialist, and her teenage daughter, Isabel, decided to create Taking Care of Your "Girls." Together, they polled more than three thousand girls and their moms and came up with a surprisingly huge list of worries and misconceptions. Based on their research, you'll get answers to questions like:

• How do I know when I need to get my first bra—and what kind should I get?
• Do big breasts have a higher risk of breast cancer than small ones?
• How do I get rid of stretch marks?
• When will my breasts stop growing?
• How do I examine my own breasts?
• Will the size of my breasts even out?
• Do tanning, antiperspirants, wearing a bra at night, and talking on a cell phone cause breast cancer?

A groundbreaking book for both mothers and daughters, Taking Care of Your "Girls" is a practical guide to breast care and a girl-to-girl conversation about the feelings and emotions that come with the territory.


"This all-in-one, indispensable breast health guide captures exactly what teen girls and their moms really need: practical, easy-to-read, great advice. It's one of the best gifts you can give to your girl."
—Harvey Karp, M.D., F.A.A.P., author of The Happiest Toddler on the Block, board member of Healthy Child, Healthy World
Harmony, 9780307406965, 256pp.
Publication Date: September 2, 2008
About the Author
MARISA C. WEISS, M.D., is the president and founder of Breastcancer.org. She currently practices at Lankenau Hospital in the Philadelphia area, where she serves as Director of Breast Radiation Oncology and Director of Breast Health Outreach. Her daughter, ISABEL FRIEDMAN, is a college student at the University of Pennsylvania, who recently graduated from Friends' Central School in the Philadelphia area and was an assistant teacher at the Children's School of Science in Woods Hole, Massachusetts.
or
Not Currently Available for Direct Purchase