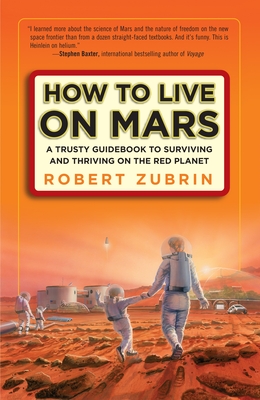 How to Live on Mars: A Trusty Guidebook to Surviving and Thriving on the Red Planet (Paperback)
A Trusty Guidebook to Surviving and Thriving on the Red Planet
Three Rivers Press (CA), 9780307407184, 205pp.
Publication Date: December 2, 2008
Description
Thinking about moving to mars? Well, why not? Mars, after all, is the planet that holds the greatest promise for human colonization. But why speculate about the possibilities when you can get the real scientific scoop from someone who's been happily living and working there for years? Straight from the not-so-distant future, this intrepid pioneer's tips for physical, financial, and social survival on the Red Planet cover: - How to get to Mars (Cycling spacecraft offer cheap rides, but the smell is not for everyone.)
- Choosing a spacesuit (The old-fashioned but reliable pneumatic Neil Armstrong style versus the sleek new--but anatomically unforgiving--elastic "skinsuit.")
- Selecting a habitat (Just like on Earth: location, location, location.)
- Finding a job that pays well and doesn't kill you (This is not a metaphor on Mars.)
- How to meet the opposite sex (Master more than forty Mars-centric pickup lines.) With more than twenty original illustrations by Michael Carroll, Robert Murray, and other renowned space artists, How to Live on Mars seamlessly blends humor and real science, and is a practical and exhilarating guide to life on our first extraterrestrial home.
About the Author
ROBERT ZUBRIN is a recipient of the National Space Society's prestigious Robert A. Heinlein Award and is the author of the bestselling The Case for Mars, as well as Entering Space, Energy Victory, and First Landing. He is the president of the Mars Society, an international organization committed to furthering the exploration and settlement of the Red Planet. With a doctorate in nuclear engineering and a master's in aeronautics and astronautics, Dr. Zubrin led the "Mars Direct" project at Martin Marietta Astronautics (later Lockheed Martin) and is the founder and president of the engineering firm Pioneer Astronautics.
Praise For How to Live on Mars: A Trusty Guidebook to Surviving and Thriving on the Red Planet…
"This guidebook for would-be Mars settlers is equal parts 'Mars-humor' and science fiction (the narrator was born on Mars in 2071); a satire highly critical of NASA; and a Loompanics-flavored manifesto of rugged individualism. Fans of vintage Robert A. Heinlein, particularly The Rolling Stones (Del Rey, 1977), will feel right at home here as they enjoy descriptions of practical situations that might actually be encountered: air circulation technologies; choice of 'habs'; pitfalls and scams that greenhorns should avoid. Enlivened by witty illustrations, the prose is both humorous and fact filled, with more technical and scientific information set aside in sections marked 'Warning: High Science Content.' Zubrin's presentation is clear and interesting but some might object that he puts no curbs on content like chemical recipes for explosives, and his Mars-based narrator's views are simplistic on complex Earth-based issues like global warming, bioengineering, and the value of government as a social contract. These topics could spark interesting classroom discussions. Valuable for teachers, this book is enjoyable and attractive for teens and will fascinate, provoke, and delight anyone interested in Mars and space settlement."
—School Library Journal, Christine C. Menefee, formerly at Fairfax County Public Library, VA

"Informative, irreverent, and just plain fun to read. On to Mars!"
—Ben Bova, author of Mars Life

"You'll marvel at possibilities, laugh out loud at clever inventions, and relish the tongue-lashing of our present times Zubrin delivers with high-velocity, clear prose."
—Gregory Benford, author of The Martian Race

"I learned more about the science of Mars and the nature of freedom on the new space frontier than from a dozen straight-faced textbooks. And it's funny. This is Heinlein on helium."
—Stephen Baxter, international bestselling author of Voyage
Advertisement