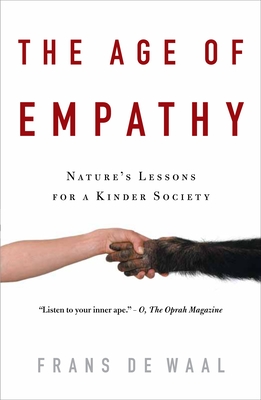 The Age of Empathy
Nature's Lessons for a Kinder Society
Paperback

* Individual store prices may vary.
Other Editions of This Title:
Digital Audiobook (10/5/2009)
MP3 CD (10/6/2009)
Compact Disc (10/6/2009)
Description
In this thought-provoking book, the acclaimed author of Our Inner Ape examines how empathy comes naturally to a great variety of animals, including humans.

Are we our brothers' keepers? Do we have an instinct for compassion? Or are we, as is often assumed, only on earth to serve our own survival and interests?

By studying social behaviors in animals, such as bonding, the herd instinct, the forming of trusting alliances, expressions of consolation, and conflict resolution, Frans de Waal demonstrates that animals–and humans–are "preprogrammed to reach out." He has found that chimpanzees care for mates that are wounded by leopards, elephants offer "reassuring rumbles" to youngsters in distress, and dolphins support sick companions near the water's surface to prevent them from drowning. From day one humans have innate sensitivities to faces, bodies, and voices; we've been designed to feel for one another.

De Waal's theory runs counter to the assumption that humans are inherently selfish, which can be seen in the fields of politics, law, and finance. But he cites the public's outrage at the U.S. government's lack of empathy in the wake of Hurricane Katrina as a significant shift in perspective–one that helped Barack Obama become elected and ushered in what perhaps could become an Age of Empathy. Through a better understanding of empathy's survival value in evolution, de Waal suggests, we can work together toward a more just society based on a more generous and accurate view of human nature.

Written in layman's prose with a wealth of anecdotes, wry humor, and incisive intelligence, The Age of Empathy is essential reading for our embattled times.

"An important and timely message about the biological roots of human kindness."—Desmond Morris, author of The Naked Ape

Praise For The Age of Empathy: Nature's Lessons for a Kinder Society…
"A pioneer in primate studies, Frans de Waal sees our better side in chimps, especially our capacity for empathy. In his research, Dr. de Waal has gathered ample evidence that our ability to identify with another's distress -- a catalyst for compassion and charity -- has deep roots in the origin of our species. It is a view independently reinforced by recent biomedical studies showing that our brains are built to feel another's pain."
—Robert Lee Hotz, The Wall Street Journal
 
"It's hard to feel the pain of the next guy.    First, you have to notice that he exists…then realize that he has different thoughts than you…and different emotions…and that he needs help…and that you should help because you'd like the same done for you…and, wait, did I remember to lock the car?…and…  Empathy is often viewed as requiring cognitive capacities for things like theory of mind, perspective taking and the golden rule, implying that empathy is pretty much limited to humans, and is a fairly fragile phenomenon in us.  For decades, Frans de Waal has generated elegant data and thinking that show that this is wrong.   In this superb book, he shows how we are not the only species with elements of those cognitive capacities, empathy is as much about affect as cognition, and our empathic humanity has roots far deeper than our human-ness."
—Robert Sapolsky, author of Why Zebras Don't Get Ulcers and A Primate's Memoir
 
"The lessons of the economic meltdown, Hurricane Katrina, and other disasters may not be what you think: Biologically, humans are not selfish animals. For that matter, neither are animals, writes the engaging Frans de Waal, a psychology professor with proof positive that, like other creatures who hang out in herds, we've evolved to be empathetic. We don't just hear a scream, it chills us to the bone; when we see a smile, we answer with one of our own. THE AGE OF EMPATHY offers advice to cutthroat so-called realists: Listen to your inner ape."
—O, The Oprah Magazine
 
"Freshly topical….a corrective to the idea that all animals—human and otherwise—are selfish and unfeeling to the core."
—The Economist
 
"Without question, de Waal's essential findings should become part of mainstream conversation. But we need to go further by joining them with a radical political analysis, one that spells out the cultural mechanisms that give rise to an empathy-deficient society. Only then can we reclaim the continuity of morality that emerges so eloquently from these pages."
—Gary Olson, The Baltimore Chronicle
 
"De Waal, a renowned primatologist, knows the territory firsthand. He writes clearly and plays fair; he takes on the strongest arguments against him and is quick to acknowledge complexity. His book is popular science as it should be, far superior to the recent spate of "Darwin made me do it" books that purport to explain (or explain away) our behavior."
—Edward Dolnick, Bookforum
 
"De Waal is an excellent tour guide, refreshingly literate outside his field, deft at stitching bits of philosophy and anthropology into the narrative. He is also pleasingly opinionated; he seems to have columnist aspirations of his own, and his frequent – usually thoughtful and balanced, occasionally facile – digressions on morality and U.S. politics read like boilerplate New York Times editorials.
Empathy, de Waal says, is one of our most innate capacities, one that likely evolved from mammalian parental care. It begins in the body, a deep unconscious synchrony between mother and child that sets the tone for so many mammalian interactions. When someone smiles, we smile; when they yawn, we yawn; emotion is contagious."
—Jeff Warren, Globe & Mail
 
"Given the nature of business survival in a competitive world, de Waal's clarion call that greed is out and empathy is in, may be a call we should all hear."
—Ray Wlliams, Psychology Today
 
"If Dawkins is Huxley's intellectual descendant, de Waal is certainly Kropotkin's. Whereas Dawkins holds that biology will be of little help in building a just society, de Waal is less convinced that we are at war with our nature. Rather, he finds it odd that those instances of spontaneous altruism shown in the aftermath of the 9/11 attacks or during the Katrina disaster could somehow be considered unnatural."
—Eric Michael Johnson, SEED
 
"The endeavor has majesty. It also affirms a very unmajestic human experience: Our emotions are a mess. Of course they are—they are accumulated bits of psychic life thrown together over millions of years by evolution with no oversight or quality control about what they actually feel like. Just because we have a single word for a feeling or trait now doesn't mean that it is homogenous or discrete.
Developing an appreciation of this complexity, de Waal suggests, could actually combat one of the least helpful of human tendencies: the impulse—not innate but socially very contagious—to reductively assume our biology is bad."
—Christine Kenneally, Slate

"De Waal...culls an astounding volume of research that deflates the human assumption that animals lack the characteristics often referred to as 'humane.' He cites recent animal behavior studies that challenge the 'primacy of human logic' and put animals on a closer behavioral footing with humans.....Throughout the book, de Waal illustrates how behaving more like our wild mammalian cousins may just save humanity. His contention, colored by philosophical musings and fascinating anecdotes of observed emotional connections between animals, argues persuasively that humans are not greedy or belligerent because animals are; such traits are far from organic or inevitable but patently manmade."
—Publisher's Weekly

"Addressing the question of whether it is possible to 'combine a thriving economy with a humane society' zoologist de Waal answers with a resounding yes....De Waal cites the 'evolutionary antiquity' of empathy to argue that 'society depends on a second invisible hand, one that reaches out to others.' An appealing celebration of our better nature."
—Kirkus

"[De Waal's] illuminating description and explanation of his research have made progressively more magnetic reading (and viewing of the exceptionally illustrative photos and drawings) of eight previous books and don't fail him now."
—Booklist

Praise for Our Inner Ape by Frans de Waal

"This important and illuminating book should help our own species take that lesson in civility to heart."
—Temple Grandin, New York Times

"Frans de Waal's work . . . has helped lift Darwin's conjectures about the evolution of morality to a new level."
—Jonathan Weiner, author of The Beak of the Finch

"Frans de Waal has achieved that state of grace for a scientist–doing research that is both rigorous and wildly creative, and in the process has redefined how we think about the most interesting realms of behavior among nonhuman primates–cooperation, reconciliation, a sense of fairness, and even the rudiments of morality."
—Robert M. Sapolsky, author of Why Zebras Don't Get Ulcers and A Primate's Memoir

"Frans de Waal is uniquely placed to write a book on the duality of human nature and on its biological origins in other primate species. No other book has attempted to cover this ground. Few topics are as timely to the understanding of the human mind and behavior."
—Antonio Damasio, author of Descartes' Error

"On the basis of a fascinating and provocative account of the remarkable continuities between the social emotions of humans and of nonhuman primates, de Waal develops a compelling case for the evolutionary roots of human morality."
—Harry G. Frankfurt, author of On Bullshit
Crown, 9780307407771, 304pp.
Publication Date: September 7, 2010
About the Author
FRANS DE WAAL is a Dutch-born biologist who lives and works in Atlanta, Georgia. One of the world's best-known primatologists, de Waal is C. H. Candler professor of psychology and director of the Living Links Center at the Yerkes National Primate Research Center at Emory University. He has been elected to the National Academy of Sciences and the Royal Dutch Academy of Sciences. In 2007, Time selected him as one of the World's 100 Most Influential People.