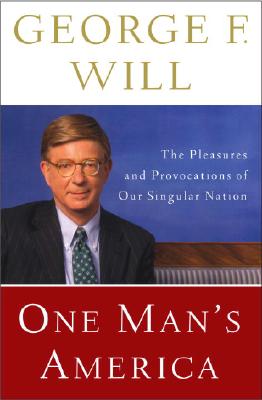 One Man's America (Hardcover)
The Pleasures and Provocations of Our Singular Nation
Crown Forum, 9780307407863, 400pp.
Publication Date: June 3, 2008
Other Editions of This Title:
Paperback (11/17/2009)
* Individual store prices may vary.
Description
In his provocative and compelling new book, America's most widely read and most influential commentator casts his gimlet eye on our singular nation. Moving far beyond the strict confines of politics, George F. Will offers a fascinating look at the people, stories, and events–often unheralded–that make the American drama so endlessly entertaining and instructive.

With Will's signature erudition and wry wit always on display, One Man's America chronicles a spectacular, eclectic procession of figures who have shaped our cultural landscape–from Playboy founder Hugh Hefner to National Review founder William F. Buckley Jr., from Victorian poet Henry Wadsworth Longfellow to Beat poet Lawrence Ferlinghetti, from cotton picker— turned—country singer Buck Owens to actor-turned-president Ronald Reagan.

Will crisscrosses the country to illuminate what it is that makes America distinctive. He visits the USS Arizona memorial in Pearl Harbor and ponders its enduring links to the present. He travels to Milwaukee to celebrate the hundredth anniversary of an iconic brand, Harley-Davidson. In Los Angeles he finds the inspiring future of education, while in New York he confronts the dispiriting didacticism of the avant-garde. He ventures to the Civil War battlefields of Virginia to explore what we risk when we efface our own history. And on the outskirts of Chicago he investigates one of the darkest chapters in American history, only to discover a shining example of resilience and grace–the best the country has to offer.

Will's wide lens takes in much more as well–everything from the "most emblematic novel of the 1930s" (and no, it is not about the Joads) to the cult of ESPN to Brooks Brothers and Ben & Jerry's. And of course, One Man's America would not be complete without the author's insights on the national pastime, baseball–the icons and the cheats, the hapless and the greats.

Finally, in a personal and reflective turn, Will writes movingly of his thirty-five-year-old son Jon, born with Down syndrome, and pays loving and poignant tribute to his mother, who died at the age of ninety-eight after a long struggle with dementia.

The essays in One Man's America, even when critiquing American culture, reflect Will's deep affection and regard for our nation. After all, he notes, when America falls short, it does so only as compared to "the uniquely high standards it has set for itself." In the end, this brilliantly informative and entertaining book reminds us of the enduring value of "the simple virtues and decencies that can make communities flourish and that have made America great and exemplary."
About the Author
GEORGE F. WILL writes a twice-weekly column that is syndicated in more than 450 newspapers, as well as a back-page column in "Newsweek" that runs biweekly. He also appears each Sunday on the ABC News program This Week. The author of twelve other books, Will is a winner of the Pulitzer Prize for Commentary and the Bradley Prize for Outstanding Intellectual Achievement. He lives in Chevy Chase, Maryland.
or
Not Currently Available for Direct Purchase