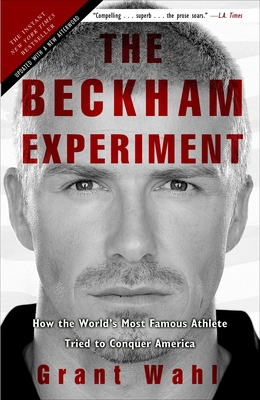 The Beckham Experiment (Paperback)
How the World's Most Famous Athlete Tried to Conquer America
Three Rivers Press, 9780307408594, 320pp.
Publication Date: June 1, 2010
* Individual store prices may vary.
Description
In 2007, David Beckham, the golden boy of soccer, shocked the international sports world when he signed a five-year contract with an American team, the Los Angeles Galaxy. Under the direction of his manager, Simon Fuller, the mastermind behind American Idol and the Spice Girls, Beckham was ready for a monumental challenge and a risky adventure–ready, as Fuller put it, to earn his stripes Stateside. Could he pull off what no player had ever accomplished (including Pelé in the 1970s) and transform soccer into one of the most popular spectator sports in America? It was a bold experiment: failure meant a team, a league, a sport, and Beckham himself might miss their chance to hit primetime in the U.S.

With unprecedented access to the Galaxy and one-on-one interviews with Beckham, veteran Sports Illustrated writer Grant Wahl focuses on the inner circle of the experiment: Beckham, Galaxy leading scorer Landon Donovan, Simon Fuller, controversial former coach Ruud Gullit, outspoken former Galaxy president Alexi Lalas, and Mrs. Victoria "Posh Spice" Beckham. Wahl takes readers behind the scenes, on the road with the team and inside the locker room, to reveal just what happened on and off the field when the most renowned player in the world left the glamour of European soccer to play in a country that has yet to fully embrace the sport. We find out what his teammates really think of their superstar captain, who was calling the shots behind the scenes, how Beckham's management conducted a shadow takeover of the Galaxy organization, and if the team plans to embrace him–or not–when he returns from AC Milan for the 2009 season.

The Beckham Experiment is a no-holds-barred account of ego clashes and epic winless streaks, rivalries and resentments, big gambles and great expectations, cultural and class collisions, and ultimately the volatile mix of celebrity and professional sports. As Beckham embarks on his third season with the Galaxy, the question remains: even for a player the caliber of David Beckham, are some goals out of reach?


From the Hardcover edition.
About the Author
In twelve years at Sports Illustrated, senior writer GRANT WAHL has written thirty-one cover stories and more than two hundred articles while covering five World Cups, three Olympics, and twelve NCAA basketball tournaments. Wahl has won four Magazine Story of the Year awards, given by the U.S. Basketball Writers Association. He lives in Baltimore with his wife, Céline.


From the Hardcover edition.
Praise For The Beckham Experiment: How the World's Most Famous Athlete Tried to Conquer America…
"Far more than merely a soccer book, The Beckham Experiment brilliantly explores-and exposes-that odd place where sports and celebrity collide. David Beckham's American odyssey is often too bizarre to believe, and Grant Wahl captures it all with uncommon depth, precision and insight. Forget Beckham-Wahl is the Pele of soccer writers. A brilliant book."
—Jeff Pearlman, author of Boys Will Be Boys

"In The Beckham Experiment,Grant Wahl has done a wonderful job of explaining to soccer fans--and, perhaps just as importantly to non-soccer fans--the worldwide phenomenon that is David Beckham. The reporting and the writing are all there and the story is a terrific read, whether one thinks of Beckham as one of the world's great athletes or as Posh Spice's husband."
—John Feinstein, author of Change-Up: Mystery at The World Series

"It's not behind-the-scenes access: It's what you do with it. Grant Wahl knows his soccer, but mostly, he knows a great story, at turns funny, sad, bizarre and, yeah, occasionally a little juicy. If the best thing that came out of Beckham coming to America was this book, I'd say it was a fair trade."
—Will Leitch, author of God Save The Fan, contributing editor New York magazine, founder Deadspin.com

"David Beckham is more than a gifted player. He is a multinational conglomerate. And, in Grant Wahl's extraordinary telling, his sojourn through Los Angeles makes for a gripping tale about the business of sports and the growth pangs of American soccer."
—Franklin Foer, author of How Soccer Explains the World

"This is a riveting, highly entertaining book about the world's most famous athlete, and his attempt to conquer America with his skill, charm and amazing good looks, none of which have any effect on my wife, at least according to her."
—Dave Barry, Humor writer and winner of 38 World Cups

"Forget the underwear ads. Forget the movie. Want to know about the world's most famous athlete and his impact on the world around him? Let Grant Wahl show you. For more than a decade, observers have banged their heads bloody trying to penetrate the Beckham phenomenon. Now, having barreled through the crack created by Captain Galaxy's fish-out-of-water foray into America, Wahl reveals the strange welter of celebrity, sport and mind-boggling obliviousness lying at its core. Jobs lost, careers ruined, franchises and leagues bowing to the man's every whim: The ripple effects caused by Beckham's arrival in Los Angeles are unlike anything seen in sports in years. Armed with unparalleled access and tapping into the lacerating candor of those closest to the now-sputtering experiment, Wahl raises the bar on what to expect from a sports book. For anyone looking to expose the backstage workings of an American team and league -- not to mention the cross-pollination of pop-culture and sports -- here's the new model: Write It Like Wahl."
—S.L. Price, author of Heart of the Game: Life, Death, and Mercy in Minor League America

"We can quibble about whether or not the actual "Beckham experiment" has been a smashing success, but Grant Wahl's account - as well-written as it is well-reported - is an unqualified triumph. The "Becks" cultists will devour this; but so will those of us who simply like a damn good sports book."
—L. Jon Wertheim, Strokes of Genius: Federer, Nadal and the Greatest Tennis Match Ever Played

"I can't believe I enjoyed a book about soccer."
—Rick Reilly, ESPN Columnist

"Grant Wahl crafts a bounty of insider details and vivid character portraits to provide a keyhole's view into the 'Beckham experiment.' He reveals the Beckham beneath the stagecraft and photo shoots as the world's most famous athlete is forced to confront the locker-room class struggles in a cost-conscious league. With great care, Wahl unveils a book ribboned by humorous accounts and moments of disillusionment, conflict and drama, all surfacing when a humble MLS team finds itself taken over by Brand Beckham."
—Selena Roberts, author of A-Rod: The Many Lives of Alex Rodriguez

"The Beckham experiment failed miserably, but The Beckham Experiment succeeds as an engaging peek into the weird worlds of Beckhamania and U.S. soccer. Grant Wahl, the country's best writer on the sport, may even convince all those who played soccer as kids to remember why they loved the game."
—Frank Deford, author of The Entitled


From the Hardcover edition.