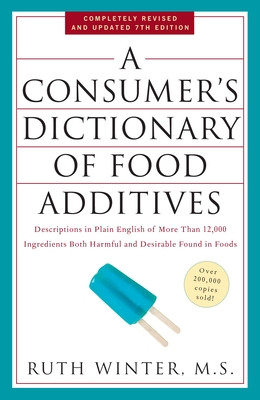 A Consumer's Dictionary of Food Additives: Descriptions in Plain English of More Than 12,000 Ingredients Both Harmful and Desirable Found in Foods (Paperback)
Descriptions in Plain English of More Than 12,000 Ingredients Both Harmful and Desirable Found in Foods
Three Rivers Press (CA), 9780307408921, 595pp.
Publication Date: April 14, 2009
Description
An Essential Household Reference...Revised and Updated
With our culture's growing interest in organic foods and healthy eating, it is important to understand what food labels mean and to learn how to read between the lines. This completely revised and updated edition of A Consumer's Dictionary of Food Additives gives you the facts about the safety and side effects of more than 12,000 ingredients-such as preservatives, food-tainting pesticides, and animal drugs-that end up in food as a result of processing and curing. It tells you what's safe
and what you should leave on the grocery-store shelves.
In addition to updated entries that cover the latest medical and scientific research on substances such as food enhancers and preservatives, this must-have guide includes more than 650 new chemicals now commonly used in food. You'll also find information on modern food-production technologies such as bovine growth hormone and genetically engineered vegetables.
Alphabetically organized, cross-referenced, and written in everyday language, this is a precise tool for understanding food labels and knowing which products are best to bring home to your family.
About the Author
RUTH WINTER, M.S., is an award-winning author of thirty-seven books. She has contributed to Good Housekeeping, Harper's Bazaar, Self, and Vogue, and has also appeared on many TV programs, including Good Morning America and Today. She runs an informational website at BrainBody.com and blogs about food and cosmetic additives at IngredientBlog.blogspot.com.
Advertisement