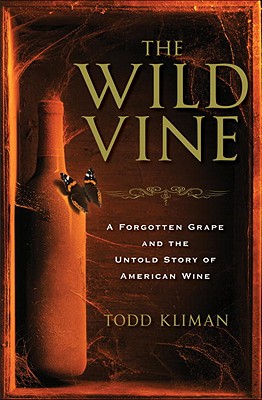 The Wild Vine
A Forgotten Grape and the Untold Story of American Wine
Hardcover

* Individual store prices may vary.
Other Editions of This Title:
Paperback (5/3/2011)
Description
A rich romp through untold American history featuring fabulous characters, The Wild Vine is the tale of a little-known American grape that rocked the fine-wine world of the nineteenth century and is poised to do so again today.


Author Todd Kliman sets out on an epic quest to unravel the mystery behind Norton, a grape used to make a Missouri wine that claimed a prestigious gold medal at an international exhibition in Vienna in 1873. At a time when the vineyards of France were being ravaged by phylloxera, this grape seemed to promise a bright future for a truly American brand of wine-making, earthy and wild. And then Norton all but vanished. What happened?
     The narrative begins more than a hundred years before California wines were thought to have put America on the map as a wine-making nation and weaves together the lives of a fascinating cast of renegades. We encounter the suicidal Dr. Daniel Norton, tinkering in his experimental garden in 1820s Richmond, Virginia. Half on purpose and half by chance, he creates a hybrid grape that can withstand the harsh New World climate and produce good, drinkable wine, thus succeeding where so many others had failed so fantastically before, from the Jamestown colonists to Thomas Jefferson himself. Thanks to an influential Long Island, New York, seed catalog, the grape moves west, where it is picked up in Missouri by German immigrants who craft the historic 1873 bottling. Prohibition sees these vineyards burned to the ground by government order, but bootleggers keep the grape alive in hidden backwoods plots. Generations later, retired Air Force pilot Dennis Horton, who grew up playing in the abandoned wine caves of the very winery that produced the 1873 Norton, brings cuttings of the grape back home to Virginia. Here, dot-com-millionaire-turned-vintner Jenni McCloud, on an improbable journey of her own, becomes Norton's ultimate champion, deciding, against all odds, to stake her entire reputation on the outsider grape.
     Brilliant and provocative, The Wild Vine shares with readers a great American secret, resuscitating the Norton grape and its elusive, inky drink and forever changing the way we look at wine, America, and long-cherished notions of identity and reinvention.
Praise For The Wild Vine: A Forgotten Grape and the Untold Story of American Wine…
"Kliman's thorough research and entertaining spin on the Norton's history make for a vintage that goes down smooth." -- T. Rees-Shapiro, Washington Post Book World


"Who knew a grape could generate so much history, so much commerce, so much entrancing narrative, so much splendid writing. Todd Kliman's The Wild Vine is as brilliantly successful a hybrid as its subject: combining the best characteristics of history and memoir, biography and travelogue, it is an utter delight."
--Robert Olen Butler, author of the Pulitzer Prize-winning A Good Scent from a Strange Mountain

"Todd Kliman's The Wild Vine is beautiful and eye-opening and you'll enjoy it as you would a bracing and wonderful wine. It's a mystery story, a history lesson, a personal journey between hard covers: a great, American vintage."
--Darin Strauss, author of Chang & Eng and More Than It Hurts You

"This book will move you in ways that might surprise you, for The Wild Vine is about much more than an obscure American grape; it's about heartbreak, determination, courage, and humanity. If in vino veritas, this may be the truest story ever told, and Todd Kliman tells it with grace and sensitivity."
--Don and Petie Kladstrup, authors of Wine and War

"A fascinating, well-written and researched cross-generational journey that follows the DNA of a single grape variety that I had never heard of before. I don't know if the Norton grape will make it as one of the great wines of the world, but its history, and the eccentric characters who carried its hope for a wine that could be grown and vinified in Virginia, of all places, makes for page-turning reading."
--Rex Pickett, author of Sideways

"Kliman tells the ups and downs of Norton with equal panache, pointing a bright light on grape hybrids, an important yet little-known part of the wine world, and introducing a cast of interesting characters along the way. While reading this book, I kept wishing that I had a bottle of Norton at my elbow."
--George M. Taber, author of Judgment of Paris

"A well-researched and fascinating story that reads like a novel. A true and highly entertaining American tale."
--Anthony Dias Blue, The Tasting Panel magazine, WCBS, KABC

"This is a terrific book. If it were a wine, it would be expressive but earthy, subtly spiced, with great structure and a long, lingering finish."
--Toby Young, of Top Chef

"Hold on for an entertaining and enlightening 400-year, transcontinental, trans-cultural investigation of the greatest wine you've never heard of. Todd Kliman squeezes a hell of a yarn from a grape."
--Daniel Evan Weiss, author of The Roaches Have No King and The Swine's Wedding




Clarkson Potter, 9780307409362, 288pp.
Publication Date: May 4, 2010
About the Author
Todd Kliman is the food and wine editor and restaurant critic of "The Washingtonian." He won a James Beard Award in 2005 for his writing. "From the Trade Paperback edition."
Book Videos
or
Not Currently Available for Direct Purchase