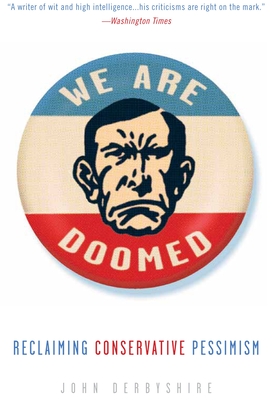 We Are Doomed (Paperback)
Reclaiming Conservative Pessimism
Crown Forum, 9780307409591, 272pp.
Publication Date: October 5, 2010
Other Editions of This Title:
Hardcover (9/29/2009)
* Individual store prices may vary.
Description
To his fellow conservatives, John Derbyshire makes a plea: Don't be seduced by this nonsense about "the politics of hope." Skepticism, pessimism, and suspicion of happy talk are the true characteristics of an authentically conservative temperament. And from Hobbes and Burke through Lord Salisbury and Calvin Coolidge, up to Pat Buchanan and Mark Steyn in our own time, these beliefs have kept the human race from blindly chasing its utopian dreams right off a cliff.

Recently, though, various comforting yet fundamentally idiotic notions of political correctness and wishful thinking have taken root beyond the "Kumbaya"-singing, we're-all-one crowd. These ideas have now infected conservatives, the very people who really should know better. The Republican Party has been derailed by legions of fools and poseurs wearing smiley-face masks.

Think rescuing the economy by condemning our descendents to lives of spirit-crushing debt. Think nation-building abroad while we slowly disintegrate at home. Think education and No Child Left Behind. . . . But don't think about it too much, because if you do, you'll quickly come to the logical conclusion: We are doomed.

Need more convincing? Dwell on the cheerful promises of the diversity cult and the undeniable reality of the oncoming demographic disaster. Contemplate the feminization of everything, or take a good look at what passes for art these days. Witness the rise of culturism and the death of religion. Bow down before your new master, the federal apparatchik. Finally, ask yourself: How certain am I that the United States of America will survive, in any recognizable form, until, say, 2022?

A scathing, mordantly funny romp through today's dismal and dismaler political and cultural scene, We Are Doomed provides a long-overdue dose of reality, revealing just how the GOP has been led astray in recent years–and showing that had conservatives held on to their fittingly pessimistic outlook, America's future would be far brighter.

Ladies and gentlemen, it's time to embrace the Audacity of Hopelessness.

About the Author
JOHN DERBYSHIRE is a contributing editor for National Review, where he writes a regular column. He also contributes regularly to National Review Online and writes frequently for a number of other publications, including the Wall Street Journal, the American Conservative, the Washington Examiner, and the New Criterion. In addition to his opinion journalism, he writes on the subject of mathematics and is the author of the books Prime Obsession and Unknown Quantity. His novel, Seeing Calvin Coolidge in a Dream, was chosen as a New York Times Notable Book of the Year. A native of England, Derbyshire now lives on Long Island, New York, with his wife and two children.

Praise For We Are Doomed: Reclaiming Conservative Pessimism…
"Where will a more intelligent, hence pessimistic, yet sprightly conservatism come from? You are holding in your hands part of the answer."
—George F. Will, Pulitzer Prize—winning columnist and author of One Man's America

"John Derbyshire contends that a comprehensive pessimism is the natural home for realistic conservatives, a breed that understands human nature better than utopian liberals and 'happy talk conservatives.' His argument is wide-ranging, erudite, and invigorating, but, paradoxically, delivered with cheerful panache."
—Judge Robert H. Bork, author of the New York Times bestsellers The Tempting of America and Slouching Towards Gomorrah

"Just when you thought there was nothing to American conservatism but a bunch of blue-blazered fuddy-duddies who talk about global democracy, here comes John Derbyshire, who reminds us all of the place of pessimism and skepticism in the Western tradition. Not a moment too soon."
—Taki Theodoracopulos, cofounder of The American Conservative and editor and publisher of Taki's Magazine, takimag.com

"A funny and brilliant call to pessimism, Man's last, best hope for a tolerable life. Pessimists are not only the only realists; they have all the best jokes."
—Theodore Dalrymple, author of Not With a Bang But a Whimper and Our Culture, What's Left of It


From the Hardcover edition.
or
Not Currently Available for Direct Purchase