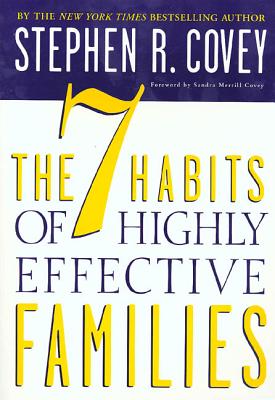 The 7 Habits of Highly Effective Families: Building a Beautiful Family Culture in a Turbulent World (Paperback)
Building a Beautiful Family Culture in a Turbulent World
Griffin, 9780307440853, 390pp.
Publication Date: September 15, 1998
Description
In his first major work since "The 7 Habits of Highly Effective People," Steven R. Covey presents a practical and philosophical guide to solving the problems--large and small, mundane and extraordinary--that confront all families and strong communities. By offering revealing anecdotes about ordinary people as well as helpful suggestions about changing everyday behavior, "The 7 Habits of Highly Effective Families" shows how and why to have family meetings, the importance of keeping promises, how to balance individual and family needs, and how to move from dependence to interdependence. "The 7 Habits of Highly Effective Families" is an invaluable guidebook to the welfare of families everywhere.
About the Author
Steven R. Covey--recognized by Time magazine as one of America's twenty-five most influential people--is chairman of FranklinCovey Company. He and his wife, Sandra, have three children and live in Provo, Utah.
Praise For The 7 Habits of Highly Effective Families: Building a Beautiful Family Culture in a Turbulent World…
"This smoothly written book provides excellent advice."--Publishers Weekly "His message ... is written with sincerity and simplicity, and even the most career-driven individual should feel passionate about family after reading this book."--Library Journal
Advertisement