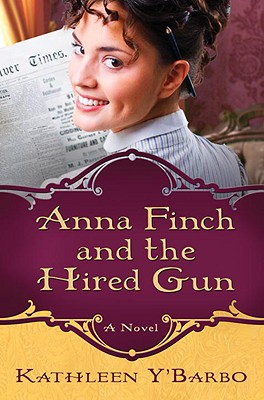 Anna Finch and the Hired Gun (Paperback)
A Novel
WaterBrook, 9780307444813, 352pp.
Publication Date: June 15, 2010
* Individual store prices may vary.
Description
When an aspiring reporter and
a Pinkerton detective get tangled in Doc Holliday's story—
and each other—sparks can't help but fly.
 
Despite her father's attempts to marry her off, Anna Finch dreams of becoming a reporter. A chance encounter with legendary gunslinger Doc Holliday gives her the opportunity of a lifetime, but Pinkerton agent Jeb Sanders is about to ruin everything.
 
Though her father hired Jeb to keep her out of mischief, Anna's inconvenient attraction to her hired gun only multiplies her troubles. She doesn't realize Jeb has a score to settle with Doc Holliday, or that her association with the famous outlaw will affect more than just her marriage prospects. Between her father's desperation to see her wed and Jeb shadowing her every move, getting the story and fulfilling her journalistic ambition just got far more complicated than she ever imagined.

About the Author
An accomplished storyteller with more than 850,000 copies of her novels, novellas and young adult books in print, best-selling author Kathleen Y'Barbo is an East Texas native who experienced the transforming power of words at a young age, thanks to stumbling upon her grandmother's set of encyclopedias.
Praise For Anna Finch and the Hired Gun: A Novel…
Praise for
Anna Finch and the Hired Gun
"Kathleen Y'Barbo has written a high-spirited novel about the kind of woman we'd all like to be: spunky, creative, witty--and a good shot." 
— DiAnn Mills, author of A Woman Called Sage and Sworn to Protect

"I love Kathleen Y'Barbo's deft hand combining romance, comedy, and suspense. Her books are pure fun to read. Anna Finch and the Hired Gun was my favorite so far. I was hooked from the first word." 
— Mary Connealy, author of Doctor in Petticoats
 
Praise for
Kathleen Y'Barbo
"A fun read. Delightful, engaging, charming, and yes, funny. Humor in the characters, and humor in the events, as she dreams of and heads on an adventure in the west. I thoroughly enjoyed this romp of a read." 
— Lauraine Snelling, author of the Red River series, Daughters of Blessing series and One Perfect Day

"With excitement, romance, and humor, Kathleen Y'Bargo spins a tale that captures your mind. The author's enthusiasm for writing spills out of every scene, creating, as it should, enthusiastic readers." 
— Stephen Bly, award-winning western author of more than one hundred books, including One Step Over the Border, Paperback Writer and Wish I'd Know You Tears Ago

or
Not Currently Available for Direct Purchase