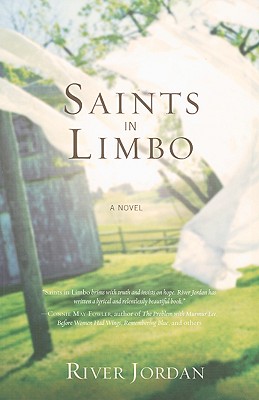 Saints in Limbo (Paperback)
WaterBrook, 9780307446701, 352pp.
Publication Date: May 5, 2009
* Individual store prices may vary.
Description
"River Jordan's Saints in Limbo is a compelling story of the mysteries of existence and, specially, the mysteries of the human heart."
–Ron Rash, author of Serena and Chemistry and Other Stories

"I lose myself in River's writing–transported to a different time and place– and in this case,  to one that makes the ordinary mystical and magical. I give it FIVE diamonds in the Pulpwood Queen's TIARA!"
–Kathy L. Patrick, founder of the Pulpwood Queens Book Clubs and author of The Pulpwood Queens' Tiara Wearing, Book Sharing Guide to Life

Ever since her husband Joe died, Velma True's world has been limited to what she can see while clinging to one of the multicolored threads tied to the porch railing of her home outside Echo, Florida.

When a mysterious stranger appears at her door on her birthday and presents Velma with a special gift, she is rattled by the object's ability to take her into her memories–a place where Joe still lives, her son Rudy is still young, unaffected by the world's hardness, and the beginning is closer than the end. As secrets old and new come to light, Velma wonders if it's possible to be unmoored from the past's deep roots and find a reason to hope again.   
 
Praise for River Jordan

"[River Jordan's] literary spice rack has everything you need to put together a good book."
–Rick Bragg, author of All Over but the Shoutin' and Ava's Man

"River Jordan writes so beautifully."
–Joshilyn Jackson, author of Gods in Alabama and The Girl Who Stopped Swimming


About the Author
River Jordan is a critically acclaimed novelist and playwright whose unique mixture of Southern and mystic writing has drawn comparisons to Sarah Addison Allen, Leif Enger, and Flannery O'Connor. Her previous works include The Messenger of Magnolia Street, lauded by Kirkus Reviews as "a beautifully written, atmospheric tale." She speaks around the country on "Inspiring the Passion of the Story" and makes her home in Nashville.
Praise For Saints in Limbo…
Praise for Saints in Limbo

"River Jordan's Saints in Limbo is a compelling story of the mysteries of existence and, especially, the mysteries of the human heart."
–RON RASH, author of Serena and Chemistry and Other Stories

"River Jordan's artful writing style is utterly captivating. Add to that the heartfelt, intriguing story line of Saints in Limbo, and you're hooked."
–T. LYNN OCEAN, author of Sweet Home Carolina and the Jersey Barnes Mysteries

"In the quiet of light and shadow, on what portends to be an ordinary day, miracles and magic envelop Velma True, a widow, a mother, and a lonely woman who does not suffer fools. Readers will care deeply about Velma's life: her past, her present, her future, and her good heart. Saints in Limbo brims with truth and insists on hope. River Jordan has written a lyrical and relentlessly beautiful book."
–CONNIE MAY FOWLER, author of Before Women Had Wings and The Problem with Murmur Lee

"Saints in Limbo is a lyrical and transcendent novel that will linger with me for years to come. I was entranced from start to finish."
–KARIN GILLESPIE, author of the Bottom Dollar Girls series

"Strange as it sounds, River Jordan's fascinating novel Saints in Limbo somehow reminded me of Walker Percy and Dean Koontz simultaneously. It's that original. It's that good. It's a wise, funny, joyful, and deadly serious book. Saints in Limbo is the kind of story they ought to publish in leather-bound hardcover with gilded pages so you could leave it to your grandchildren."
–ATHOL DICKSON, author of River Rising and Winter Haven

"Saints in Limbo is an elixir that combines two doses southern literary tradition and one dose magic realism. Jordan evokes elements of mystery and evil, wisdom and family, to make your heart surge and your skin tingle."
–KIM PONDERS, author of The Last Blue Mile

"River Jordan's words flat-out sing. Some pages of Saints in Limbo will soothe you with lullabies, others will reach inside you for the blues, but they'll all pull you inside and slow your multitasking self down. Her stories court you to pace yourself and give them their due. It's hard to close this novel without wondering why River Jordan isn't a household name."
–SHELLIE RUSHING TOMLINSON, author of Suck Your Stomach In and Put Some Color On:What Southern Mamas Tell Their Daughters That the Rest of Y'all Should Know Too and creator and host of All Things Southern

"Mystical and magically written, Saints in Limbo is a beautiful novel. With its vivid characters and lush language, readers will find themselves thinking of Augusta Trobaugh's Resting in the Bosom of the Lamb."
–MICHAEL MORRIS, author of A Place Called Wiregrass

"River Jordan writes about love's triumph over fear, reconciliation, and dissolving ancient hurts in words as lyrical as a poem. Her characters wriggle into your heart frompage one and will stay there long after you've regretfully finished the last page. Saints in Limbo is not only a tribute to the power of place and community but a rollicking good read as well."
–CHARLOTTE RAINS DIXON, director of The Writing Loft, Middle Tennessee State University

"River Jordan's written words are as poetic and captivating as her name, and her story, Saints in Limbo, is as powerful and healing as the River Jordan itself."
–DENISE HILDRETH, author of The Will of Wisteria

"River Jordan practically sings her characters to life. Saints in Limbo is a triumph of the spirit and a reminder that there'smuchmore to life than meets the eye. Read this book to remind yourself that heaven can be found right here, right now."
–NICOLE SEITZ, author of A Hundred Years of Happiness, Trouble theWater, and The Spirit of Sweetgrass

"Saints in Limbo reminds me of the adage 'Life is not about the destination but the journey.' In this case it's not about the ending of the book but the telling of the story! The journey in River Jordan's latest book is to savor every word, every sentence, and every paragraph."
–KATHY L. PATRICK, founder of the Pulpwood Queens Book Clubs and author of The Pulpwood Queens' Tiara-Wearing, Book-Sharing Guide to Life

"River Jordan's third novel is a Southern Gothic masterpiece." – Tina Fondren, Paste Magazine

or
Not Currently Available for Direct Purchase